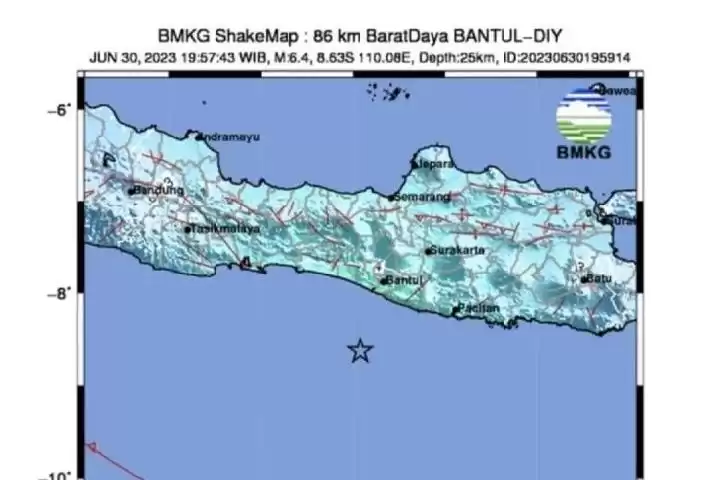 BMKG reports 44 aftershocks following a 6.4-m earthquake in Southern Yogyakarta
44 aftershocks recorded after 6.4-magnitude earthquake in Yogyakarta, Indonesia.
The Meteorology, Climatology and Geophysics Agency (BMKG) has reported a total of 44 aftershocks following a 6.4-magnitude earthquake that occurred in the Indian Ocean south of Yogyakarta on Friday evening, June 30. The largest aftershock recorded was a magnitude of 4.2. The head of the BMKG Earthquake and Tsunami Center, Dariono, provided further details about the earthquake, stating that it took place at 7:57 pm local time on June 30. The coordinates of the epicenter were 8.63 degrees south latitude and 110.08 degrees east longitude, approximately 81 km south of Wits City, Yogyakarta, and 67 km underwater.

Dariono explained that the earthquake was of medium type, resulting from the subduction of the Indo-Australian and Eurasian plates. The source mechanism analysis revealed that the earthquake had a thrust fault. The impact of the earthquake was strongly felt by residents in Klaten, Ponorogo, Kebumen, Nganjuk, and Cilacap, reaching a Modified Mercalli Intensity Scale (MMI) level of IV. At this level, the shocks were powerful enough to crack pottery, cause windows and doors to squeak, and make walls squeak.

Other areas, including Karangkangkates, Kediri, Kulon Progo, Wonogiri, Yogyakarta City, Sleman, and Purworejo, experienced vibrations at an MMI intensity scale of III-IV. The tremors felt at this level were comparable to the sensation of a passing truck. People in Madiun, Purbalingga, Purwokerto, Banjarnegara, Mojokerto, Demak, Pacitan, Gresik, Jepara, Blitar, Solo, Garut, and Pangandaran felt tremors at an MMI intensity scale of III, which can be likened to the feeling of a slight earthquake.

Despite the impact of the earthquake, BMKG assured the public that it was not likely to trigger a tsunami. However, they urged people to remain calm, avoid being influenced by unreliable information, and take precautions to ensure their safety. It is important for residents to ensure that their buildings are earthquake-proof and to stay away from cracked or damaged structures. BMKG emphasized the need for accurate and reliable information during such events to prevent panic and unnecessary alarm.

In conclusion, the recent earthquake in Yogyakarta has resulted in numerous aftershocks, with the largest recorded at a magnitude of 4.2. The earthquake was of medium type, caused by the subduction of tectonic plates, and had a thrust fault. While some areas experienced strong tremors, there is no immediate threat of a tsunami. The public is advised to stay calm, rely on trustworthy information, and prioritize safety by ensuring their buildings are earthquake-proof.
Share With Others