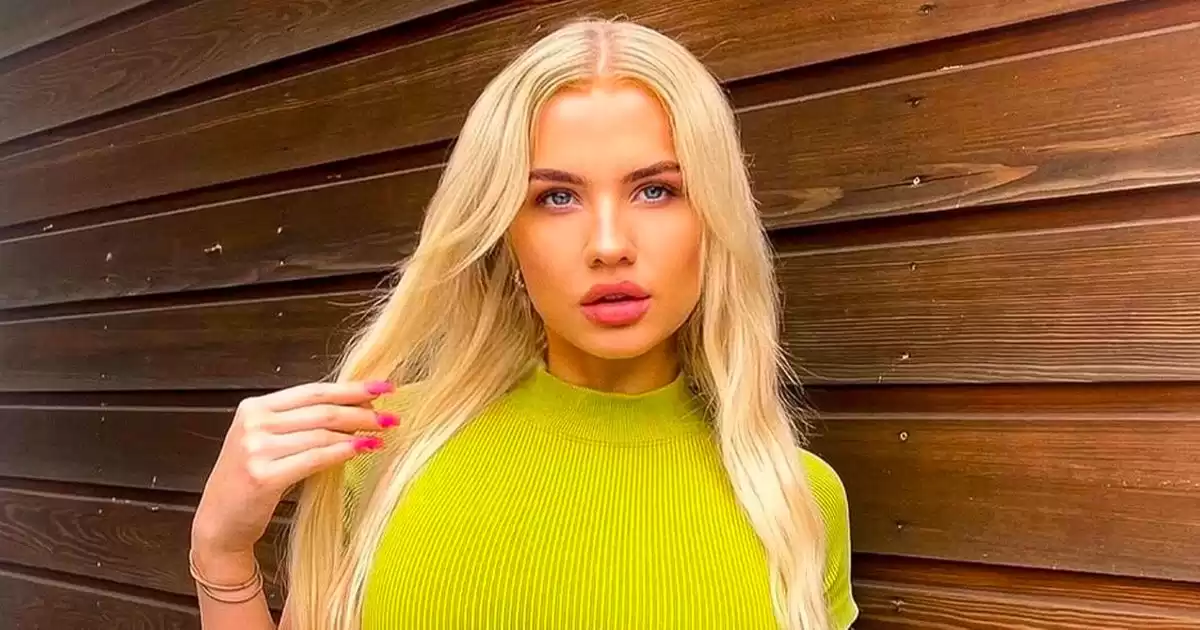 Meet Daniella Hemsley, the adult performer gaining widespread attention for her daring act of flashing at a boxing event
Boxing influencer Daniella Hemsley gained attention for flashing her breasts after winning a match, but her rise to fame began on TikTok where she shared fitness content. She later joined OnlyFans and was approached by Kingpyn Boxing to participate in their tournaments for social media stars. Hemsley's victory in the recent match was her first win, and she is currently dating fellow influencer and boxer Akonne Wanliss. She shared that her weight loss journey and social media platform have allowed her to inspire others.
Daniella Hemsley, a stunning boxing beauty, instantly became a sensation after her triumphant win over Aleksandra Daniel at the Kingpyn's High Stakes tournament. Her unconventional celebration, which involved raising both her hand and bra, caught the attention of not only the audience at Dublin's 3arena but also the entire internet.

Hemsley, who transitioned from being an adult star to a boxing influencer, took self-promotion to a whole new level with her daring act. While some may question her motives, comparing it to professional footballers simply exercising, it's important to delve deeper into who Daniella Hemsley is and where she came from.

This 22-year-old blonde bombshell first gained prominence on TikTok in 2020 when she shared a video detailing her impressive weight loss journey of 4st since the age of 15. Her TikTok account, boasting over 200,000 followers, primarily focused on fitness content. However, over time, it gradually embraced more explicit undertones. Her Instagram account, with just over 100,000 followers, followed a similar trajectory.

Recognizing her skyrocketing popularity, Hemsley joined OnlyFans, further solidifying her status as a social media star. It was this rise to fame that caught the attention of Kingpyn Boxing, an organization known for organizing boxing tournaments for social media influencers. In March of this year, they approached Daniella with an offer to participate.

Just a month later, Daniella made her in-ring debut against Brazilian fitness enthusiast Jully Poca. Although she lost the fight after five rounds by unanimous decision, her recent victory marked the first win of her career, thus explaining her exuberant celebrations.

In addition to her boxing pursuits, Daniella is currently in a relationship with Akonne Wanliss, an American model turned boxer. The couple has been spotted sharing affectionate moments earlier this year.

Reflecting on her journey, Daniella opened up in an interview with the Daily Mail about the challenges she faced. Her parents' separation during her transition from primary to high school deeply affected her mental health, leading to a period of isolation and self-neglect. However, through vlogging and TikToking, Daniella found a way to turn her life around. Her weight loss journey became the foundation for her success as a social media influencer. She now lives her dream, using her platform to inspire others and promote a healthy lifestyle.

Daniella's story raises an interesting question: Has the rise of influencer fights had a positive or negative impact on boxing? We invite you to share your thoughts in the comments section below.

In conclusion, Daniella Hemsley's journey from adult star to boxing influencer is a testament to her resilience and determination. Through her captivating presence on social media platforms, she has not only gained a massive following but also inspired others to prioritize their health and well-being. As she continues to make waves in the boxing world, Daniella remains a force to be reckoned with, leaving her mark both inside and outside the ring.
Share With Others