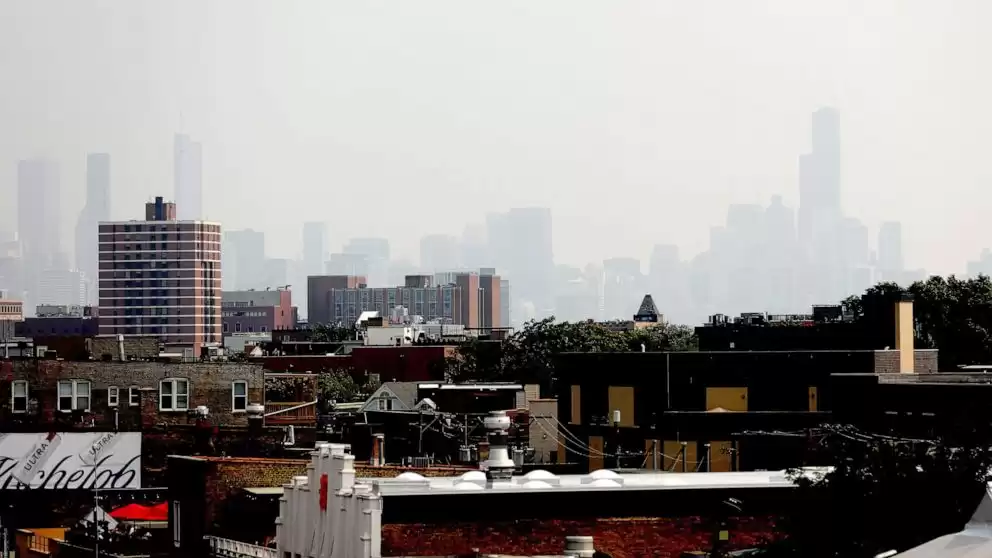 US cities and states affected by Canadian fires: A map of wildfire smoke reveals the impacted areas' air quality
Canada's worst wildfire season has caused toxic smoke to spread across the US, affecting air quality in 20 states. The smoke contains fine particulate matter, which can cause short-term health effects such as irritation of the eyes, nose, and throat, as well as long-term effects like asthma and heart disease. Major cities including Chicago have experienced poor air quality, prompting warnings for vulnerable groups to stay indoors. Red flag warnings have also been issued in parts of Washington, Oregon, and Colorado due to dry conditions that increase the risk of wildfires.
Canada is currently facing its worst wildfire season in history, and the effects are being felt in the United States. Toxic smoke from the wildfires has traveled south, resulting in air quality alerts in 20 states. These alerts stretch from Montana to New York, and as far south as North Carolina and Tennessee. Cities such as Billings, Montana, Cleveland, and Pittsburgh are experiencing unhealthy air quality levels, with Air Quality Index ratings above 150.

The situation is particularly dire in Chicago, where residents woke up to the fifth worst air quality among major cities worldwide. The National Weather Service in Chicago has warned that the haze from wildfire smoke will persist into Monday, leading to poor air quality that may be unhealthy for sensitive groups. Mayor Brandon Johnson has advised vulnerable groups, including children, teenagers, senior citizens, pregnant individuals, and those with heart or lung disease, to stay indoors. Those who do venture outdoors are encouraged to wear masks.

Wildfire smoke contains various toxins, including fine particulate matter known as PM2.5. These particles are 30 times smaller in diameter than a human hair and can enter the body through the nose and throat, reaching the lungs. Even healthy individuals can experience short-term health effects from PM2.5, such as irritation of the eyes, nose, and throat, coughing, sneezing, and shortness of breath. Long-term effects, such as asthma and heart disease, are also possible.

The heaviest smoke in the US is expected to be concentrated over upstate New York and Burlington, Vermont, which are close to the Canadian border. New York Governor Kathy Hochul has issued Air Quality Health Advisories for the entire state and urged residents to stay updated on the latest information from the New York State Department of Environmental Conservation, airnow.gov, or their weather app.

To address the situation, the Port Authority of New York and New Jersey has announced that masks will be distributed at the bus terminal in Manhattan throughout the day on Monday. The forecast indicates that the surface smoke will start dissipating on Tuesday morning and become light to medium by the evening.

However, the wildfire risk may not be limited to Canada. Red flag warnings have been issued for parts of eastern Washington, Oregon, and Colorado due to dry air, dry ground, and breezy conditions. These conditions, combined with low humidity and strong winds, create ideal circumstances for fires to ignite and spread rapidly.

As the battle against wildfires continues, it is crucial for individuals to stay informed, take necessary precautions, and prioritize their safety.
Share With Others