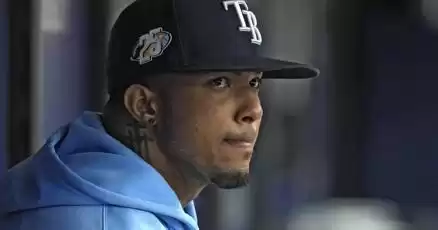 MLB Investigates Social Media Posts Involving Wander Franco, Rays Shortstop
Major League Baseball is investigating social media posts involving Rays shortstop Wander Franco, causing speculation about his absence from a recent game.
Major League Baseball is currently investigating social media posts involving Wander Franco, the shortstop for the Tampa Bay Rays. Franco did not play in the Rays' recent loss to the Cleveland team. The Rays released a statement acknowledging the circulating social media posts and expressing their seriousness about the situation. They are working closely with Major League Baseball as they conduct their due diligence. However, the nature of the social media posts has not been disclosed by Tampa Bay.

In Sunday's game, Osleivis Basabe made his major league debut as the starting shortstop in place of Franco. Basabe had a decent performance, going 1 for 3 with a double. He received the news of his promotion during his game with Triple-A Durham the previous night.

Franco was present in the Rays' dugout at the beginning of the game but left in the fifth inning. It is unclear why he did not play, but Rays manager Kevin Cash dismissed any concerns, stating that it was simply a regular day off for Franco. When asked about the speculation surrounding Franco, Cash declined to comment further, indicating that the day off was solely due to it being a scheduled rest day.

It is worth noting that Franco has previously been benched for two games in late June by the Rays due to concerns about his response to frustrating situations and his behavior as a teammate. Despite this, Tampa Bay signed Franco to a significant contract in November 2021. The 22-year-old agreed to an $182 million, 11-year deal with a team option for 2033 that could potentially be worth $223 million.

Franco, who has been selected as an AL All-Star this season, has been performing well with a batting average of .281, 17 home runs, 58 RBIs, and a successful stolen base rate of 30 out of 40 attempts in 112 games.

The investigation into the social media posts involving Wander Franco is ongoing, and Major League Baseball, along with the Tampa Bay Rays, is taking the matter seriously. As more information becomes available, it will be important to consider the impact on Franco's future with the team and his reputation within the league.
Share With Others