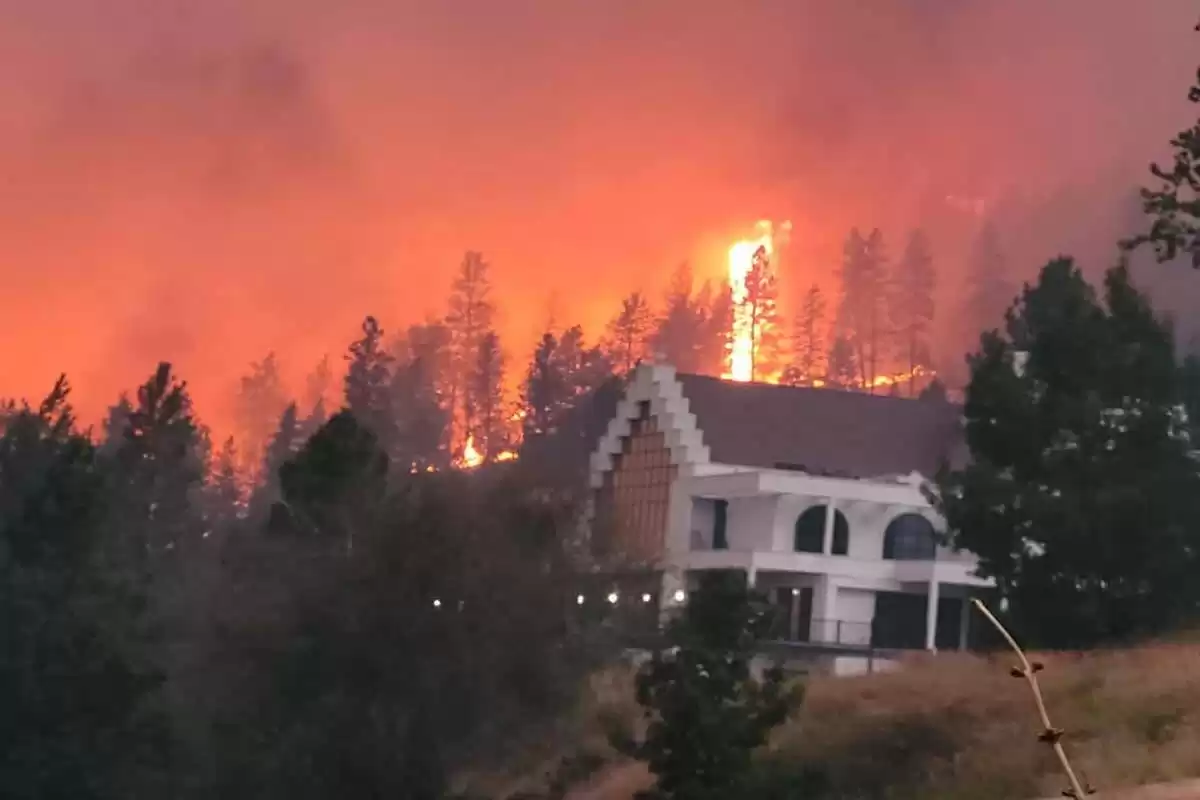 Homes destroyed, West Kelowna fire prompts increased orders and alerts
The McDougall Creek wildfire in West Kelowna has grown to 6,800 hectares and has resulted in the evacuation of thousands of properties.
The McDougall Creek wildfire started on the evening of August 17, causing destruction and burning structures in West Kelowna. An evacuation alert has been issued from Nahun to Killeney Beach. This area is located just outside the Fintry Province Park, where an evacuation order is already in effect. Additionally, properties on Westbank First Nation IR#10 have been placed under evacuation order. Evacuees from IR#10 must register with the provincial Emergency Support Services and go to Sensisyusten Gym at 1920 Quail Lane. Residents can use the interactive map on cordemergency.ca to check if their street address is affected. For more information, they can contact the information line at 250-469-8490 (local) or 1-877-569-8490 (toll-free).

Due to the McDougall Creek Wildfire's proximity to the pump house on WFN IR#10, WFN Utilities staff are removing the chlorine toners from the pump house to ensure the safety of first responders and the public. However, this means that there will be no treatment process for the water, rendering it unfit for consumption. The pump house will be guarded in hopes of saving the structure, but the biggest risk is trying to remove staff before the fire arrives. Raw water will still be available for fire protection purposes.

The City of West Kelowna has suspended its indoor and outdoor recreation and culture services until further notice due to the local state of emergency caused by the McDougall Creek wildfire. This includes summer camps, Park Play Day, sports fields, Jim Lind arena, Royal LePage Place, and the Johnson Bentley Memorial Aquatic Centre, which will be closed until August 21. The Music in the Park concert scheduled for tonight has also been postponed.

Properties north of Terrace Mountain Road along Westside, including La Casa up to and including Fintry Provincial Park, must evacuate north on Westside Road. Those under evacuation order are urged to leave immediately and follow directions from emergency personnel. Evacuees should register with the provincial Emergency Support Services or go to the Information Centre at Kal Tire Place in Vernon. The interactive map on the Central Okanagan Emergency Centre website can help residents determine if they are affected.

All other properties under evacuation alert and order remain in place. Residents under evacuation alert should be prepared to leave their homes at any moment and should pack essential items, make arrangements for pets, and be ready for an extended period away from home. The public is asked to avoid evacuation alert areas.

For the latest updates and to sign up for e-updates, residents can visit the Central Okanagan Emergency Operations website. DriveBC has also issued a travel advisory for Highway 97 between Lake Country and Peachland due to the McDougall Creek wildfire. Travelers are advised to avoid the area and be prepared for sudden closures.

The McDougall Creek wildfire in West Kelowna has grown to 6,800 hectares and remains highly visible. BC Wildfire Services have reported that the fire is displaying rank 5 fire behavior, meaning it is spreading rapidly. Visibility has been a challenge for the 21 fire personnel and three helicopters battling the blaze. While the exact number is unknown, some structures have been lost during the night and early morning. Currently, 2,462 properties are under evacuation order and 4,801 properties are under evacuation alert due to the McDougall Creek wildfire.
Share With Others