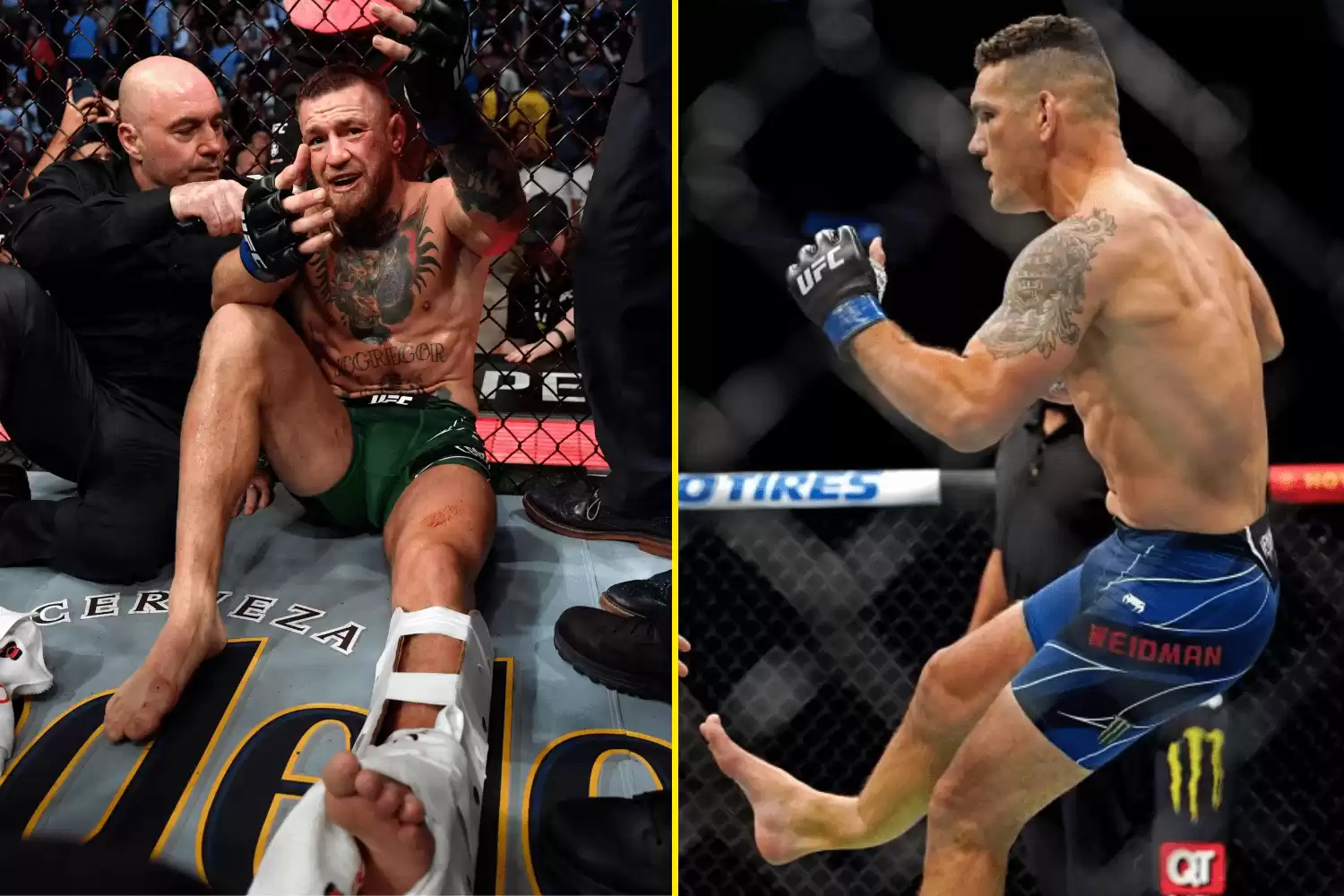 "Joe Rogan relieved by Conor McGregor & doctor discussing Chris Weidman's leg concerns at UFC 292"
Joe Rogan worried about Chris Weidman breaking his leg again at UFC 292, but Conor McGregor assures him it's indestructible.
Joe Rogan, the renowned MMA commentator, expressed his concern for Chris Weidman's leg during UFC 292. This worry stemmed from Weidman's devastating leg break during his fight against Uriah Hall at UFC 261 in April 2021. Rogan, who was present at the event, witnessed the gruesome injury firsthand. Now, 847 days later, he found himself in the commentary booth once again, this time watching Weidman's comeback fight against Brad Tavares at the TD Garden in Boston.

Just moments before the fight began, Rogan couldn't help but voice his apprehension about the condition of Weidman's leg. "If it breaks again, I'm going to cry," he admitted. This sentiment resonated with many fans who were also worried about the 39-year-old fighter's leg holding up under pressure.

Conor McGregor, who had experienced a similar leg injury at UFC 264 in July 2021, took to social media to reassure Rogan. He confidently stated that Weidman's right leg was virtually indestructible at this point. McGregor himself had received a metal rod in his leg to repair the fractures in his tibia and fibula after his fight with Dustin Poirier. He often boasted about his "titanium shin bone" and had recently tested his leg during sparring sessions with Ultimate Fighter contestants.

McGregor's tweet was supported by Dr. David Abbasi, a medical professional known for his videos on MMA injuries. Abbasi confirmed that Weidman's leg was unlikely to break again due to the titanium rod inside his tibia. This reassurance from both McGregor and Abbasi gave fans hope that Weidman's leg would hold up during his comeback fight.

As predicted, Weidman's right leg endured the entire fight without any further injuries. However, it was clear that the leg had suffered significant damage. Tavares targeted Weidman's leg with relentless kicks, leaving him limping out of the Octagon after a unanimous decision loss. This defeat marked Weidman's seventh loss in his last nine fights, raising questions about his future in the sport at the age of 39.

Weidman had aspirations of challenging Israel Adesanya in the future, but his performance on Saturday night indicated that he may no longer be capable of defeating the best fighters in the division. With a Hall of Fame career behind him, Weidman faces the difficult decision of whether to continue competing or retire from the sport he loves.
Share With Others