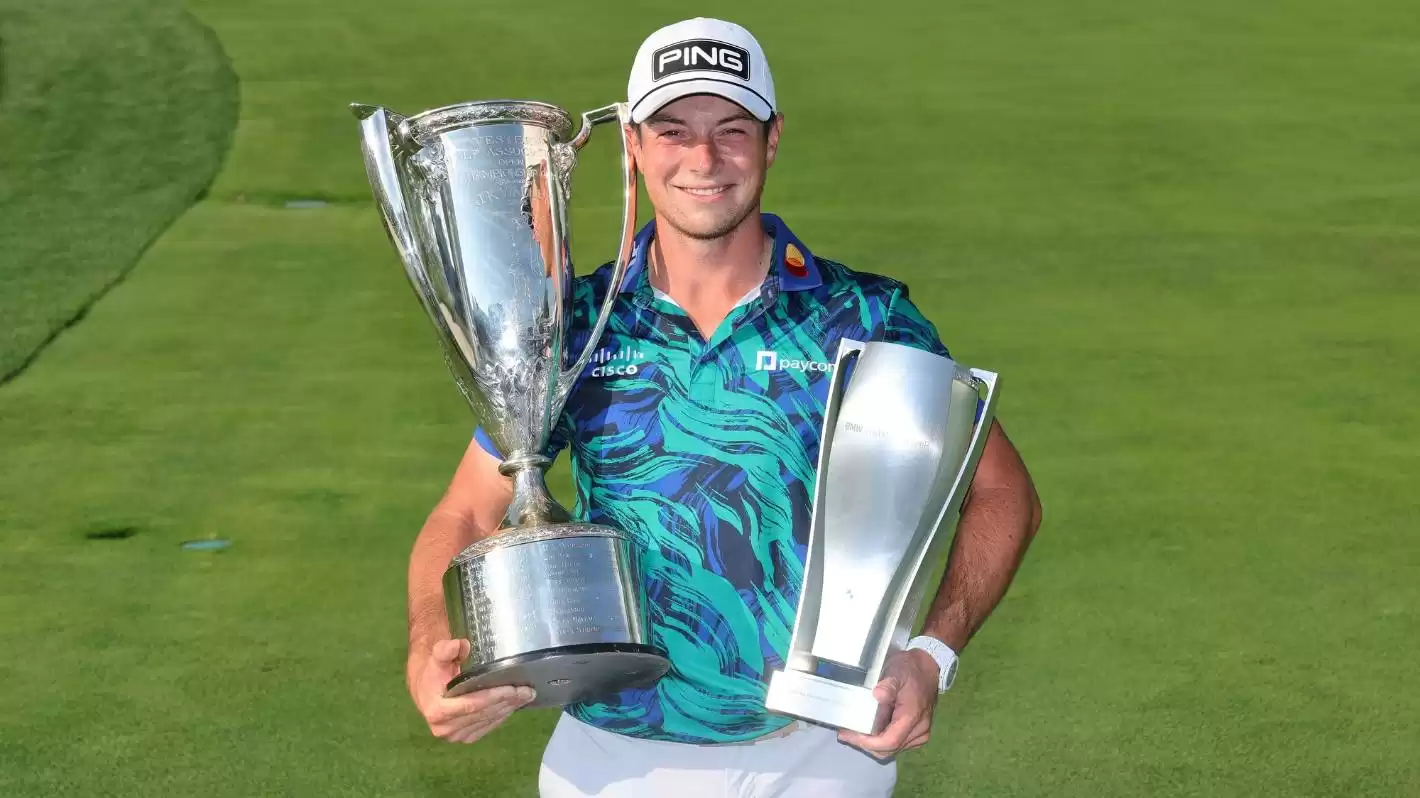 Viktor Hovland Sets Olympia Fields Record, Wins BMW Championship
Viktor Hovland shoots a career-best 61 to win the BMW Championship, leaving Scottie Scheffler and Matt Fitzpatrick in his wake.
In a stunning display of skill and determination, Viktor Hovland emerged victorious in the BMW Championship with an incredible final round score of 61. Hovland's exceptional performance included birdies on all but two holes on the back nine, allowing him to break the course record at Olympia Fields and surpass his competitors, Scottie Scheffler and Matt Fitzpatrick.

Initially, it seemed that Scheffler and Fitzpatrick would be the main contenders for the title. However, Hovland's remarkable play transformed the competition into a one-man show. Starting the back nine four shots behind, Hovland's competitors had to make extraordinary shots from the fairway in order to catch up to him.

Scheffler and Fitzpatrick both finished with impressive scores of 66, which would typically secure a victory on any other day. However, they were forced to settle for runner-up positions as Hovland's performance was unmatched. This win marks Hovland's second victory of the year and showcases his exceptional talent.

During the back nine, Hovland faced only one putt longer than 15 feet. He concluded his round with birdies on the 17th and 18th holes, which are known to be the most challenging. His final approach over the bunker to a mere 6 feet secured him one last birdie, solidifying his triumph.

Reflecting on his achievement, Hovland expressed his satisfaction, stating, "That has to be the best round I've ever played. Given the circumstances - a playoff event, this golf course - the way I played the last holes was pretty special."

While Hovland's victory captivated the audience, other players experienced their fair share of drama. Jordan Spieth, for example, bogeyed his last two holes, putting him at risk of falling out of the top 30 in the FedEx Cup standings, which determines qualification for the Tour Championship. However, Denny McCarthy's three bogeys in the final seven holes ultimately saved Spieth from elimination.

Sahith Theegala's misfortune was particularly heart-wrenching. After achieving three consecutive birdies leading up to the 17th hole, Theegala seemed destined for a spot in the top 30. Yet, a crucial bogey on the last hole, coupled with Patrick Cantlay's birdie, resulted in a tie for 15th place. This combination of scores effectively ended Theegala's season.

Sepp Straka secured the 30th spot by a margin of nine points over Theegala. Meanwhile, Xander Schauffele's solid performance earned him a tie for eighth place, allowing him to secure the sixth and final automatic spot on the U.S. Ryder Cup team. Although Schauffele was already expected to receive one of the captain's picks, his finish caused PGA champion Brooks Koepka to drop from fifth to seventh in the Ryder Cup standings.

With the Ryder Cup approaching, U.S. captain Zach Johnson has just nine days to make his six picks.

Scheffler, despite falling short of victory, can find solace in being the No. 1 seed at East Lake for the second consecutive year. This grants him a head start in the tournament with a 10-under par score, two shots ahead of Hovland.

Rory McIlroy, who finished fourth at the BMW Championship with a score of 66, holds the third seed in the FedEx Cup standings. He is followed by Jon Rahm and Lucas Glover, rounding out the top five.
Share With Others