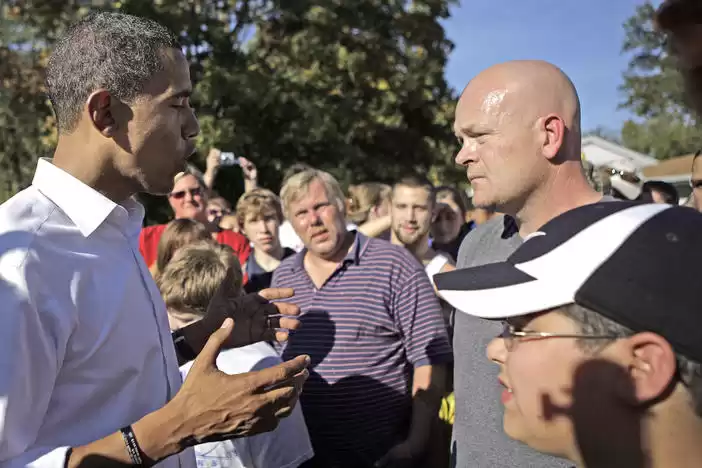 'Joe the Plumber' Samuel Wurzelbacher dies at 49
Samuel "Joe" Wurzelbacher, known as "Joe the Plumber," has died at age 49 after battling pancreatic cancer.
Samuel "Joe" Wurzelbacher, known as "Joe the Plumber," has passed away at the age of 49, according to his son. Wurzelbacher gained national attention during the 2008 presidential campaign when he questioned Barack Obama about his economic policies. He later became involved in politics himself. His son, Joey Wurzelbacher, described him as a true patriot and a strong believer in God.

Wurzelbacher started his career as a plumber in suburban Toledo, Ohio, and became a media sensation after his exchange with Obama. The moment was frequently aired on cable news, with Obama's response that he wanted to "spread the wealth around" becoming a talking point. Republican candidate John McCain even referenced "Joe the Plumber" in a presidential debate. Wurzelbacher went on to campaign with McCain and Sarah Palin, but later expressed criticism towards McCain in his book and distanced himself from the GOP nominee.

Despite his political endeavors, Wurzelbacher's newfound fame led him to become a sought-after figure for anti-establishment conservatives. He traveled across the country speaking at tea party rallies and conservative gatherings. He also authored a book and worked with a veterans organization that provided outdoor programs for wounded soldiers.

In 2012, Wurzelbacher ran for a U.S. House seat in Ohio but was defeated by Democrat Marcy Kaptur. His campaign drew criticism for his controversial remarks about immigration, suggesting that the United States should build a border fence and "start shooting" at suspected illegal immigrants.

After his unsuccessful political bid, Wurzelbacher returned to working as a plumber. He leaves behind his wife, Katie, and four children. Funeral arrangements are currently pending.
Share With Others