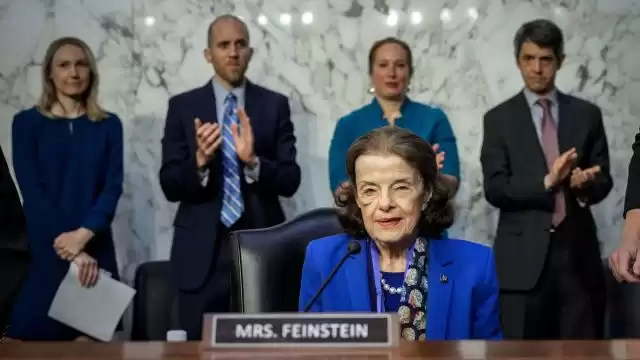 Court documents allege elder financial abuse of Sen. Dianne Feinstein
A petition filed in court alleges that Sen. Dianne Feinstein has been a victim of "elder financial abuse" regarding a trust managed by trustees.
A petition has been filed in the San Francisco Superior Court alleging that California Democratic Senator Dianne Feinstein has been a victim of "elder financial abuse" in relation to the management of a trust. The petition claims that following the death of her husband Richard Blum in February 2022, a trust established by him required the trustees to create a marital trust with $5 million for the benefit of the senator. However, the petition alleges that the trustees have failed to fund the Marital Trust or make any income distributions to Senator Feinstein as required.

The legal document accuses the trustees of committing "financial abuse" by wrongfully withholding distributions and "elder financial abuse" by depriving her of property rights in bad faith. The San Francisco Chronicle was the first to report on the petition.

The petitioner, Katherine Feinstein, states that she has been appointed by the senator as her attorney-in-fact under a limited durable power of attorney. Katherine is the senator's daughter from a previous marriage.

The petition names Michael Klein, Marc Scholvinck, and Verett Mims as respondents and co-trustees of the Richard C. Blum Revocable Trust.

In response to the allegations, attorney Steven P. Braccini, representing Klein, Scholvinck, and Mims, stated that the trustees have acted ethically and appropriately throughout the process, while accusing Katherine Feinstein of acting out of greed rather than concern for her mother's needs.

CNN has reached out to attorneys representing Katherine Feinstein for comment.

A spokesperson for Senator Feinstein's office, Adam Russell, stated that this is a private legal matter and that Senator Feinstein and her office will not be providing any comment.

The petition seeks various forms of relief, including compelling the trustees to fund the marital trust, suspending the trustees pending a decision on their removal, and appointing a temporary trustee in their place.

Senator Feinstein, who is 90 years old, has faced increased scrutiny over her health in recent months due to various health-related issues. In February, she announced that she would not seek reelection in 2024. Earlier this month, she was briefly hospitalized after a fall.

The-CNN-Wire™ & © 2023 Cable News Network, Inc., a Warner Bros. Discovery Company. All rights reserved.
Share With Others