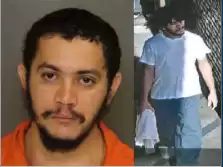 Manhunt for Danelo Cavalcante: Second day of search after Pennsylvania prison escape
Pennsylvania officials are searching for a murderer who escaped from prison just days after being sentenced to life with no parole.
Pennsylvania authorities are intensifying their search for Danelo Cavalcante, a convicted murderer who escaped from Chester County Prison. Cavalcante, 34, had recently been sentenced to life in prison without parole for the brutal stabbing death of his girlfriend, Deborah Brandao. He managed to flee the prison just days after his sentencing, prompting a manhunt that now involves multiple law enforcement agencies.

Officials are offering a $10,000 reward for information leading to Cavalcante's capture. U.S. Marshals have joined the search, as Cavalcante is also wanted in connection with a homicide in his native Brazil. The Brazilian authorities have confirmed that Cavalcante is accused of fatally shooting a man in 2017 before fleeing to the United States.

Cavalcante's escape has raised concerns about public safety, as he has been described as "extremely dangerous" by law enforcement officials. The Chester County District Attorney's Office has urged the public not to approach him if spotted but to immediately call 911.

Cavalcante was last seen in Pocopson Township, wearing a white T-shirt, gray shorts, and white sneakers. He is 5 feet tall and weighs 120 pounds. He is fluent in Portuguese and Spanish, which may aid in his ability to avoid capture.

Law enforcement agencies, including U.S. Immigrations and Customs Enforcement, are working together to locate Cavalcante and ensure his swift return to custody. The community is encouraged to remain vigilant and report any sightings or information to the authorities.

The escape of a convicted murderer like Cavalcante highlights the need for enhanced security measures within the prison system. It also raises questions about how an inmate facing a life sentence managed to escape custody so soon after his sentencing. The incident serves as a reminder of the challenges faced by law enforcement in maintaining public safety and apprehending dangerous criminals.
Share With Others