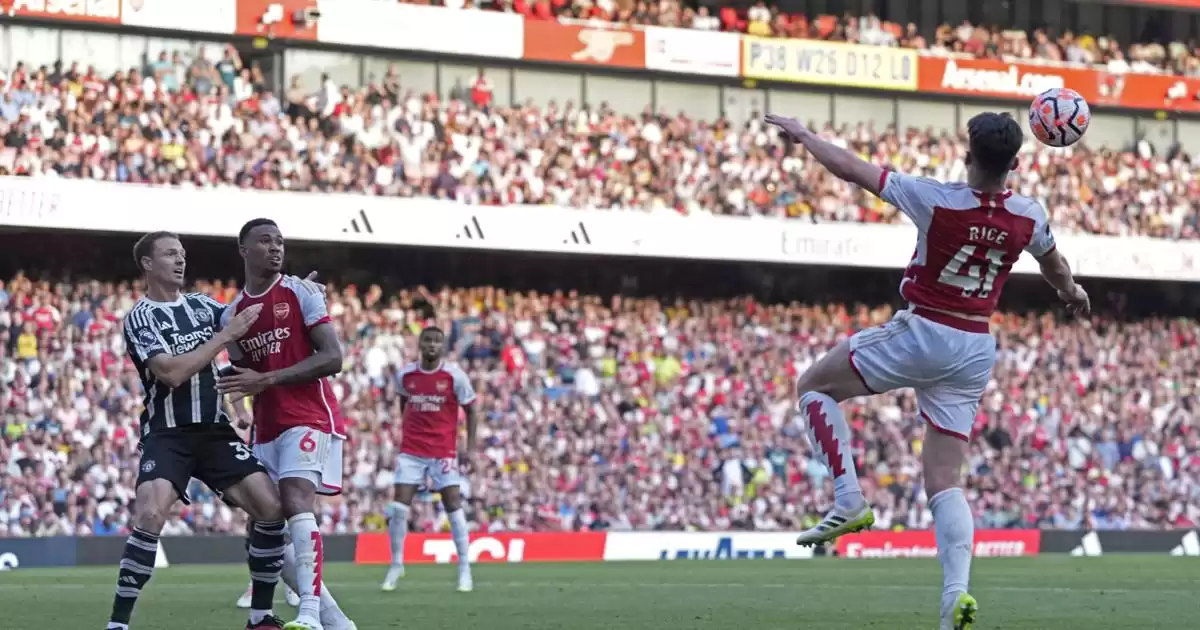 'Rice and Jesus score in injury time as Arsenal earns 3-1 win over Manchester United in EPL'
Arsenal secures a dramatic 3-1 victory over Manchester United with late goals from Declan Rice and Gabriel Jesus.
In a thrilling Premier League match between Arsenal and Manchester United, Declan Rice proved his worth as Arsenal's record signing by scoring a crucial goal in injury time. The game seemed destined for a draw, but Rice's right-footed shot found the back of the net, securing a 3-1 victory for Arsenal.

The dramatic turn of events came after United substitute Alejandro Garnacho thought he had scored a late winner in the 89th minute. However, the goal was disallowed after a VAR check revealed an offside position. This setback for United gave Arsenal the opportunity to launch a counterattack in the 11th minute of stoppage time, resulting in Gabriel Jesus calmly slotting the ball past Andre Onana to seal the win.

Rice's goal was particularly significant as he was signed by Arsenal for a staggering fee of over 100 million pounds ($125 million) from West Ham. This goal not only showcased Rice's talent but also justified the hefty price tag associated with his transfer. It was a statement of intent from Arsenal, as they secured three vital points against a top-four rival.

The match saw both teams exchanging quick goals in the first half. Marcus Rashford gave United the lead against the run of play with a clinical finish in the 27th minute. However, Arsenal responded swiftly, with Martin Odegaard leveling the score shortly after the restart.

This thrilling encounter between two top English clubs captivated fans and showcased the intensity and competitiveness of the Premier League. The victory for Arsenal not only bolstered their position in the league but also provided a morale boost for the team and its supporters.

Overall, this match was a testament to the unpredictable nature of football and the drama it can deliver. With standout performances from players like Declan Rice and Gabriel Jesus, Arsenal emerged triumphant, leaving Manchester United to rue their missed opportunities. As the Premier League season unfolds, fans can expect more thrilling encounters and unpredictable outcomes that make this sport so captivating.
Share With Others