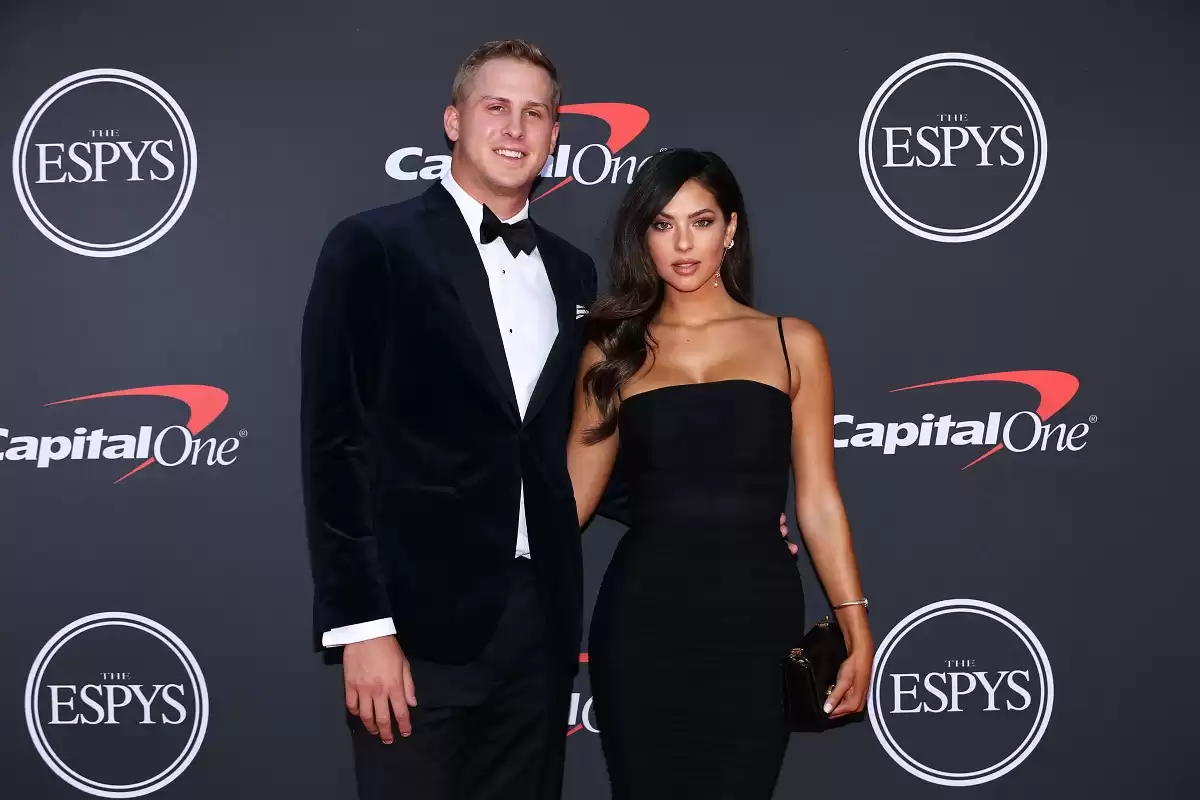 Quarterback Jared Goff's Fiancée Christen Harper: All You Need to Know
Jared Goff's fiancée, Christen Harper, opens up about their relationship, online dating, and dealing with negativity as an NFL player's partner.
Jared Goff, the talented quarterback, made headlines when he was chosen as the first pick in the 2016 NFL Draft by the Los Angeles Rams. However, after spending five successful seasons with the team, Goff shocked fans and his fiancée by being traded to the Detroit Lions.

But let's take a closer look at Goff's fiancée, Christen Harper, and the challenges she faces as the partner of an NFL player. The couple first met on the dating app Raya in 2018, and interestingly, it was Harper who made the first move and messaged Goff. She encourages other women to take the initiative in relationships, emphasizing that shooting your shot can lead to unexpected and wonderful experiences.

On June 16, 2022, Goff proposed to Harper while they were enjoying a beach day in Cabo San Lucas. Harper joyfully accepted, sharing the news on Instagram with a heartfelt caption expressing her excitement for their future together.

However, their lives took a turn when Goff was traded to the Detroit Lions in exchange for Matthew Stafford. Harper initially had reservations about the move, as she had never been to Detroit and had only heard negative things about the city. But upon arriving, she was pleasantly surprised and found the place to be amazing.

Despite the excitement and joy that comes with being in a relationship with an NFL quarterback, Harper also faces the downside of dealing with negative comments from fans after a loss. She revealed that she receives death threats and hurtful messages through her DMs, but she has learned to ignore the noise and not let it affect her. Harper recognizes that football is just a game and that people's opinions should not overshadow the enjoyment of the moment.

While supporting her fiancé's career, Harper is also focused on her own professional endeavors. She is a successful model who gained recognition by appearing in Sports Illustrated after Goff encouraged her to apply for the Swim Search open casting call. Her debut led to her being named SI Swimsuit's 2022 Rookie of the Year.

In addition to her modeling career, Harper has announced the launch of a self-care app in collaboration with fellow model and influencer Elizabeth Turner. The app aims to empower individuals and promote self-improvement and well-being. It will provide a wide range of resources, including recipes, mental health tips, and one-on-one coaching with experts, to help users live their best lives.

In conclusion, Jared Goff's journey from the Los Angeles Rams to the Detroit Lions has brought about changes in both his personal and professional life. His fiancée, Christen Harper, has embraced these changes and faced the challenges that come with being in a relationship with an NFL player. Despite the negativity she sometimes encounters, Harper remains focused on her own career and is determined to make a positive impact through her self-care app. Together, they are navigating the highs and lows of their respective journeys, supporting each other every step of the way.
Share With Others