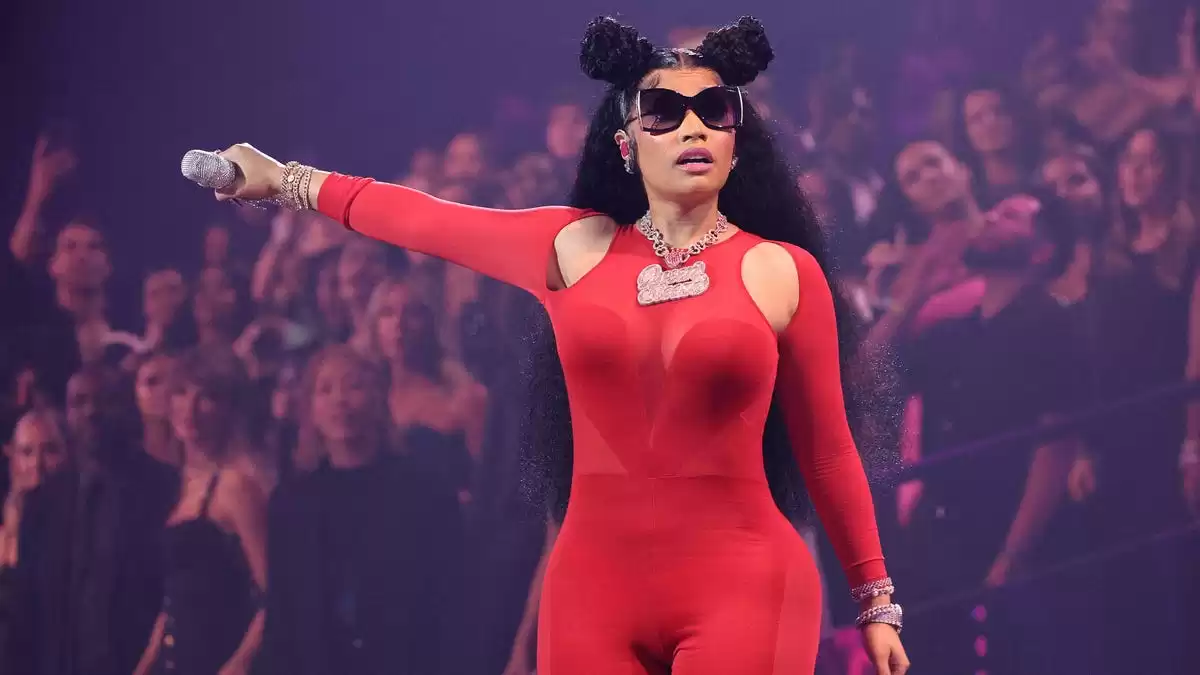 2023 MTV VMAs: Diddy, Lil Wayne, Nicki Minaj Deliver Outstanding Performances
Taylor Swift dominated the MTV Video Music Awards, but backstage drama between Megan Thee Stallion and Justin Timberlake was just a fangirl moment.
The MTV Video Music Awards, once a highly anticipated event, has lost some of its appeal in recent years. However, that hasn't stopped major stars from gracing the stage. Before we delve into the standout performances of the night, let's quickly recap the awards: Taylor Swift was the big winner. Now that you're up to speed, let's talk about the backstage drama that unfolded.

There was a video circulating on Tuesday night showing a brief interaction between Megan Thee Stallion and Justin Timberlake, leading to speculation of a fight. As it turns out, Megan was simply expressing her excitement as a fan. While getting her hair done, she spotted a reunited *NSYNC and playfully gestured to Justin, indicating that she wanted to hang out. According to sources, Justin responded politely, but Megan insisted that they meet properly. So, it seems there was no feud after all. In fact, don't be surprised if they collaborate on a new song, considering all the buzz surrounding them.

When Megan wasn't making waves backstage, she was delivering an electrifying performance on stage with Cardi B. Their rendition of their new hit "Bongos" exuded a sexy and fun energy that truly showcased why these women are superstars. In a night filled with forgettable moments, this performance stood out as a fantastic and enjoyable spectacle.

Before receiving the Global Icon Award from Mary J. Blige, Diddy treated the audience to a medley of Bad Boy classics. Hits like "I'll Be Missing You," "It's All About the Benjamins," "Bad Boy 4 Life," "Last Night" (featuring Keyshia Cole), and "Mo Money Mo Problems" resonated with the crowd. Notably, Diddy's son, Christian (also known as King Combs), flawlessly rapped Ma$e's verse from "Mo Money Mo Problems." However, it was bittersweet to see Diddy perform without any of the original Bad Boy artists by his side, considering the well-documented tension between them. While the performance was nostalgic and enjoyable, it also carried a tinge of sadness.

Despite hosting duties, Nicki managed to take a break and debut two new songs from her upcoming album, Pink Friday 2. "Last Time I Saw You" stood out as a beautiful and emotional track that pays tribute to lost loved ones. Nicki opted for a stripped-down performance, allowing the song to shine without any flashy distractions. This showcased a more mature side of Nicki, which we hope to see more of during her Pink Friday 2 release tour.

Lil Wayne, a favorite among his fans, kicked off the show with a four-minute set featuring his hits "Back That Azz Up," "Uproar," and "Kat Food." Despite the chaos and turmoil surrounding him, Lil Wayne consistently delivers captivating performances. His stage presence is genuine and captivating, serving as a lesson to young hip-hop artists on how to engage and maintain audience interest for over two decades.

Doja Cat brought her defiant energy to her VMAs performance, reflecting the recent controversies surrounding her. Alongside her chart-topping hit "Paint the Town Red," she also performed "Attention" and "Demons." She began the performance as a sophisticated librarian, with her gray blazer buttoned and hair up. However, as the performance progressed, she transformed into a fierce demon, letting her hair down and showcasing a red bra. Regardless of any social media controversies, Doja Cat delivered one of the most memorable performances of the night.

While I may not be well-versed in these artists' work, their laid-back and low-key performance felt somewhat out of place amidst the high-energy show. While it's refreshing to have variety, this particular performance may get lost in the shuffle amidst the relentless beats and flashing lights of the night. Additionally, it didn't quite hold up against the nostalgic hip-hop performances we witnessed throughout the evening.

It was a notable moment when MTV celebrated the 50th anniversary of hip-hop, especially considering the network's initial reluctance to embrace the genre. Grandmaster Flash and the Furious Five, Doug E. Fresh, Nicki Minaj, Lil Wayne, LL Cool J, and Darryl "DMC" McDaniels came together to close the show. While the music industry has spent the past year celebrating hip-hop, this particular tribute felt somewhat tardy and obligatory for MTV, ticking off a box on their checklist.

In conclusion, the MTV Video Music Awards may have lost some of its former glory, but it still managed to attract major stars. From backstage drama to standout performances, the night had its fair share of memorable moments. While some performances fell short, others shone brightly and left a lasting impression. Ultimately, the celebration of hip-hop's 50th anniversary served as a reminder of the genre's impact and influence, even if it felt slightly overdue.
Share With Others