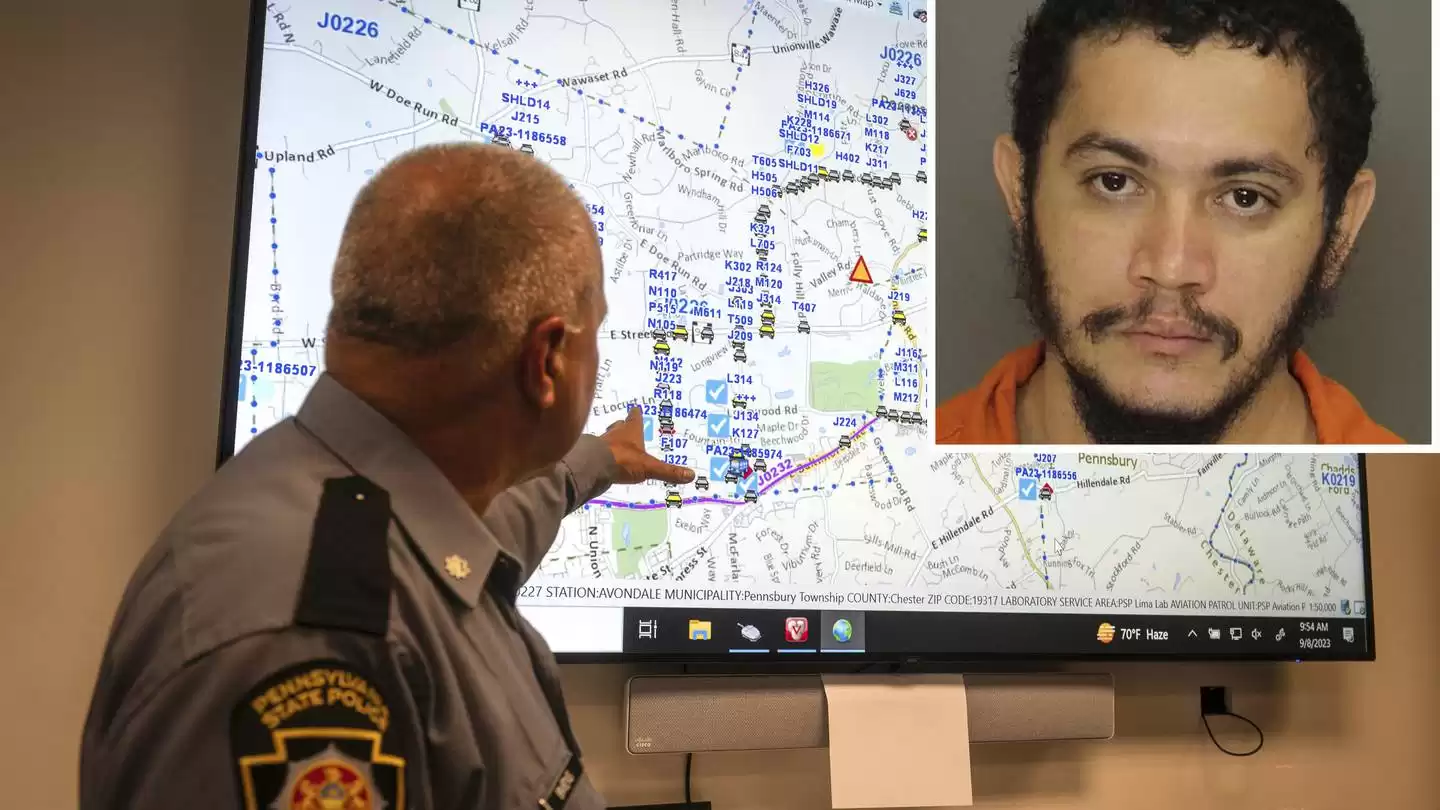 "Armed Cavalcante Evades Pennsylvania Manhunt with Monday Night Break-in, Police Report"
Convicted murderer Danelo Cavalcante remains at large in Pennsylvania, armed with a stolen rifle, as authorities struggle to capture him.
The manhunt for escaped prisoner Danelo Cavalcante in Pennsylvania has entered its second week, with authorities still unable to apprehend the convicted murderer. Officials have revealed that Cavalcante is now armed with a stolen .22 rifle equipped with a scope. The fugitive broke into a homeowner's garage and took the rifle, although there is no evidence that he was injured when the homeowner fired his pistol at him. Lt. Col. George Bivens of the Pennsylvania State Police described Cavalcante as desperate and dangerous, expressing concerns that he may use the weapon.

Cavalcante, 34, was sentenced to life in prison without parole last month for the 2021 stabbing of his ex-girlfriend in front of her children. He is also wanted in Brazil for a murder in 2017. Prosecutors have alleged that he killed his ex-girlfriend to prevent her from revealing his involvement in the previous murder. Cavalcante escaped from the Chester County Prison on August 31 by crab-walking between two walls. Security footage captured his escape, which involved scaling walls, crossing a roof, and navigating razor wire. However, his absence went unnoticed for over an hour during a headcount. An 18-year-old veteran corrections officer on duty at the guard tower was found to have violated prison policy by having his personal cell phone with him and was subsequently fired.

This year's escape was the second time an inmate used the same route to flee the Chester County Prison. In May, 30-year-old Igor Bolte made a similar escape but was captured shortly afterward. Following Bolte's escape, razor wire was installed to prevent future incidents. The ongoing manhunt for Cavalcante has led to the closure of schools and roads, with hundreds of people participating in the search. Eyewitnesses and security cameras have spotted the fugitive multiple times, and he has altered his appearance, stolen a van, and reached out to former acquaintances.

Law enforcement agencies, including the Pennsylvania State Police, FBI, ATF, and U.S. Marshals, are utilizing tactical teams, aircraft, tracking dogs, and officers on horseback in their search efforts. The search has been challenging due to the densely wooded area, underground tunnels, and large drainage ditches. The reward for information leading to Cavalcante's capture has been increased to $25,000. Over the weekend, Cavalcante stole a delivery van and traveled 20 miles to East Pikeland Township, escaping the initial search area. He attempted to meet with a former coworker but was unsuccessful as the individual was out for dinner and alerted the authorities after reviewing footage from his Ring doorbell camera. The abandoned van was later found in a field behind a barn, believed to have been abandoned due to low fuel.

Recent images of Cavalcante show him clean-shaved, wearing a baseball cap, hooded sweatshirt, prison pants, and white shoes. After stealing the rifle, he was found to be shirtless, with a green sweatshirt and white t-shirt left behind. Residents in the area have been advised to stay indoors and secure their doors, windows, and vehicles. TMZ reported that Dog the Bounty Hunter is considering offering his assistance in the manhunt, having made several phone calls to law enforcement sources in Pennsylvania and elsewhere to gather information on the situation.
Share With Others