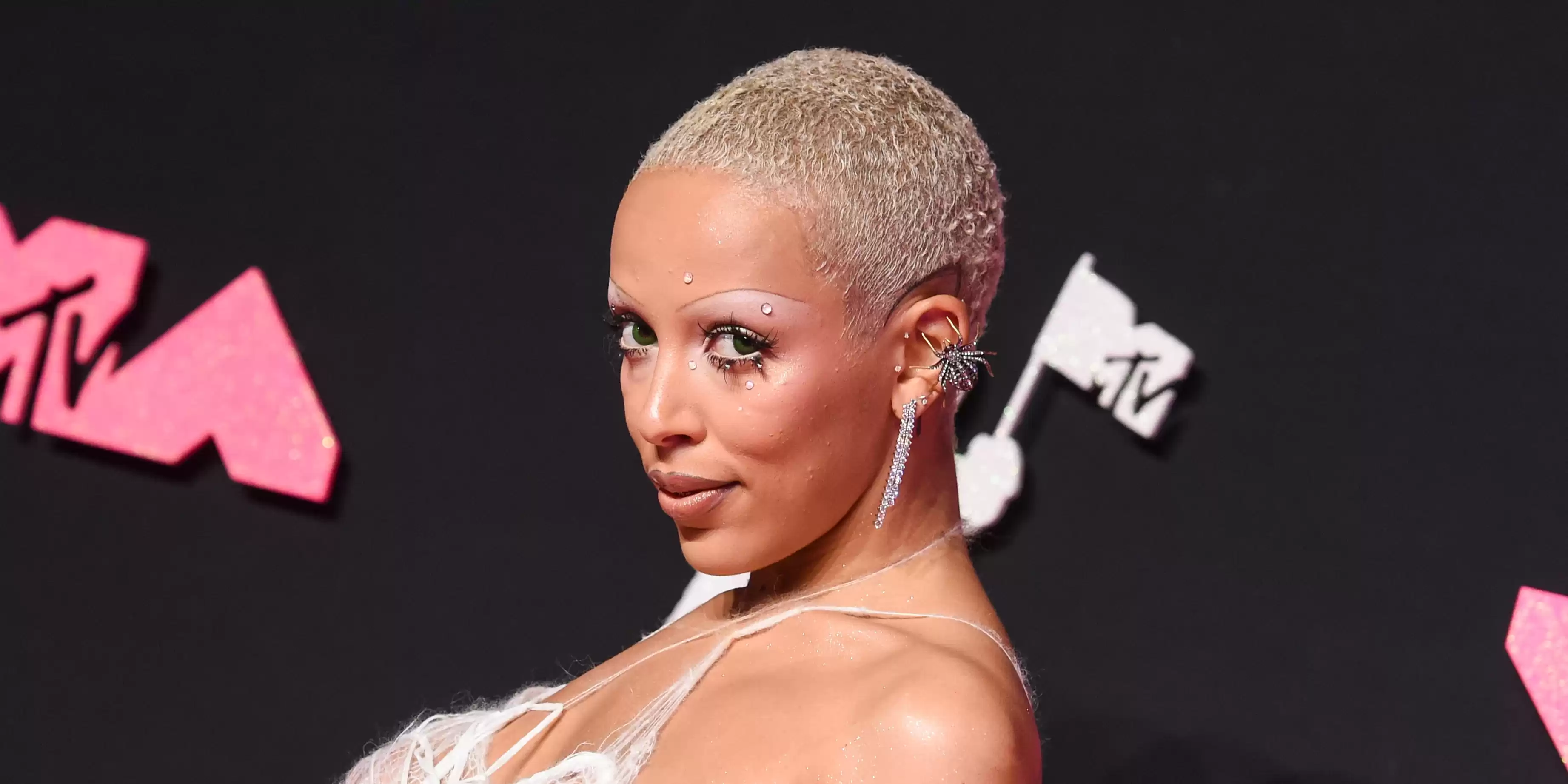 Doja Cat Stuns in Spiderweb Dress at VMAs
Doja Cat stunned at the MTV VMAs in a see-through spiderweb dress, paying homage to artist Louise Bourgeois and her upcoming album "Scarlet."
At the 2023 MTV VMAs on September 12, Doja Cat had a supernatural aura surrounding her. Before her performance of various singles, including "Paint the Town Red," Doja made a grand entrance on the red carpet wearing a mesmerizing see-through spiderweb dress designed by Monse.

This Halloween-ready ensemble, created by Laura Kim and Fernando J Garcia, was crafted using faux spiderwebs by Yu Jei Yen Textile. From a distance, the fabric gave the illusion that the rapper's gown was intricately woven by dedicated arachnids. To complement the look, her stylist, Brett Alan Nelson, paired it with transparent heels by Amina Muaddi and adorned her with diamond jewelry from renowned jewelers like Balenciaga, Yeprem, Nicole Rose Jewelry, Maria Tash, and Yessayan Jewelry.

The dress, inspired by artist Louise Bourgeois's iconic "Maman" spider sculpture, is likely a direct homage to Doja's upcoming album, "Scarlet." The designer shared photos of Doja Cat's look on Instagram before the award show, stating, "This stunning creation pays tribute to Louise's extraordinary work and the inspiration behind it – her mother's dedication to textiles, mending, and repairing fabrics. It's a true masterpiece that beautifully intertwines the worlds of fashion and art."

The intricate design, flowing down to the floor, was meticulously draped to create multiple cutouts along the bodice and skirt, revealing a nude thong underneath. The cutouts continued at the back, providing minimal coverage as Doja posed for the cameras in her frosty heels. The delicate, web-like fabric also formed a one-shoulder neckline, adding to the dress's allure. Embracing her affinity for all things eerie, Doja adorned herself with snake-like cuff bracelets and oversized spider earrings, featuring ruby eyes and diamond abdomens.

Completing the haunting ensemble, Doja's beauty team enhanced her look with ghostly white eyeshadow, dramatic lashes, poison-green contact lenses, and blood-red stiletto nails. Despite Halloween still being weeks away, Doja Cat is fearlessly embracing her spooky side. Take a closer look at the star's incredible spiderweb dress from every angle.

In summary, Doja Cat captivated the audience at the 2023 MTV VMAs with her ethereal presence. Her attention-grabbing spiderweb dress, inspired by Louise Bourgeois's art, showcased the seamless fusion of fashion and artistry. With her daring fashion choices and impeccable styling, Doja continues to push boundaries and embrace her love for the macabre.
Share With Others