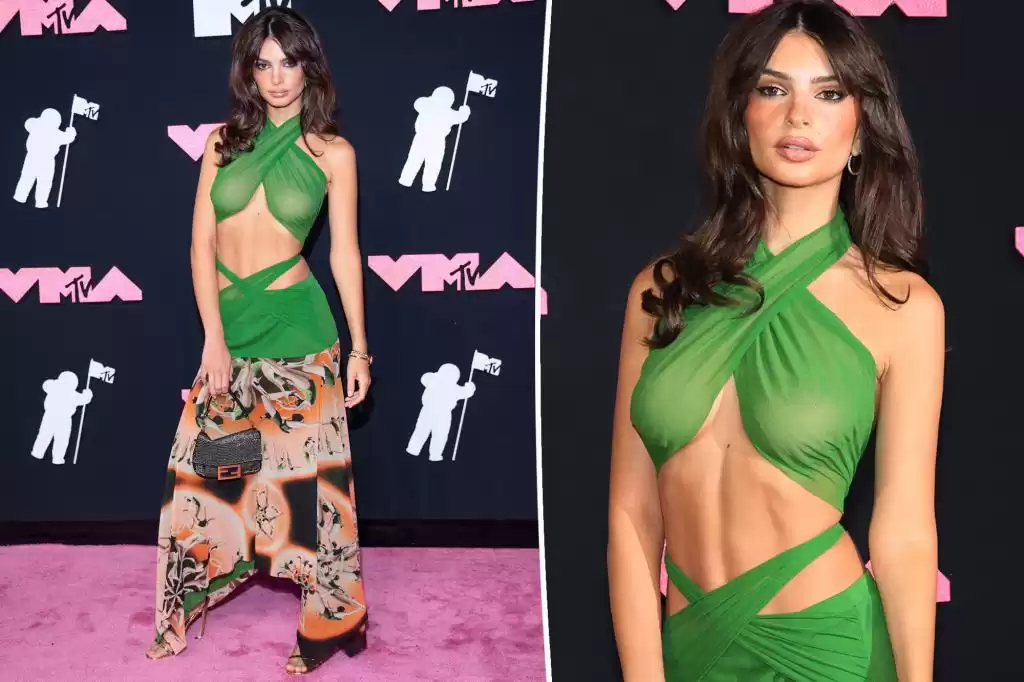 Emily Ratajkowski brings Y2K style to VMAs 2023 red carpet in
Emily Ratajkowski turns heads at the VMAs 2023 in a green cutout maxi dress, flaunting her incredible abs and daring fashion choices.
On the red carpet of the VMAs 2023, Emily Ratajkowski made a bold fashion statement by showing off her incredible abs in a green cutout maxi dress. The dress, a halter-style vintage Jean Paul Gaultier, featured sheer green material that elegantly wrapped around her breasts and under her belly. The skirt of the dress showcased a striking black, orange, and green pattern, while also giving a glimpse of her exposed thong.

Not only did the daring dress reveal plenty of skin, but it also had a crisscross design at the back, further adding to the allure of Ratajkowski's look. To complete her ensemble, the 32-year-old model accessorized with a throwback accessory, carrying a tiny Fendi baguette bag.

Ratajkowski's hair was styled with curtain bangs and soft curls, perfectly complementing her bronzed makeup look. Her makeup included a nude lip and a smokey eye, enhancing her natural beauty.

This isn't the first time Ratajkowski has made a statement on the red carpet. Known for her bold fashion choices, she has previously worn a bra as a shirt, showcased her nipple in a stunning sheer gown, and even debuted blunt bangs. Her unique sense of style always leaves a lasting impression.

However, Ratajkowski's fashion-forward choices aren't limited to the red carpet. On her Instagram, she famously posted numerous thirst traps this summer to promote her swimwear line, Inamorata Woman. In these posts, she confidently flaunted her booty in a super high-cut thong bikini and even opted for a crocheted seashell bikini for a playful "Little Mermaid" twist.

Aside from her social media presence, Ratajkowski has also become an unexpected street style star. Her fashionable dog walking ensembles have caught the attention of fashion enthusiasts, proving that she can effortlessly look stylish in any setting.

Whether she's gracing the red carpet or simply walking her dog, Emily Ratajkowski never fails to captivate with her fashion choices. Her confidence and ability to push boundaries make her a true trendsetter. Stay updated with all the latest from the 2023 VMAs through our up-to-the-minute coverage.
Share With Others