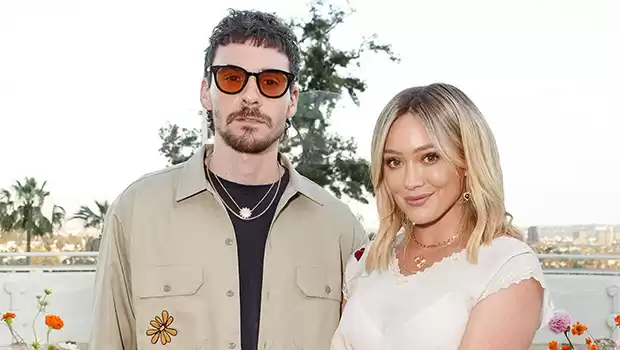 Hilary Duff PDA Husband Matthew Koma Mexico Photos
Hilary Duff and husband Matthew Koma share romantic vacation photos from Mexico, delighting fans with their love and style.
Hilary Duff and her husband Matthew Koma recently enjoyed a sizzling vacation in Mexico, and they made sure to document their romantic getaway on social media. The 35-year-old actress and singer took to Instagram to share a carousel of photos from their trip, giving fans a glimpse into their sun-soaked adventures.

In one of the snapshots, Hilary and Matthew can be seen sharing a passionate kiss against the backdrop of a stunning sunset. The blonde beauty looked radiant in a sleeveless green sundress with an abstract floral design, while her husband kept it casual in a white t-shirt and brown trousers. The couple's chemistry was palpable, and it's clear that they were enjoying every moment of their time together.

Hilary also shared a mirror selfie, showcasing her impeccable style in a plunging striped dress paired with a blue dress shirt and open-toed sandals. She exuded confidence and glamour, proving that she knows how to make a fashion statement even on vacation. The last slide of the carousel featured Hilary in a tropical blouse, trendy Daisy Duke shorts, and beige sandals, radiating a carefree and summery vibe.

The couple's Instagram followers couldn't help but shower them with love and compliments. Many expressed their admiration for the romantic photo and the couple's undeniable chemistry. Some fans playfully referenced Hilary's iconic role as Lizzie McGuire, jokingly calling this vacation the "Mexico edition" of the beloved show. Others couldn't resist quoting Hilary's hit song from the Disney Channel movie, emphasizing that this vacation truly felt like a dream come true. And of course, there were fans who made sure to let Hilary know that she has always been their favorite childhood star.

The next day, Hilary continued to share more content from their trip, captioning the post "Mexico II." The carousel included a photo of Matthew soaking up the sun on the beach, showcasing his laid-back and relaxed vibe. The couple also had a playful moment when Hilary spotted a reptile under Matthew's chair and jokingly asked if they could bring it home. Fans appreciated their sense of humor and expressed their love for Hilary's passion for animals.

Overall, Hilary Duff and Matthew Koma's vacation in Mexico was a perfect blend of romance, fashion, and fun. Their Instagram posts allowed fans to join in on their joyous moments and experience a taste of their idyllic getaway. It's clear that this couple knows how to keep the spark alive and create lasting memories together.
Share With Others