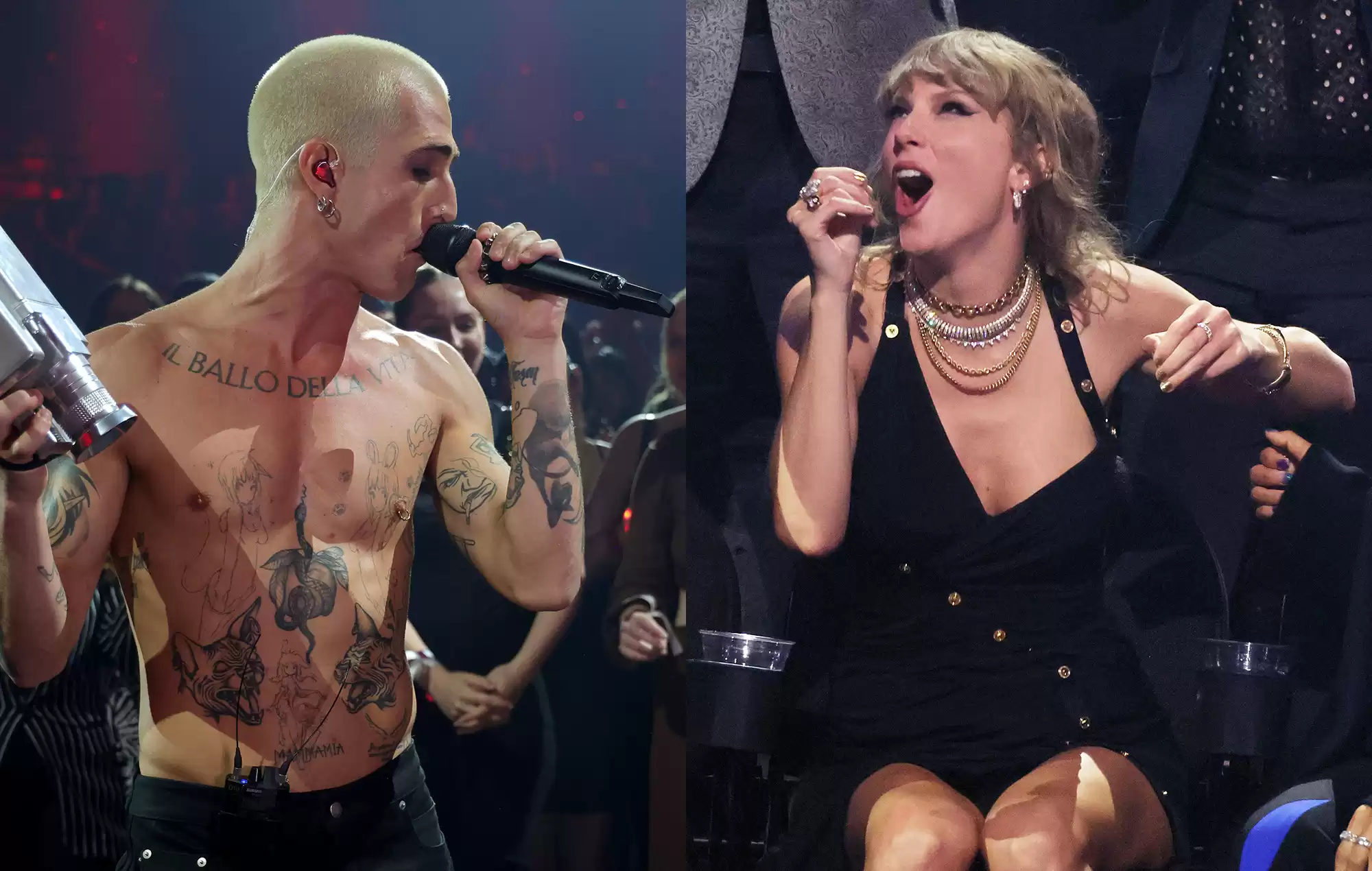 Watch Taylor Swift send love to Måneskin at MTV VMAs
Taylor Swift blows a kiss to Måneskin singer Damiano David during their performance at the MTV VMAs, sparking viral speculation.
Taylor Swift was captured on camera blowing a kiss to Damiano David, the lead singer of Måneskin, during their performance at the MTV VMAs. The Italian rockers kicked off their set with their latest single, 'Honey (Are U Coming?)'. In the video clip, David can be seen holding up a fish eye camera near Swift, who was seated in the front row, before she made the kiss gesture.

Måneskin won the Best Rock award at this year's VMAs for their song 'The Loneliest'. They were also nominated for Group of the Year. It's worth noting that last year, MTV censored the band's performance of 'Supermodel' due to a wardrobe malfunction when bassist Victoria De Angelis' top fell off on stage. The track was later included in their latest album, 'Rush!', which they will be promoting during their tour for the rest of the year.

Their latest single, 'Honey (Are U Coming?)', was released earlier this month in anticipation of their world tour. The tour will feature Måneskin's first headlining arena shows in the US, as well as their debut performance in Australia. It's highly likely that the track will be included in their upcoming shows. The tour will kick off on September 21 with a headline performance at Madison Square Garden in New York.

While Swift was enjoying the performances as an audience member, she showed her approval by nodding her head during Stray Kids' performance of 'S-Class'. Later on, she stood up with her friend and frequent collaborator, Rina Yang, to give a standing ovation to the K-pop boyband.

Swift had a successful night at the VMAs, taking home multiple awards. For a complete list of winners, you can refer to the official website.
Share With Others