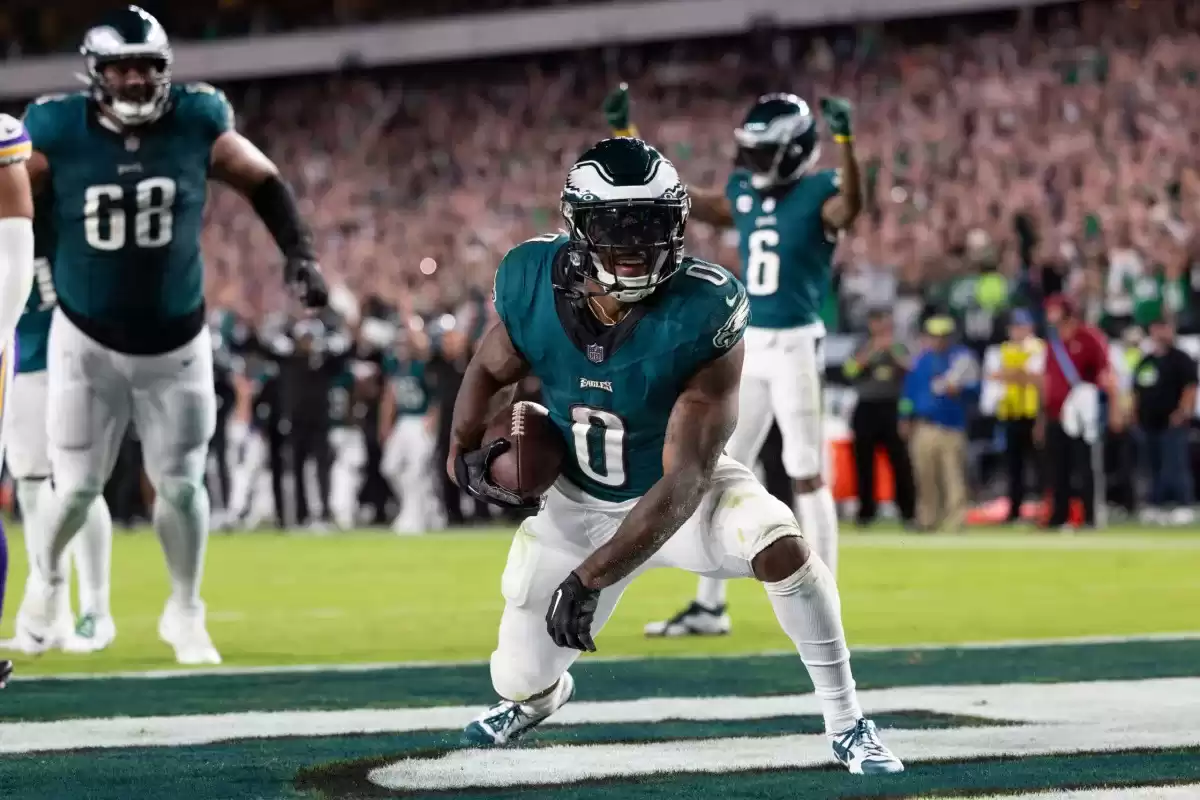 "Former Lions RB D'Andre Swift's Big Impact on Vikings"
D'Andre Swift shines in his return to Philadelphia, setting a new career rushing record against the Minnesota Vikings.
D'Andre Swift's tenure with the Detroit Lions was marked by struggles and an inability to find his place in their offense. Despite being drafted in the second round of the 2020 NFL Draft, Swift never lived up to the potential of being a centerpiece in their offensive scheme. However, a fresh start may have come for him in the form of a trade to the Philadelphia Eagles.

After the Lions selected Jahmyr Gibbs in the first round of this year's draft, Swift was traded to his hometown team, the Eagles. It was hoped that he would find a better fit in their run-heavy offense. In the first week, Swift only had one carry for three yards, but he quickly rebounded in week two.

In a career-defining performance, Swift faced off against his former division rival, the Minnesota Vikings, and delivered an outstanding performance. It was a significant improvement from his previous career-high rushing record, which he achieved 368 days ago as a member of the Lions against the Eagles. In that game, Swift rushed for 144 yards on 15 carries and scored a touchdown. Although the Lions lost, that game may have planted the seed for the Eagles eventually trading for him.

Fast forward to the present, and Swift has now set a new career record. Against the Minnesota Vikings, he carried the ball 28 times and ran for an impressive 175 yards, scoring a touchdown along the way. Thanks to his outstanding performance, the Eagles were able to fend off a late surge from the Vikings and secure a 2-0 record.

On the other hand, the Vikings have had a rough start to the 2023 season, falling to 0-2 in the NFC North rankings. Both the Vikings and the Bears have yet to secure a win, while the Lions and Packers have started their seasons with victories. The Lions and Vikings won't face each other until week 16 of this season, giving the duo of David Montgomery and Jahmyr Gibbs time to establish themselves as a formidable running back combination.

When the Lions and Vikings finally meet, it could be a challenging day for the Vikings' defense. The duo of Montgomery and Gibbs, with their newfound chemistry, could pose a significant threat to the Vikings' chances of victory in December.
Share With Others