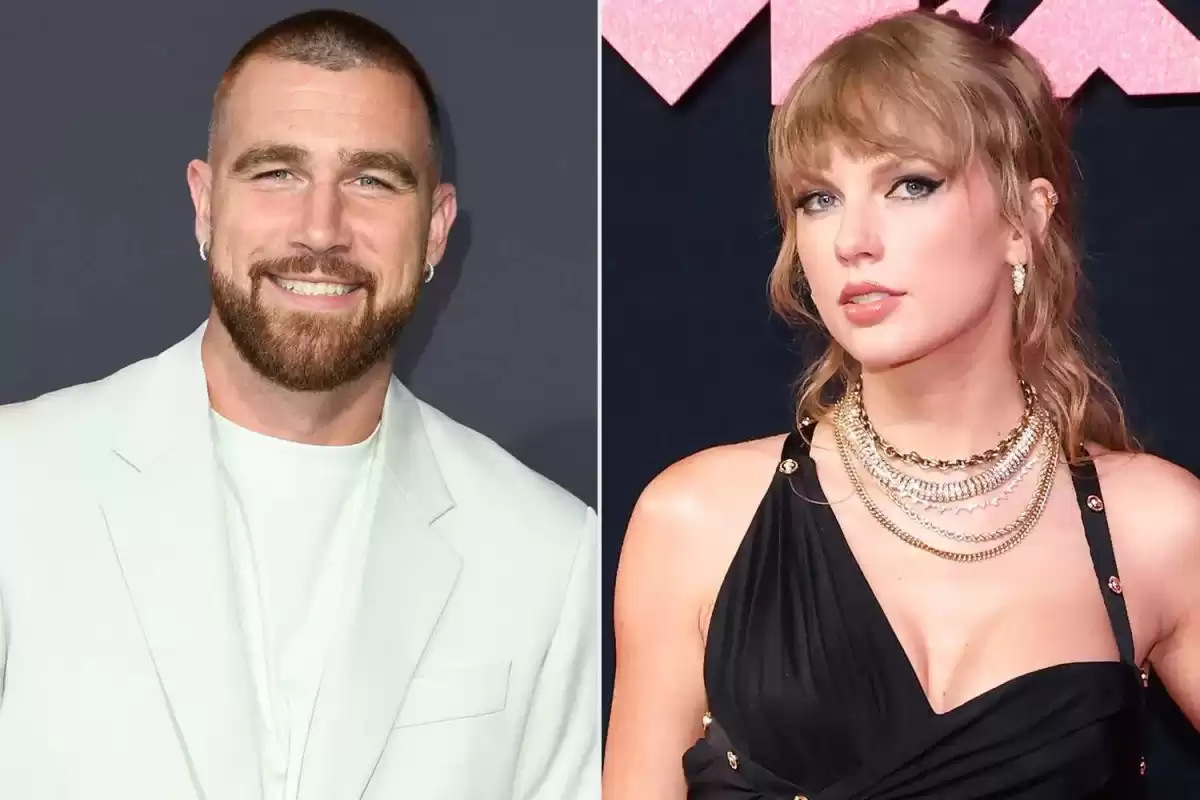 Jason Kelce: Taylor Swift Dating Rumors Addressed as Travis Kelce "Has Fun"
Jason Kelce refuses to comment on rumors that his brother Travis Kelce is dating Taylor Swift.
During a post-game interview on Thursday night, Jason Kelce, a player for the Philadelphia Eagles, responded to rumors about his brother Travis Kelce dating Taylor Swift with a laugh and a cryptic comment. When asked about the gossip surrounding his younger brother's love life, Jason chose not to comment, leaving fans curious about the truth behind the rumors.

After the Eagles' 34-28 victory over the Minnesota Vikings, Jason and quarterback Jalen Hurts spoke with Prime's Thursday Night Football panel. It was during this interview that retired NFL star Tony Gonzalez asked Jason to address the rumors on behalf of his 15-year-old daughter. Jason, 35, responded by saying, "I've seen these rumors. I cannot comment."

However, Jason did offer some insight into the situation. He mentioned that ever since Travis appeared on the reality dating show "Catching Kelce," people have been fascinated with his love life. Jason admitted that he doesn't know the details of Travis' current dating situation but emphasized that his brother is enjoying himself. He added, "We'll see what happens with whoever he ends up with."

The rumors linking Travis, 33, to Taylor Swift, 33, surfaced in a report earlier this week. Travis, a tight end for the Kansas City Chiefs, previously dated on-air sports journalist Kayla Nicole for several years before their breakup in August 2020. The split was accompanied by rumors of infidelity, which Travis denied in a now-deleted tweet. Since then, he has remained tight-lipped about his romantic endeavors.

However, Travis has playfully addressed his dating life on his podcast, "New Heights with Jason and Travis Kelce." In a recent episode, he joked about rejoining the dating app Tinder and using a photo of himself on the sidelines as his profile picture. Seeking advice, he turned to his brother Jason and sister-in-law Kylie Kelce, who actually met on Tinder.

During another episode of the podcast in July, Travis shared a humorous anecdote about attempting to give Taylor Swift his phone number via a friendship bracelet. Unfortunately, he was unable to speak with her as he was informed that she needed to preserve her voice for her concert. Travis expressed disappointment, saying, "She doesn't meet anybody, or at least she didn't want to meet me, so I took it personally."

While the truth behind the rumors remains unknown, fans eagerly await any updates on Travis Kelce's love life. His playful banter and lighthearted approach to the topic have only fueled curiosity. As for Taylor Swift, it seems she remains focused on her music career, leaving fans to wonder if a potential romance with Travis is on the horizon.
Share With Others