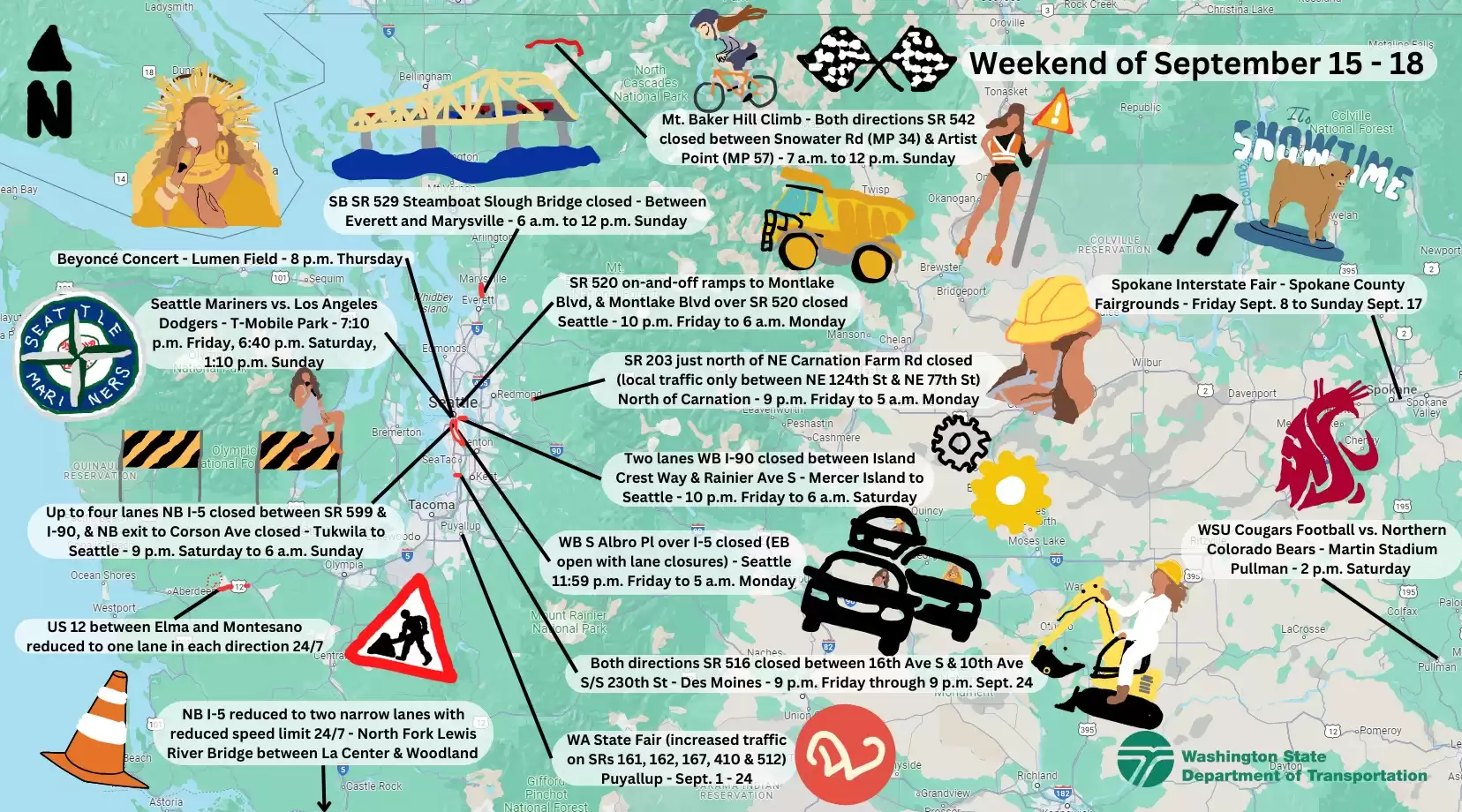 Avoid Traffic and See Beyoncé in Seattle: Know the Roads to Avoid
Beyoncé performs at Lumen Field in Seattle tonight, leaving excitement in the city. Check for traffic updates before heading out.
Are you ready to witness the incredible Beyoncé perform tonight at Lumen Field in Seattle? Don't let any construction on your way there dampen your spirits, because Queen Bey is sure to leave the city buzzing with excitement!

The "Renaissance Tour" is taking place today at Lumen Field. The doors open at 6:30 p.m. and the concert begins at 8:00 p.m. There are still tickets available for purchase, so if you suddenly decide you want to go, head over to Ticketmaster now and secure your spot!

Please note that parking for this concert is limited in the Lumen Field parking garage. If you have pre-purchased parking passes, it is highly recommended that you arrive as early as possible to secure your spot.

As you make your way to the venue, it's important to be aware of the various construction projects happening in the area. Here's a rundown of the closures and restrictions:

- Up to four northbound lanes of I-5 will be closed between SR-599 and I-90, with the northbound exit to Corson Avenue also closed. Additionally, the stretch from Tukwila to Seattle will be closed from Saturday at 9:00 p.m. to Sunday at 6:00 a.m.
- Both directions of SR-516 will be closed between 16th Avenue South, 10th Avenue South, and South 230th Street to Des Moines from Friday at 9:00 p.m. to September 24 at 9:00 p.m.
- Westbound South Albro Place over I-5 will be closed from Friday at 11:59 p.m. to Monday at 5:00 a.m.
- Two lanes of westbound I-90 will be closed between Island Crest Way and Rainier Ave South, spanning from Mercer Island to Seattle, from Friday at 10:00 a.m. to Saturday at 6:00 a.m.
- SR-203 north of Northeast Carnation Farm Road will be closed from Friday at 9:00 a.m. to Monday at 5:00 a.m.
- SR-520 on-and-off ramps to Montlake Boulevard and Montlake Boulevard over SR-520 will be closed from Friday at 10:00 a.m. to Monday at 6:00 a.m.

If you're a Mariners fan, don't miss their game against the Los Angeles Dodgers at T-Mobile Park! The games will take place on Friday at 7:10 p.m., Saturday at 6:40 p.m., and Sunday at 1:10 p.m. Make sure to grab your tickets and keep an eye on the traffic conditions as you head to the ballpark.

For a fun-filled weekend with the whole family, the Washington State Fair is the place to be! Enjoy concerts, games, thrilling rides, and delicious food. Visit the Washington State Fair website for more information.

If you live near the fair but aren't attending, be prepared for high traffic on SR-161, 162, 167, 410, and 512.

Heading a little north, the Mt. Baker Hill Climb will take place on September 17. This sold-out bike race will start at Snowater Road and finish at Artist Point. The race begins at 7:00 a.m., resulting in road closures for the safety of the bikers. SR-542 will be closed between Snowater Road and Artist Point from 7:00 a.m. to 12:00 p.m. on Sunday.

In the vicinity, the Steamboat Slough Bridge will be closed between Everett and Marysville from Sunday at 6:00 a.m. to 12:00 p.m.

In eastern Washington, two significant events are happening:

- The Spokane County Interstate Fair is taking place, and this weekend is your last chance to experience it. Make sure to visit before it ends. Check out the fair website for ticket information and event details.
- The cougars are coming off a big win against Wisconsin and will be playing against Northern Colorado in Pullman this weekend. The game kicks off at 2:00 p.m. on Sunday.

With so many exciting events happening this weekend, be sure to check WSDOT travel alerts before you hit the road.

Enjoy your weekend filled with entertainment, sports, and fun!
Share With Others