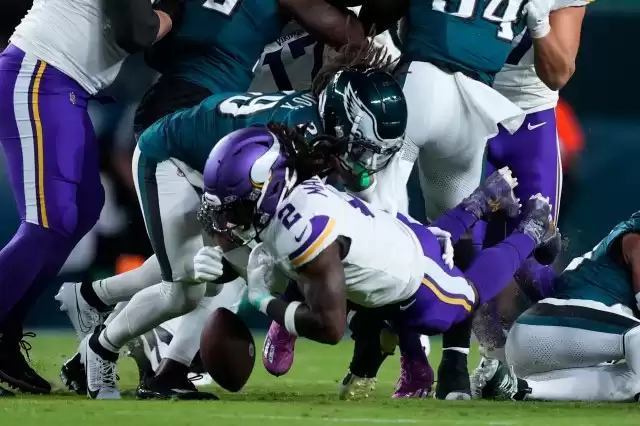 Eagles Silent on Avonte Maddox's Potential Season-Ending Injury
Eagles' defense suffers injuries, including potential season-ending torn pectoral muscle for nickel back Avonte Maddox. Drama between A.J. Brown and Jalen Hurts.
The Philadelphia Eagles suffered another blow to their defense as nickel back Avonte Maddox potentially tore his pectoral muscle in their win over the Minnesota Vikings. This injury could potentially end Maddox's season. The team's next move is yet to be determined, as head coach Nick Sirianni's scheduled news conference was postponed to the following week.

Sirianni added to the drama surrounding the team's 2-0 start by stating his intention to hold coaches and players accountable in their team meeting. The defense was already without linebacker Nakobe Dean, who is expected to be out for at least four weeks due to a foot injury. Additionally, starting safety Reed Blankenship and cornerback James Bradberry were unavailable due to injury.

The Eagles' defense struggled against the Vikings, allowing Kirk Cousins to throw for 364 yards and four touchdowns. They have now allowed seven touchdown passes in their first two games. Sirianni acknowledged the need for improvement and growth but emphasized the team's 2-0 record.

The Eagles will not play again until September 25th when they face the Tampa Bay Buccaneers on Monday night. The Buccaneers are currently 2.5-point favorites in their upcoming game against the Chicago Bears.

In their game against the Vikings, Eagles cornerback Josh Jobe had a challenging starting debut, but he played all 58 defensive snaps. Nickel back Mario Goodrich filled in for Maddox for most of the game, playing 39 snaps. Rookie Kelee Ringo and undrafted rookie Eli Ricks only saw limited playing time. The Eagles may consider activating cornerback Mekhi Garner from the practice squad.

On the offensive side, there was a noticeable confrontation between wide receiver A.J. Brown and quarterback Jalen Hurts on the sideline during the game. The incident caught the attention of cameras and sparked a national conversation. Brown was acquired by the Eagles in a trade with the Tennessee Titans and signed a lucrative contract. However, he has not had a significant impact this season, with only four catches for 29 yards in the game against the Vikings.

Hurts addressed the sideline conversation, expressing his confidence in Brown as a player and teammate. Wide receiver DeVonta Smith, who had an impressive game with four catches for 131 yards and a touchdown, also downplayed the incident.

The Eagles have shown promise on both offense and defense in their first two games. They have recorded six takeaways, with the defense accounting for five of them. The offense has scored five touchdowns and is averaging 29.5 points per game. Hurts has an impressive winning record as a starting quarterback, winning 19 of the last 20 regular-season games, and leading all NFL quarterbacks in winning percentage since the start of last season.

Despite the internal and external factors that can potentially divide the team, the Eagles remain focused on their success and the ultimate goal of winning. Kicker Jake Elliott's 61-yard field goal in the game tied his career-long and placed him among a select group of NFL players with multiple 60-plus yard field goals.
Share With Others