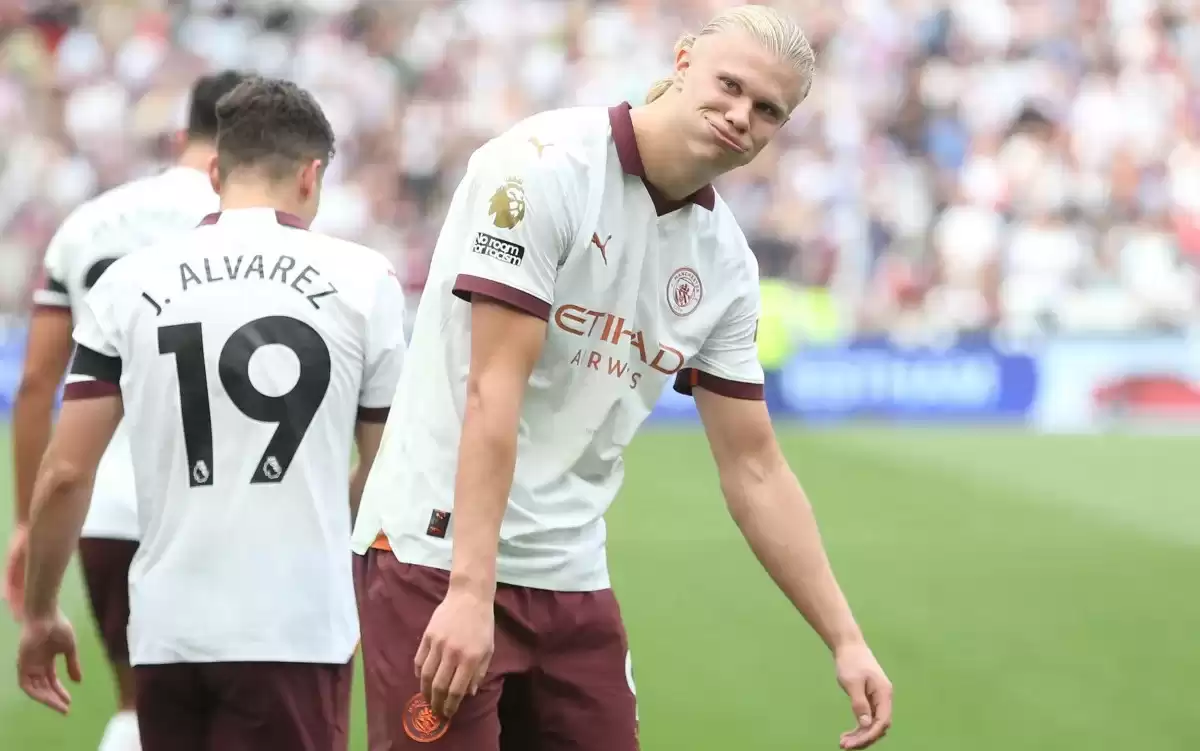 Man City Overcomes West Ham Challenge, Dominates for Inevitable Victory
Pep Guardiola's team dominated the second half, breaking West Ham's resolve and securing their fifth consecutive win. Erling Haaland eventually scored after missing several chances.
In a thrilling match between Pep Guardiola's team and West Ham, the tides turned in favor of Manchester City as they broke the resolve of their opponents. Despite Erling Haaland missing numerous chances, he finally found the back of the net with a powerful right-footed shot. It seemed inevitable that City would come out on top, despite West Ham's valiant efforts. The early goal by James Ward-Prowse, followed by his celebratory golf swing, felt like a distant memory by the end of the game.

David Moyes's team put up a strong fight in the first half, displaying confident passing reminiscent of City's style. The stadium announcer even proclaimed West Ham as the true champions of Europe, emphasizing his point multiple times. However, City's relentless determination proved too much for their opponents. This victory marks City's fifth consecutive win.

Guardiola returned to the bench after recovering from back surgery and made the decision to include Belgian winger Jeremy Doku on the left side. Doku, in only his second appearance for City, had a productive afternoon despite a slow start. His electric performance in attack left West Ham's full-back, Vladimir Coufal, struggling to contain him. It was only after Coufal was substituted that Doku truly found his stride.

Doku's goal early in the second half signaled the direction the game would take. Alongside Josko Gvardiol, he seemed comfortable in City's lineup. This victory further solidifies City's status as one of English football's dominant forces.

City dominated the second half, and it was not until the 76th minute that Julian Alvarez played a return ball to Bernardo Silva, who skillfully nudged it past Alphonse Areola. Although Areola had a commendable performance, he was slightly slow to react. However, it is important to note that no goalkeeper can stop City's relentless attack.

West Ham put up a fight, with Lucas Paqueta and Michail Antonio creating moments of threat. However, they eventually found themselves pushed back, unable to mount a comeback.

West Ham's goal in the 36th minute came from Doku's unfortunate touch, which bounced off his knee and fell to Coufal. Coufal then exchanged passes with Jarrod Bowen before finding Ward-Prowse at the back post.

Despite Haaland's earlier misses, the home crowd still enjoyed the spectacle. They knew that eventually, he would find the back of the net. And he did.
Share With Others