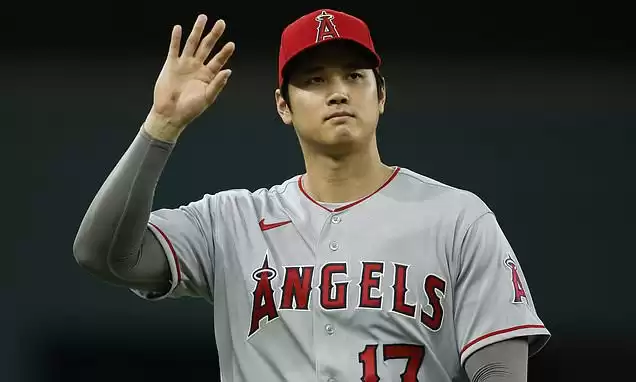 Shohei Ohtani's locker cleared out Angel Stadium
Shohei Ohtani's season with the Los Angeles Angels may be over as he clears out his locker, sparking speculation.
The incredible season of Shohei Ohtani, the Los Angeles Angels' exceptional two-way superstar, seems to have come to an end as he cleared out his locker. Ohtani has been absent from the game for 11 consecutive matches due to a right oblique injury. According to MLB.com, after the Angels' loss to the Detroit Tigers on Friday night, his locker at Angel Stadium was found empty with a packed bag in front of it.

While the Angels have stated that they will not make an official announcement until Saturday, it is possible that if his season concludes with 14 games remaining, Ohtani, who is set to become a free agent, may have played his final game in an Angels uniform. Ohtani, the reigning 2021 American League MVP, has not played since September 3 and last pitched on August 23, when he was diagnosed with a torn ulnar collateral ligament in his pitching elbow.

Ahead of Saturday's game, Ohtani has already cleared out his locker inside Angel Stadium. The Angels have not provided an explanation to local reporters, but they have stated that they will address the situation on Saturday. It is unclear whether Ohtani will undergo a second Tommy John surgery or opt for an alternative treatment method.

Despite the injury, Ohtani has been a key player for the Angels as their designated hitter. He sustained the oblique injury during batting practice on September 4. Manager Phil Nevin mentioned on Wednesday that Ohtani, who is 29 years old, would attempt to play in the three-game weekend series against the Tigers. Nevin emphasized Ohtani's eagerness to be on the field and his determination to overcome the challenges he faces.

Ohtani's statistics speak for themselves. He leads the American League in home runs with an impressive 44. Additionally, he boasts a league-leading 91 walks and is tied for the league lead in triples with eight. Ohtani has also contributed 95 RBIs and 20 stolen bases, all while maintaining a batting average of .304. Furthermore, he ranks second in the major leagues with a remarkable 1.066 OPS and .654 slugging percentage, with only Corey Seager of the Texas Rangers surpassing him in these categories. As a starting pitcher, Ohtani has recorded a solid record of 10-5 with a 3.14 ERA, striking out an impressive 167 batters in 132 innings across 23 games.

Despite Ohtani's impending free agency, the Angels made the decision not to trade him prior to the August 1 deadline. In their pursuit of a playoff spot for the first time since 2014 and to demonstrate their commitment to winning, the team made several deals that unfortunately did not yield the desired results. Since the deadline, the Angels have struggled, winning only 12 out of 40 games and finding themselves on the outskirts of the postseason race.

As for Ohtani's future earnings in his first foray into free agency this winter, it remains uncertain. Prior to his elbow injury, analysts predicted that he could potentially become baseball's first $600 million player. Only time will reveal the outcome and the magnitude of Ohtani's next contract.
Share With Others