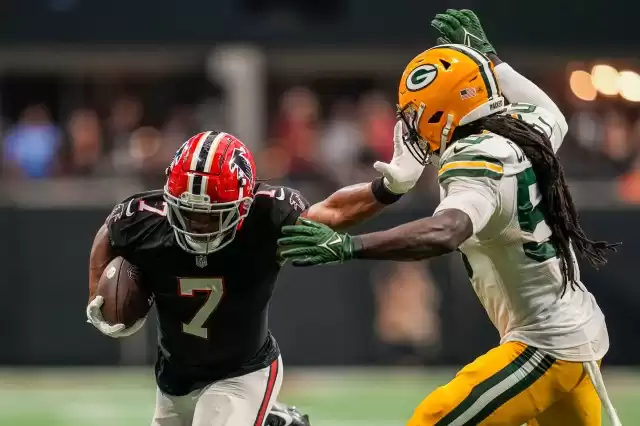 'Bijan Robinson leads Falcons to victory against Packers'
The Atlanta Falcons staged an impressive comeback to defeat the Green Bay Packers in Week 2. Running back Bijan Robinson played a key role in the victory, rushing for a career-high 124 yards. The defense also stepped up in the fourth quarter to secure the win.
The Atlanta Falcons displayed an incredible comeback in their Week 2 matchup against the Green Bay Packers. Despite trailing by 12 points at the start of the fourth quarter, the Falcons showed resilience and determination, never giving up.

One of the standout performers of the game was rookie running back Bijan Robinson. He had a career-high rushing performance, accumulating 124 yards on 19 carries. Robinson also made a crucial fourth-down conversion that helped the Falcons score 13 consecutive points and secure a thrilling 25-24 victory.

On the offensive side, Robinson set the tone early in the game with his impressive rushing performance. He averaged 8.0 yards per carry in the first half, accumulating 72 yards. Quarterback Desmond Ridder also made significant contributions, throwing a touchdown pass and rushing for a touchdown on fourth down in the red zone. Ridder finished the game with 237 passing yards, one touchdown, and one interception, along with 39 rushing yards and a touchdown on the ground. Wide receiver Drake London had a bounce-back performance, leading the team with six catches for 67 receiving yards.

Defensively, the Falcons showed great resilience, particularly in the first half, where they held the Packers to only 10 points. However, Green Bay's offense picked up momentum in the second half, with quarterback Jordan Love throwing three touchdown passes. Nevertheless, the Falcons' defense stepped up in the fourth quarter, forcing a crucial three-and-out to regain possession of the ball. Overall, the defense limited the Packers to just 140 passing yards and 84 rushing yards. Linebacker Kaden Elliss recorded the Falcons' only sack of the game.

Special teams had its ups and downs for the Falcons. Kicker Younghoe Koo missed an extra point that could have tied the game at 10 going into halftime. However, Koo redeemed himself with a game-winning field goal in the fourth quarter. Cornerback Mike Hughes had the opportunity to showcase his skills as the starting kick returner, but only managed an average of 10 yards per return on two attempts.

In conclusion, the Atlanta Falcons demonstrated incredible resilience and determination in their Week 2 victory over the Green Bay Packers. With standout performances from players like Bijan Robinson and Desmond Ridder, as well as a strong defensive effort, the Falcons were able to overcome a 12-point deficit and secure a thrilling 25-24 win. The team showed great potential and will look to build on this momentum moving forward.
Share With Others