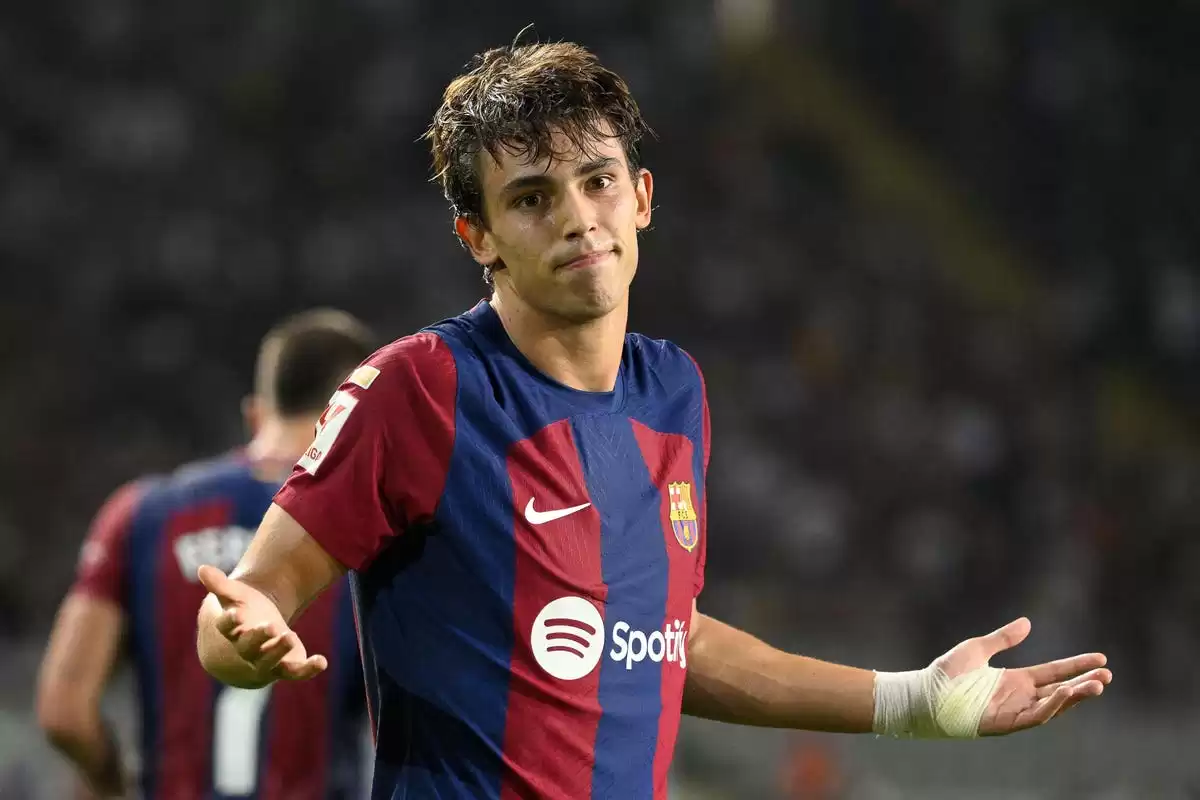 FC Barcelona Vs. Real Betis Result: Two Joaos Steal Show As Champions Return To Top Of La Liga
FC Barcelona's Joao Felix and Joao Cancelo stole the show in their starting debut, scoring goals as the team beat Real Betis 5-0.
The 'Two Joaos' stole the spotlight in their debut for FC Barcelona on Saturday night, as Joao Felix and Joao Cancelo both scored in a 5-0 victory over Real Betis, propelling Barcelona to the top of the La Liga table.

Early in the match, Real Betis had two promising opportunities to score, but Luiz Henrique and Willian Jose missed their shots, sending them wide of the goal defended by Marc-Andre ter Stegen.

However, it was Joao Felix who took control of the game, finding the back of the net on 25 minutes after a battle in the box and creating space for himself to score.

Just seven minutes later, Felix cleverly deceived Oriel Romeu with a dummy pass, confusing the Betis defense and allowing Robert Lewandowski to score Barcelona's second goal.

Felix came close to scoring again just before halftime, with a nice one-two pass with Ferran Torres, but his compatriot Rui Silva managed to save the shot as the linesman raised the flag for offside.

Willian Jose had another chance to score for Real Betis, but his shot went over the crossbar. Ter Stegen then made an excellent save to deny Jose at close range.

In the second half, Felix started a passing move that ended with Ferran Torres unable to convert. However, Torres redeemed himself by expertly bending a free kick around the wall to score Barcelona's third goal.

Felix was substituted to a standing ovation, making way for Raphinha, while Cancelo also left the field to be replaced by Lamine Yamal. Ilkay Gundogan came on for Romeu.

Raphinha, who had impressed for Brazil during the international break, wasted no time in making an impact, scoring a powerful shot from outside the box to extend Barcelona's lead to 4-0.

Cancelo, who had a great game at right back throughout the evening, ensured he got on the scoresheet as well, with a delightful finish after a run past Lewandowski. This goal sealed the victory for Barcelona with a 'manita' (five fingers) on the scoreboard.

With their impressive performance, Barcelona heads into their first Champions League group match against Royal Antwerp on Tuesday with confidence, marking their best display since their Spanish Super Cup final win over Real Madrid earlier this year.
Share With Others