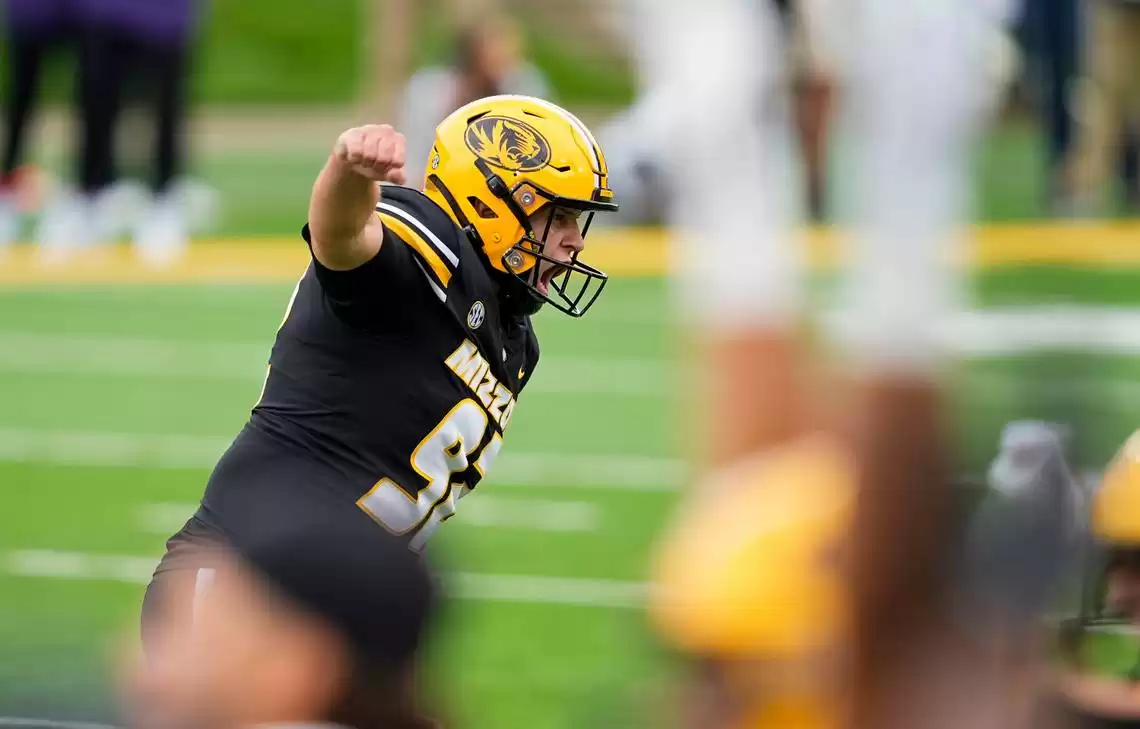 Harrison Mevis Secures Last-Second Win for Mizzou Football Over K-State Wildcats: Key Takeaways
Mizzou avenged a previous defeat by beating Kansas State 30-27, with Brady Cook having a career day and throwing for 356 yards.
In a thrilling game in Columbia, Eli Drinkwitz's team showcased an explosive offense that left fans on their feet. Brady Cook, the quarterback, had a career day, leading the Missouri Tigers to a 30-27 victory over the 15th-ranked Kansas State Wildcats. This win was particularly sweet for the Tigers, as it avenged a beatdown they suffered at the hands of the Wildcats in 2022.

From the opening play, it was clear that Mizzou's offense was firing on all cylinders. In just six plays, they accomplished what had previously seemed like a distant dream. K-State had scored a touchdown on their first drive, but Cook and the Tigers quickly responded. Cook connected with Cody Schrader on a crucial third-down play, keeping the drive alive. Then, on the very next play, he took a chance and targeted Theo Wease Jr. The gamble paid off, and Cook's confidence grew.

As the game progressed, Cook continued to impress. He threw for a career-high 356 yards, completing 23 of his 35 passes. Two of those passes resulted in touchdowns. One standout moment came when Cook found star wide receiver Luther Burden III on a post route. Burden made an incredible move, slipping past defenders and leaving them in the dust. His touchdown catch put Missouri ahead 27-24 and showcased his exceptional skills.

Burden was a force to be reckoned with throughout the game. He finished with seven receptions for 114 yards, marking his second consecutive game with over 100 yards. His contributions were instrumental in Missouri's victory.

Defensively, the Tigers also had their share of playmakers. Ty'Ron Hopper stood out with his impressive sideline-to-sideline tackles, totaling eight in the game. The cornerback duo of Ennis Rakestraw Jr. and Kris Abrams-Draine were rock solid against Kansas State's dangerous group of wide receivers. Rakestraw, in particular, excelled in open-field tackles.

The Missouri defense also applied pressure on Kansas State's quarterback, Will Howard. They forced him into several dangerous throws, one of which resulted in Abrams-Draine's first interception of the season. While the defense had some strong moments, they struggled to make stops on third down. Kansas State converted 8 of their 17 third-down attempts, including all three of their touchdown completions.

Overall, it was a memorable game for the Missouri Tigers. They showcased an explosive offense led by Brady Cook and Luther Burden III while also demonstrating defensive prowess. This victory over the 15th-ranked Kansas State Wildcats was a statement win for the Tigers and a testament to their resilience and determination.
Share With Others