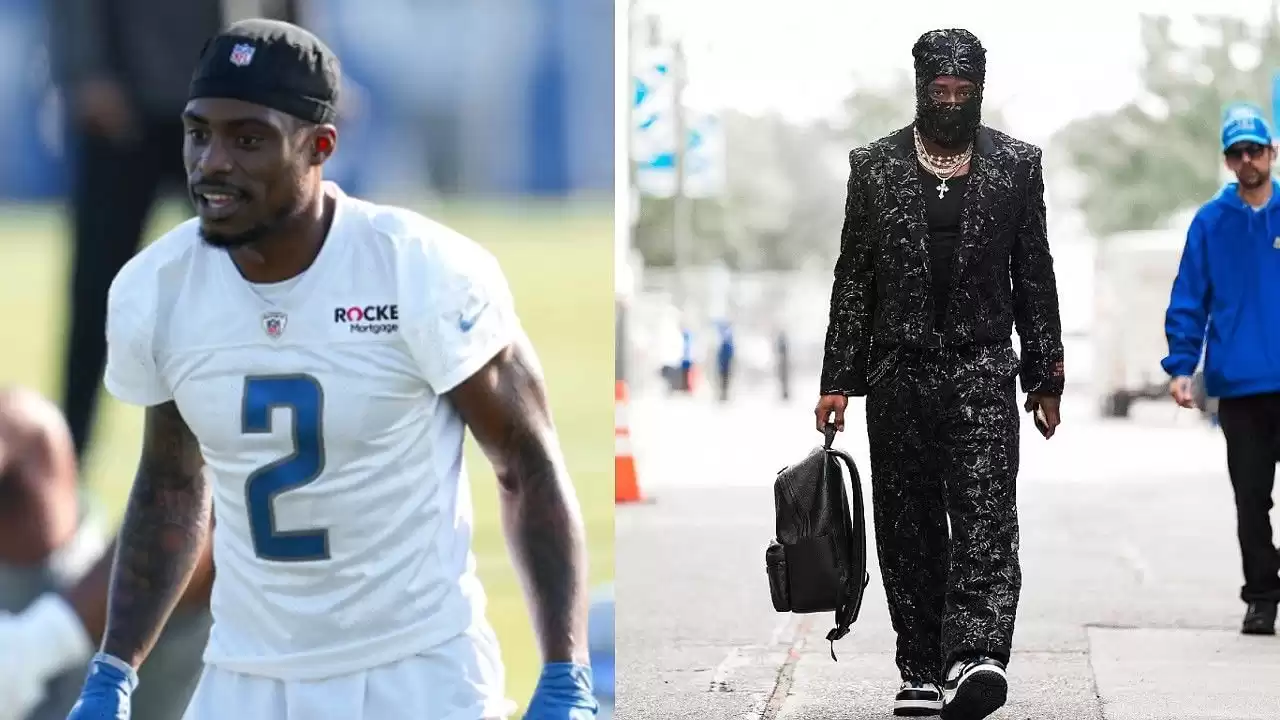 Lions' safety C.J. Gardner-Johnson mocked by NFL fans for pregame fit vs. Seahawks
Detroit Lions' defensive back C.J. Gardner-Johnson embraces the 'villain' role after defeating the Chiefs and asks fans to wear blue masks.
In a highly anticipated event, defensive back C.J. Gardner-Johnson will be making his regular season debut at Ford Field with the Detroit Lions this Sunday. The Lions kicked off their season on a high note by securing a victory against the reigning Super Bowl champions, the Kansas City Chiefs, in an away game.

Following their impressive win, Gardner-Johnson revealed that the Lions are now being perceived as the "villains" in the league. Embracing this newfound identity, he called upon the passionate Detroit Lions fans to show their support by wearing blue face masks during the game. He emphasized that this act symbolizes their unity as a team and their determination to claim what rightfully belongs to them.

True to his words, Gardner-Johnson himself arrived at Ford Field sporting an eye-catching ensemble. He donned a sleek black suit adorned with metallic finishes, complemented by a matching face mask. This bold fashion statement immediately sparked a frenzy on social media, with fans and followers expressing their opinions and reactions.

Earlier in the week, Gardner-Johnson had urged Lions fans to wear blue masks throughout the season, aligning themselves with the "villain" mentality. In a testament to their unwavering loyalty, Detroit Lions fans wasted no time in responding to his call. Within a few hours of his request, blue masks were completely sold out on Amazon, as reported by Ken Haddad of Detroit Local 4 News. As fans streamed into Ford Field for the highly anticipated home opener against the Seattle Seahawks, the stadium was adorned with a sea of blue masks.

This marked a significant departure from the traditional image of Detroit Lions fans, who have often resorted to wearing brown paper bags over their heads during challenging times. With the arrival of quarterback Jared Goff and a renewed sense of optimism for the future, Lions fans are now eager to embrace their new role as the "villains" of the NFL.

Gardner-Johnson's signing with the Detroit Lions on a one-year deal for the 2023 NFL season has clearly resonated with the fans. The question now remains whether this shared mantra and collective spirit will translate into success for the Lions on the field. Only time will tell, but one thing is certain – the Detroit Lions and their dedicated fanbase are prepared to face any challenge that comes their way with unwavering determination and a united front.
Share With Others