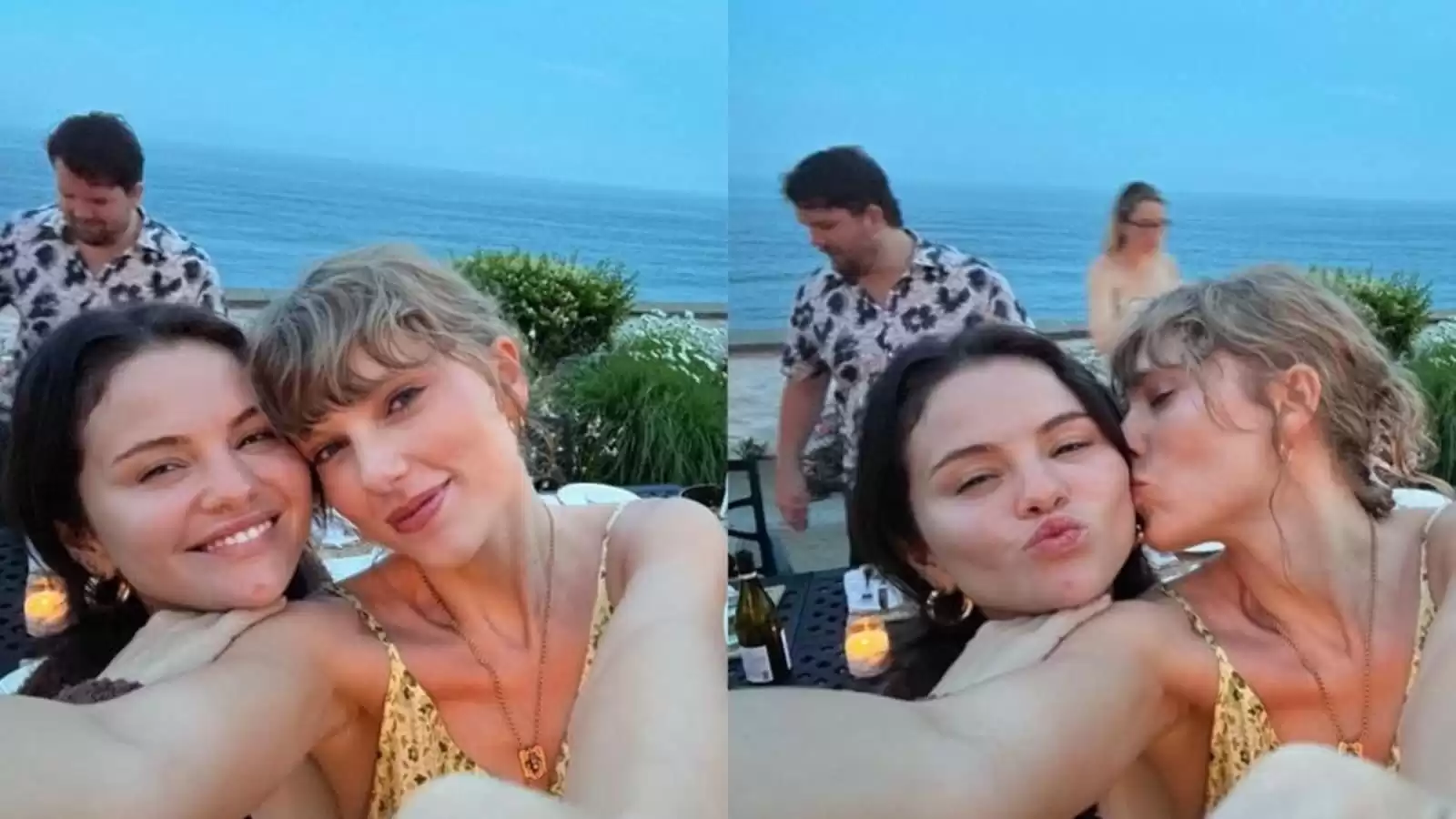 She a real bad, Selena Gomez posts adorable vacay selfie with BFF Taylor Swift
Taylor Swift and Selena Gomez share adorable photos together, showcasing their close bond and support for each other. Swift recently celebrated Gomez's latest single and they often share their music before releasing it to the public.
In these captivating photos, Taylor Swift can be seen raising her arms to capture the shots from an elevated angle, allowing us to admire the breathtaking blue sky and the vast oceanic view that lies behind her. The first picture showcases Swift and Selena Gomez in a heartwarming pose, with Gomez resting her chin on Swift's shoulder. Their faces are adorned with genuine smiles and infectious laughter, radiating joy and pure friendship.

In the next image, Swift turns to the side and plants a gentle kiss on Gomez's cheek, while Selena playfully responds with a kissy face. Adding a touch of creativity, Gomez cleverly captions the post with the opening lyrics from Doja Cat and Saweetie's 2021 collaboration, "Best Friend," emphasizing the deep bond shared between these two stars.

Their connection extends beyond these delightful photos, as they were also spotted together a few days later at the MTV Video Music Awards. Selena took to her Instagram Story to share an adorable snapshot of herself and Swift. In her signature humorous style, Gomez playfully comments on her own facial expression, jokingly saying, "She looks stunning. I look constipated. Typical." This lighthearted banter showcases the genuine camaraderie and comfort they find in each other's presence.

Both Taylor Swift and Selena Gomez have achieved remarkable success in the music industry, particularly at award shows. Swift's talent and artistry were recognized with an astounding nine awards, including the highly coveted Video of the Year for her masterpiece, "Anti-Hero." Gomez, alongside Nigerian singer Rema, triumphed in the category of Best Afrobeats for their track "Calm Down."

During the event, Swift displayed unwavering support for Gomez by enthusiastically jumping, cheering, and blowing kisses to her best friend as she and Rema graced the stage to accept their award. This display of friendship and solidarity further solidifies the unbreakable bond they share.

Swift continues to shower Gomez with love and support, as evidenced by her recent celebration of Selena's latest single, "Single Soon." Taylor took to her Instagram Story, sharing snippets from the music video and expressing her heartfelt appreciation for the song. This gesture exemplifies the enduring joy and admiration she finds in Gomez's musical endeavors.

Gomez recently disclosed that they always share their music with each other before releasing it to the public. She fondly recalls playing her emotional ballad, "Lose You to Love Me," for Swift, highlighting Taylor's unwavering support and genuine friendship.

The two also reminisce about their long-standing history together, with Gomez nostalgically recounting the moment Taylor first played her iconic song, "Love Story," in a hotel room. This shared memory symbolizes the deep connection and the journey of growth they have experienced alongside each other.

As Taylor prepares to embark on her highly anticipated Eras Tour, commencing on March 17th, she finds solace in surrounding herself with loved ones and taking a well-deserved break from her demanding superstar schedule. This serves as a reminder of the importance of prioritizing self-care and cherishing the relationships that bring us comfort and support.
Share With Others