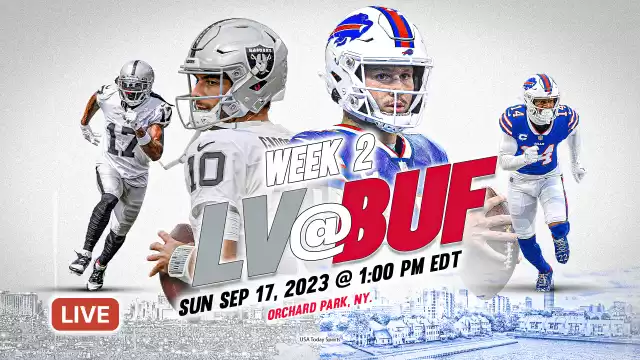 Watch NFL Week 2: Las Vegas Raiders vs. Buffalo Bills - Time, TV Channel, Live Stream
The Las Vegas Raiders will face the Buffalo Bills in an AFC Week 2 matchup. Raiders are without Jakobi Meyers, Bills need a bounce-back game.
The Las Vegas Raiders are set to take on the Buffalo Bills in an exciting AFC Week 2 matchup at Highmark Stadium. Last week, the Raiders surprised many with a close 17-16 victory over the Denver Broncos. Their new quarterback, Jimmy Garoppolo, had an impressive performance, throwing for 200 yards and 2 touchdowns. However, the team will be without Jakobi Meyers, who suffered a concussion in the previous game.

On the other hand, the Bills are looking to bounce back after a disappointing 22-16 loss to the New York Jets in Week 1. Quarterback Josh Allen had a tough day, throwing 3 interceptions, getting sacked 5 times, and losing a fumble. Despite the struggles, Allen did manage to connect with his top wide receiver, Stefon Diggs, 10 times for 102 yards and a touchdown. The Bills' offensive line will need to step up to protect Allen and create opportunities in the running game.

This Week 2 matchup promises to be an exciting game as we continue the NFL season. If you're looking to watch the action, here's everything you need to know:

- Date and Time: The game will take place on Sunday, September 17 at 1:00 p.m. ET.
- TV Channel: You can catch the game on CBS or Paramount.
- Live Stream: If you prefer streaming, you can watch it for free on fuboTV or Paramount+.

For those who want to stay updated on the NFL season, fuboTV offers complete local NFL coverage, including CBS, FOX, ESPN, NFL Network, and NFL Network Redzone. It is available on various devices such as phones, tablets, desktops, TVs, and connected TV devices like Roku, Apple TV, and Amazon Fire TV.

If you're interested in betting on the game, here are the current odds from Tipico Sportsbook:

- Las Vegas Raiders vs. Buffalo Bills (-7.5)
- Over/Under: 46.5

For more detailed information on odds and betting lines, you can visit Sportsbookwire.com.

So, whether you're a fan of the Raiders, Bills, or just excited about Week 2 of the NFL season, make sure to tune in and enjoy the game. And if you're feeling lucky, you can even place your legal sports bets on this game or others in Colorado and New Jersey at Tipico.
Share With Others