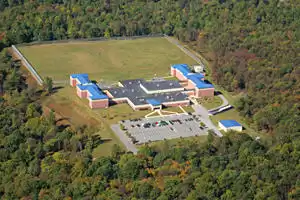 9 juveniles escape Abraxas Academy Berks County DA says
Nine juveniles escaped from a juvenile detention center in Morgantown, Pennsylvania, following a riot at the facility. Authorities are responding to the incident.
Nine juveniles managed to escape from Abraxas Academy, a juvenile detention center located in Morgantown, Pennsylvania. The escape occurred on Sunday night, just after 8 p.m., following a riot at the facility. Law enforcement was able to regain control of the detention center after the riot, but it is unclear if anyone was injured during the incident.

Multiple agencies are currently responding to the escape, and the Caernarvon Police Department is working alongside the State Police to resolve the situation. In order to ensure the safety of residents near Abraxas Academy, Morgantown has sent out multiple alerts and is urging people near Interstate 76 and Route 10 to remain vigilant.

If anyone encounters any of the juvenile escapees, they are advised to contact 9-1-1 immediately. The Twin Valley School District, located approximately six miles from Abraxas, will make a decision on whether to open school or not on Monday morning, prioritizing the safety of staff and students.

This escape comes shortly after the capture of Danelo Cavalcante, a convicted murderer who escaped from prison and was on the run for 14 days in Chester County. The search for Cavalcante involved law enforcement from various levels, including local, state, and federal agencies.

Prior to these incidents, there were two other escapes in Pennsylvania in 2023. Michael Burham escaped from the Warren County Jail and was on the run for over a week before being apprehended. Ameen Hurst and Nasir Grant also escaped from the Philadelphia Industrial Correctional Center in Holmesburg and were captured after several days on the run. Several individuals were charged with assisting in their escape.

This is an ongoing situation, and updates will be provided as more information becomes available.
Share With Others