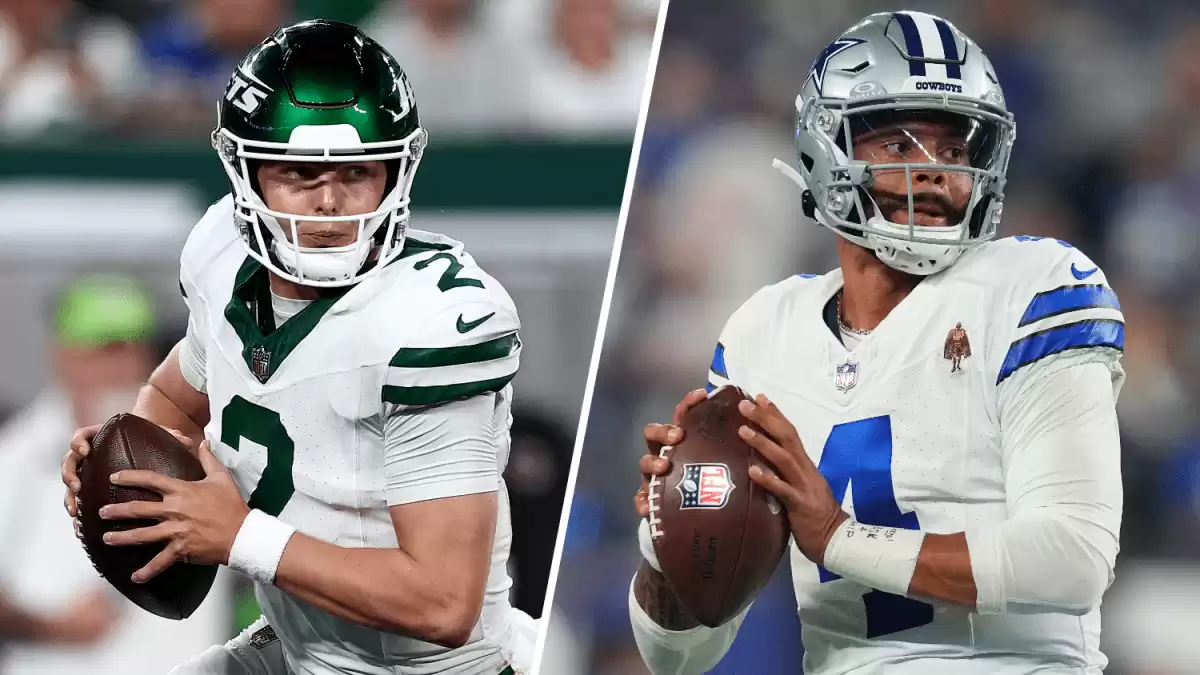 Dallas Cowboys to Face Zach Wilson Instead of Aaron Rodgers in Home Opener Against the Jets
Dak Prescott and the Dallas Cowboys expected to face Aaron Rodgers, but instead, they will play against Zach Wilson.
The Dallas Cowboys were preparing to face off against their old rival, Aaron Rodgers, when they found out that the New York Jets' quarterback would be Zach Wilson instead. This change came after Rodgers suffered a devastating injury to his left Achilles tendon during the Jets' season opener. The injury occurred just four snaps into the game when he was sacked by Bills defensive end Leonard Floyd. Rodgers had to be helped off the field and was later taken to the locker room by cart. It was soon determined that he would be ruled out for the rest of the game.

Now, the Jets are faced with the reality of having diminished Super Bowl expectations for the season without Rodgers. They are also hoping to achieve their first 2-0 start in eight years. Despite the setback, Rodgers remains optimistic and motivated in his rehabilitation from Achilles tendon surgery. He even suggests that he may be able to return to football this season. In an interview on ESPN's "The Pat McAfee Show," Rodgers expressed his desire to prove the doubters wrong and use their doubts as inspiration.

On the other side, the Cowboys are coming off a dominant 40-0 victory against their NFC East rival, the New York Giants. This will be their first time facing the Jets since hiring coach Mike McCarthy in 2020. Now, it's up to Cowboys quarterback Dak Prescott to lead his team and ensure they don't have a letdown in their home opener against Zach Wilson and the Jets. Prescott, who lost to Rodgers and the Green Bay Packers in a wild-card game in 2016, acknowledges that while he would have liked to play against Rodgers, he still respects the Jets' defense and recognizes the challenge they pose.

As for Zach Wilson, the young quarterback has struggled in his first two seasons, but he has had the guidance of Rodgers since being traded to the Jets in April. Rodgers has expressed confidence in Wilson and believes in his abilities. He is excited for Wilson's journey and is rooting for him to succeed.

In conclusion, the unexpected absence of Aaron Rodgers in the upcoming game between the Dallas Cowboys and the New York Jets has created a new dynamic. Both teams are adjusting their strategies and relying on their respective quarterbacks, Dak Prescott and Zach Wilson, to lead them to victory. Despite the change, the game promises to be a competitive matchup, with both teams eager to prove themselves on the field.
Share With Others