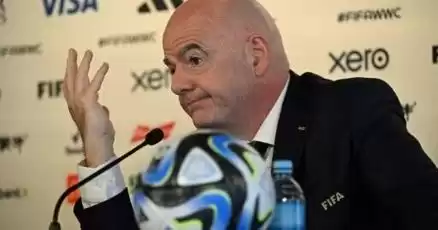 FIFA Infantino Visits Cowboys Stadium Before World Cup Final Decision
FIFA president Gianni Infantino attended the Dallas Cowboys home game, potentially considering AT&T Stadium as a contender to host the 2026 World Cup final.
FIFA President Gianni Infantino made an appearance at the Dallas Cowboys' home game against the New York Jets on Sunday, as he continues to assess potential venues for the 2026 World Cup final. One of the contenders for hosting rights is the Cowboys' AT&T Stadium in Arlington, Texas, along with Metlife Stadium, SoFi Stadium, and Mercedes-Benz Stadium. Infantino's visit to the United States is in preparation for the expanded 48-team tournament, which will be co-hosted by Canada and Mexico. FIFA has recently established new offices in Miami and is in the process of hiring staff to assist with tournament organization.

During his trip, Infantino was invited to attend the game and visited the venue alongside Victor Montagliani, the head of the regional confederation for football in North and Central America and the Caribbean. It is expected that the FIFA president will visit more stadiums in the coming months that will be hosting matches during the tournament. Eric Shanks, president of Fox Sports, the broadcast rights holder for the World Cup in the United States, was also seen accompanying Infantino and Montagliani at the NFL game.

FIFA is anticipated to announce its decision on the final venue later this year, potentially as early as November. AT&T Stadium, which boasts a retractable roof and opened in 2009, has already hosted the Super Bowl in 2011 and various international football matches. As Infantino continues his tour of potential host cities, the excitement and anticipation for the 2026 World Cup continue to grow.
Share With Others