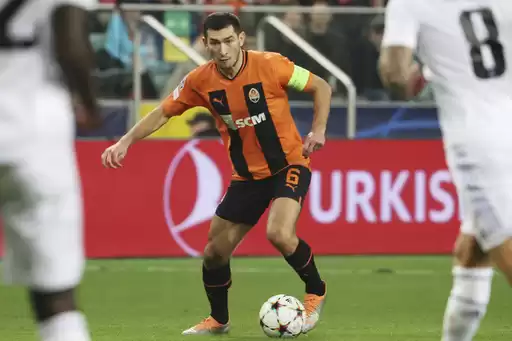 For Shakhtar Donetsk in the Champions League: Representing Ukraine as a National Duty
Shakhtar Donetsk, a Ukrainian football team, will play its Champions League games outside of Ukraine due to the Russian invasion.
Shakhtar Donetsk, the Ukrainian champions, see their opening Champions League game against Porto as more than just a match. Team captain Taras Stepanenko believes it is their duty to represent Ukraine and demonstrate the country's resilience. Despite the ongoing war in Ukraine, the Ukrainian league restarted a year ago, with games played in empty stadiums and sometimes interrupted by air-raid sirens. Shakhtar is playing its Champions League games outside of Ukraine for the second consecutive season due to the Russian invasion. Last year, Poland served as their home venue, and now it's Germany. The team faced a challenging 10-hour journey to Hamburg, mostly by bus, as Ukraine's airports have been closed since the invasion. However, the away team, Porto, will have a much faster journey from Portugal. Despite the difficulties, Shakhtar remains motivated by the support they receive from Ukrainian troops on the front line. Stepanenko receives messages from soldiers who watch their games as a release from the current situation. The town where Stepanenko was born, Velyka Novosilka, has been completely destroyed, and his mother and grandmother have moved in with him due to Russian strikes in their city. Shakhtar's team includes former Barcelona defender Dmytro Chygrynskyy, who rejoined the team to add experience and mentor young players. The club represents Donetsk, a city taken over by Russia-backed separatist forces in 2014, and hasn't played there in nearly a decade. Despite this, Shakhtar remains a symbol of Ukraine as a whole and continues to hope for a return to Donetsk in the future.
Share With Others