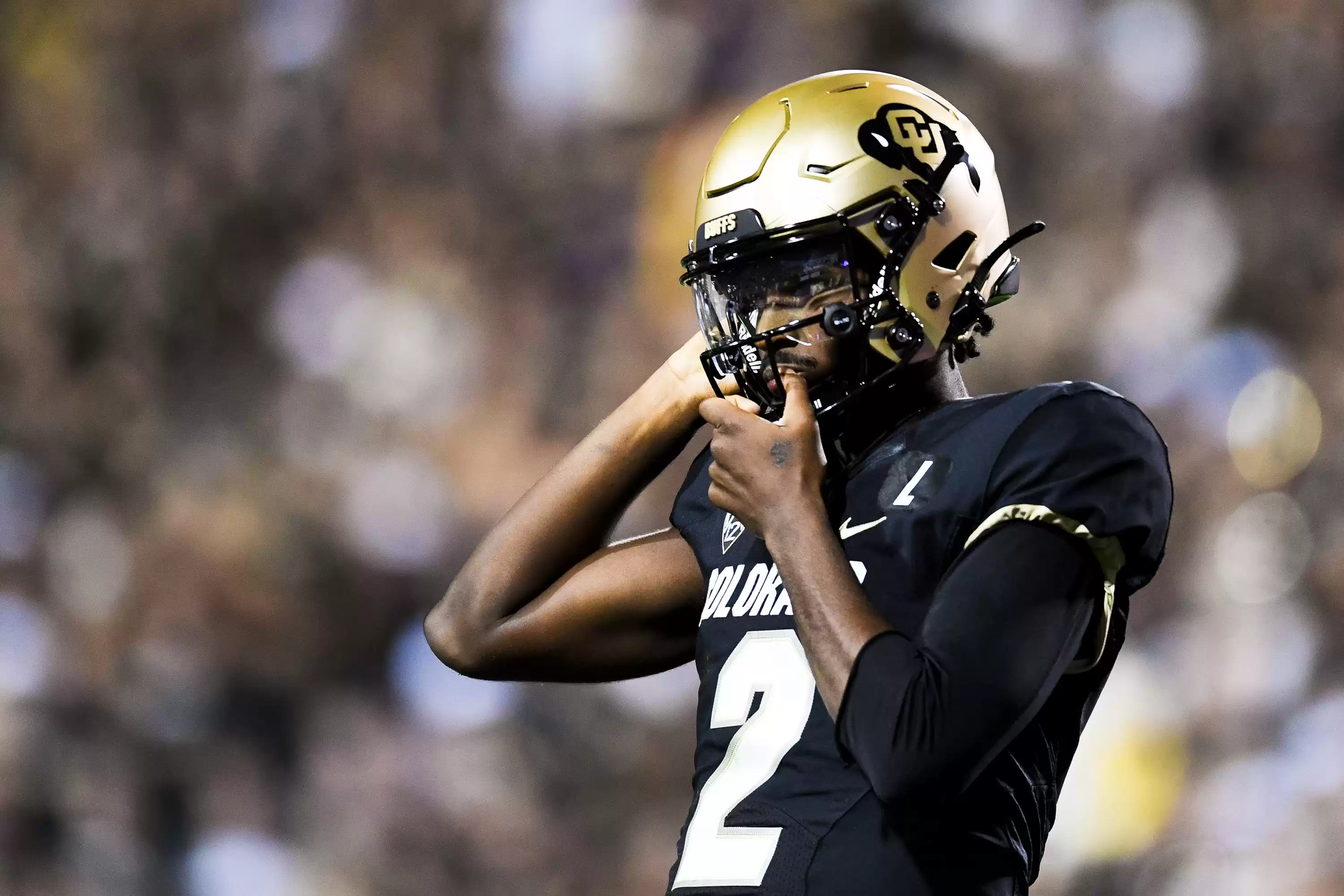 Shedeur Sanders: NFL Comparison by ESPN Analyst
Colorado Buffaloes quarterback Shedeur Sanders is proving to be one of the best quarterbacks in college football, catching attention from scouts and NFL Draft analysts. Sanders has displayed outstanding physical tools and mental prowess, and has been compared to Geno Smith. He has a high completion rate and TD-INT line in the second half of games. Sanders may stay at Colorado in 2024 or declare for the NFL Draft.
Colorado Buffaloes quarterback Shedeur Sanders has emerged as one of the top college football players in the country. Last season, he was the standout player in the Southwestern Athletic Conference in the Football Championship Subdivision (FCS). Now, as a key player for Colorado, Sanders is proving his worth and solidifying his place as one of the best quarterbacks in college football.

Sanders was highly sought after as a recruit in 2021, receiving offers from top programs such as Alabama, Baylor, Florida, Georgia, LSU, Michigan, Oregon, and Florida State. Ultimately, he chose to play for Jackson State before following in the footsteps of his father, Deion Sanders, and joining the Colorado Buffaloes.

Since joining Colorado, Sanders has made a significant impact on the team's success. The Buffaloes currently hold a perfect 3-0 record and are quickly climbing up the top 25 college football rankings. While head coach Deion Sanders and two-way star Travis Hunter have received much of the credit, Shedeur Sanders has been instrumental in the team's achievements.

At just 21 years old, Sanders has showcased exceptional physical abilities throughout the season. Additionally, he has demonstrated the mental acuity required to excel as a top-tier quarterback. As he enters a crucial Week 4 matchup against the Oregon Ducks, Sanders finds himself in the mix for the prestigious Heisman Trophy. NFL scouts and draft analysts have taken notice of his performance and are closely monitoring his progress.

ESPN's Jordan Reid has been effusive in his praise of Sanders throughout the 2023 season. Following a recent victory over Colorado State, ESPN's NFL Draft expert commended Sanders' accuracy, command, and composure. Reid even drew a comparison between Sanders and Geno Smith, a former NFL quarterback.

While Smith's career may not appear initially impressive, it is important to note that his success does not accurately reflect his talent. As the starting quarterback for the Seattle Seahawks last season, Smith led the team to the playoffs. He also boasted impressive statistics, including the highest completion rate (69.8 percent) and the second-highest quarterback rating (120.7) when throwing deep. In addition, Smith had the fifth-best quarterback rating (78.0) when under pressure.

Interestingly, Sanders shares similarities with Smith. In the 2022 season, Smith had a 71.22 percent completion rate, an 11-5 touchdown-interception ratio, and a 99 quarterback rating in the second half of games. This year, Sanders has outperformed Smith in the second half of games, boasting an impressive 81.7 percent completion rate and a perfect 7-0 touchdown-interception ratio.

While it remains uncertain whether Sanders will declare for the upcoming NFL Draft or stay at Colorado for another year, it is clear that he has garnered significant interest from NFL teams. Whenever he decides to enter the draft, there will undoubtedly be multiple teams vying to select him early on. Sanders has the potential to become a highly sought-after quarterback in the 2025 NFL Draft.
Share With Others