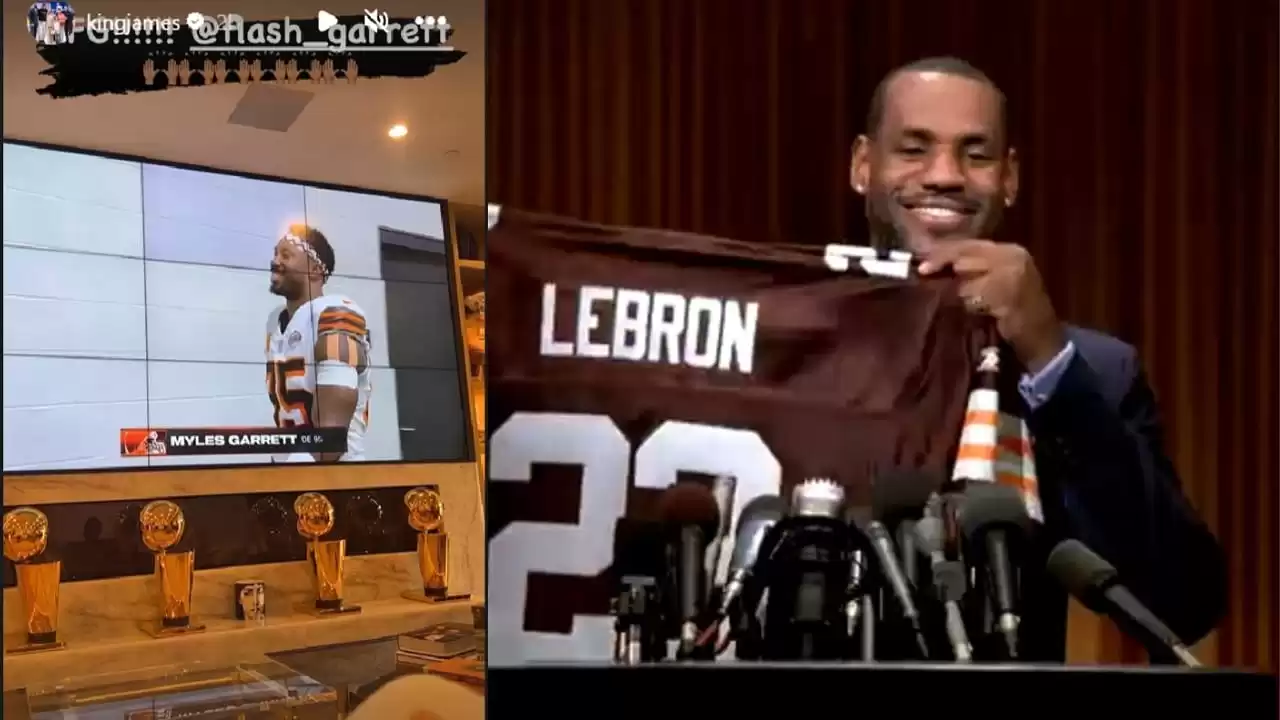 Cleveland native LeBron James excited as Myles Garrett and Cleveland Browns gear up to face Pittsburgh Steelers
LeBron James hopes Myles Garrett and the Cleveland Browns can continue their winning streak despite Nick Chubb's injury.
LeBron James, along with countless Cleveland Browns fans, had high hopes for Myles Garrett to lead the team to consecutive victories at the start of the 2023-24 season. The Browns began their season with an impressive win against the Cincinnati Bengals in the "Battle of Ohio."

Their next game was an away match against the Pittsburgh Steelers, who had suffered a loss in their opening game. Pittsburgh was eager to secure a significant win in front of their home crowd against the undefeated Browns.

Expressing his excitement for the Browns-Steelers matchup, the LA Lakers superstar, LeBron James, took to Instagram and posted, "LFG!!!!!! @flash_garrett."

Myles Garrett played a pivotal role in the Browns' season-opening triumph over the Cincinnati Bengals. As a superstar defensive end, he led the defense in containing Joe Burrow, who is now the highest-paid player in the NFL. Garrett's sack on Burrow with 10:27 remaining in the fourth quarter had Browns fans on their feet.

LeBron James and the loyal Browns supporters are anticipating another sensational performance from Garrett and the defense, aiming to start the season with a 2-0 record. If they can replicate their success against Cincinnati and limit the home team's offense, they stand a strong chance of leaving the field with another victory.

However, disaster struck in the second quarter of the game when Browns star running back Nick Chubb suffered a severe injury. The injury was so devastating that even the hostile Pittsburgh crowd fell silent.

In response to Chubb's brutal injury, LeBron James promptly tweeted, "DAMN MAN!!!! Nick Chubb. Praying for the absolute best."

Chubb had an impressive 10 carries for 64 yards before being carted off the field, receiving appreciative applause from Steelers fans.

Despite the absence of Nick Chubb, the Cleveland Browns continue to put up a fight. Deshaun Watson has been leading the offense, while the Myles Garrett-led defense has remained solid for the most part.

LeBron James is impressed by his hometown team's resilience in the face of Chubb's injury. They are currently engaged in a close battle with the Steelers on their home turf, with Pittsburgh leading 16-14 as the third quarter begins.

Cleveland's rushing game has suffered a decline since Chubb's departure. Watson and backup running back Jerome Ford have only managed 13 yards in seven carries. If no one steps up, the Cleveland Browns' offense may become too predictable for the Pittsburgh defense to handle.

The game is far from over, and LeBron James is hopeful that his team can achieve their first 2-0 start since 1993.
Share With Others