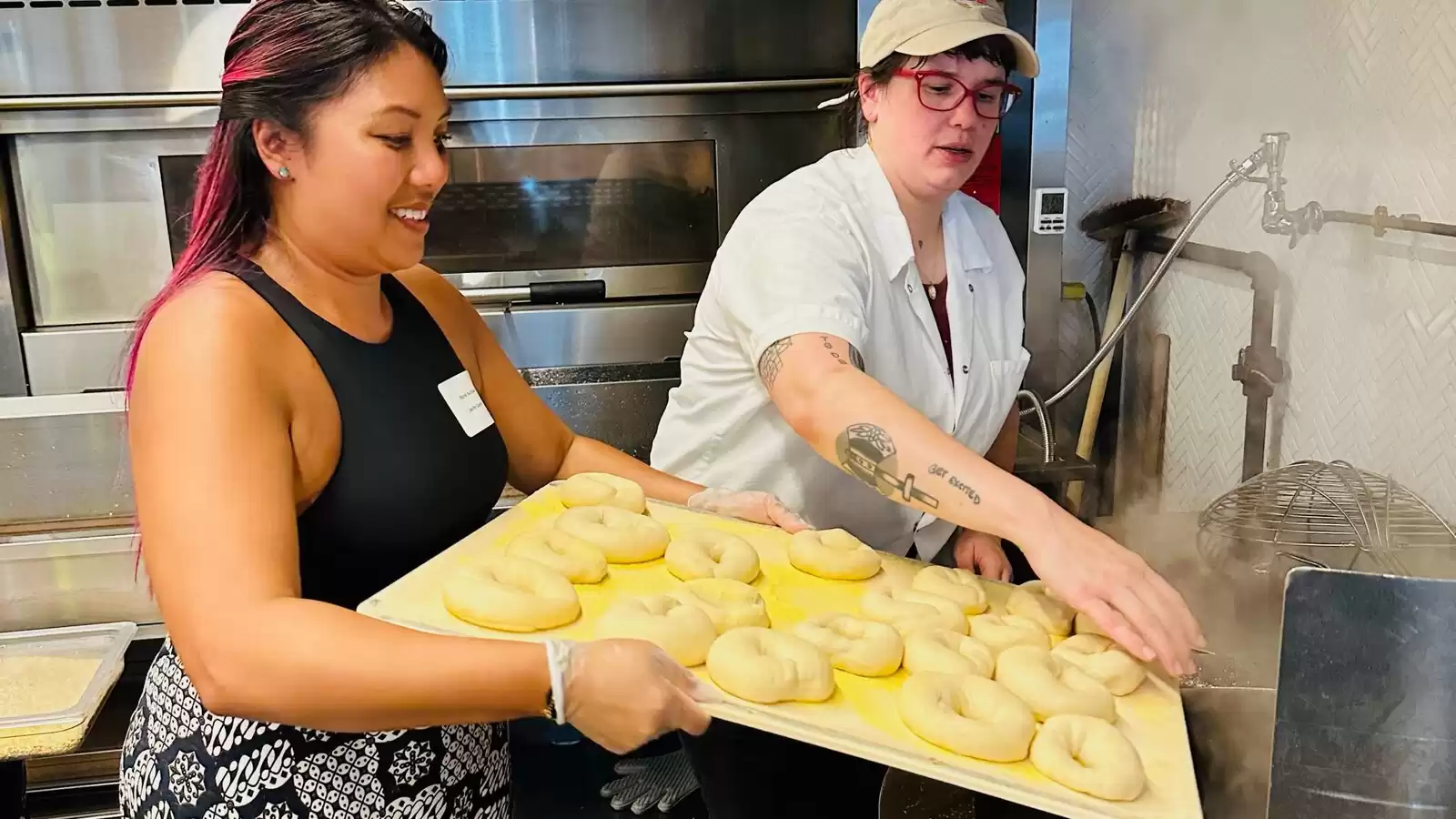 Learn to Make Homemade Bagels for Yom Kippur Breakfast
Learn how to make bagels at a class in New York City, or cook like José Andrés with a new cookbook.
Learn to Make Homemade Bagels for Yom Kippur

After fasting on Yom Kippur, many households break their fast with a meal from the appetizing counter, featuring smoked fish, cream cheese, and bagels. This year, you have the opportunity to make your own bagels with a class led by bagel experts Reva Castellenti and Sam Silverman at Bagel Market in Midtown. The two-hour hands-on session will teach you the art of rolling, boiling, seeding, and baking bagels. You'll even get to take a dozen bagels home with you. The class will also delve into the history of bagels, and there will be a three-hour class on Monday, September 25th to break the fast, with more delicious food to enjoy.

Bagel Making Classes for Yom Kippur will be held on Saturday at 4 and 6:30 p.m., and on Monday at 6 p.m. Each class costs $150 and will take place at Bagel Market, located at 264 West 40th Street. For more information, visit nycbageltours.com.

Cook Like José Andrés with the World Central Kitchen Cookbook

If you've ever wondered how to cook for a large group of people, chef and philanthropist José Andrés has the answer. His latest cookbook, "The World Central Kitchen Cookbook: Feeding Humanity, Feeding Hope," is a comprehensive guide to cooking for disaster relief efforts. The book not only provides recipes, but also tells the story of the World Central Kitchen organization and the incredible work they do. From seasoned rice to stovetop mac and cheese, the recipes are designed to feed four to six people, with instructions for scaling up or down. The book also includes profiles of workers and stories about the food they serve.

"The World Central Kitchen Cookbook: Feeding Humanity, Feeding Hope" is available for $35 and is published by Clarkson Potter.

Try New Hawaiian Sauces from Poi Dog

Poi Dog, the brand named after the popular Hawaiian restaurant in Philadelphia, has introduced new sauces to their collection. One of their standout offerings is Huli Huli, a flavorful marinade and baste for rotisserie chicken. Made with miso, Chinese five-spice, and pineapple, this sauce adds a rich umami flavor to any dish. Poi Dog also offers Guava Katsu, a sharper sauce, and Chili Peppah Water, a vinegary and fruity condiment. For the month of September, Poi Dog will donate 10% of their proceeds to the World Central Kitchen's Maui Relief Fund.

Poi Dog Huli Huli is available for $17 for a 12-ounce bottle, Guava Katsu is $16 for a 12-ounce bottle, and Chili Peppah Water is $9 for a 5.2-ounce bottle. To purchase these sauces, visit poidogphilly.com.

Keep Your Wine Chilled in Style

Transporting wine has never been more stylish with the insulated bags from Panier. These bags, designed specifically for carrying wine, come in three sizes: a six-bottle backpack, a six-bottle tote, and a four-bottle carrier. Made of heavy-duty black recycled nylon, these bags feature wide, sturdy handles and straps, inner insulation, and padding to protect your bottles from breakage. They even have extra pockets to accommodate laptops and other items, making them versatile and practical.

The Panier 6-bottle backpack is priced at $290, the 6-bottle tote is $230, and the 4-bottle carrier is $200. To purchase these bags, visit panierbag.com.

Indulge in a Toffee-Almond-Butter Delight

Woodhouse Chocolate, located in St. Helena, California, has brought back a beloved treat from their vault: the TAB bar. This delectable treat features a center filled with ganache-like filling and buttery toffee pieces, all coated in either dark or milk chocolate and studded with almonds. The TAB bar is available for a limited time until the end of October.

Woodhouse Chocolate offers the Dark Toffee Almond Butter Bar and the Milk Toffee Almond Butter Bar, priced at $12 for a pack of three bars (3.9 ounces each). To get your hands on these delicious treats, visit woodhousechocolate.com.

Sweeten Your Drinks with Cheeky Cocktails Syrups

Having a variety of sweeteners on hand is essential for crafting delicious cocktails and other beverages. Cheeky Cocktails, a Brooklyn-based company founded by cocktail instructor April Wachtel, offers a range of vibrant and flavorful syrups. From espresso to cranberry, honey to ginger, these syrups are made without added colorings, flavorings, or preservatives. They can also be used in iced tea or drizzled over fresh fruit. The syrups come in 750 milliliter (25.4-ounce) bottles, as well as smaller sizes of four and 16 ounces.

Cheeky Cocktails syrups are priced between $22 and $37, depending on the flavor and size. To explore their selection and make a purchase, visit cheekycocktails.co.

Stay Updated with New York Times Cooking

For more culinary inspiration, make sure to follow New York Times Cooking on Instagram, Facebook, YouTube, TikTok, and Pinterest. By following their social media accounts, you'll receive regular updates on recipe suggestions, cooking tips, and shopping advice to enhance your culinary journey.
Share With Others