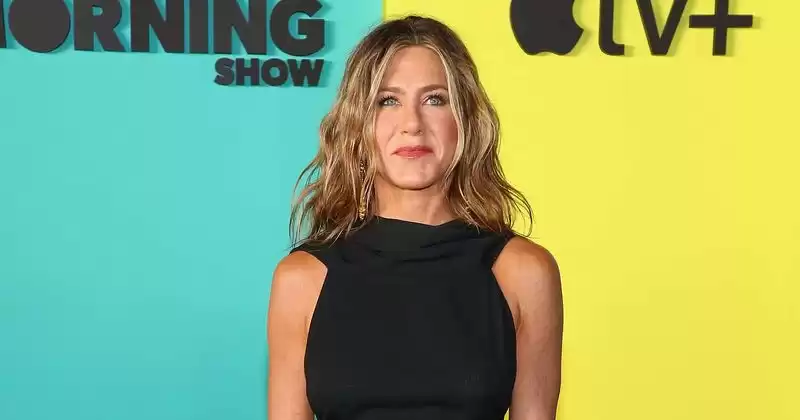 Jennifer Aniston Reveals Her Top Fitness Tips for Feeling Stronger Than Ever at 54
Jennifer Aniston reveals her fitness tips for maintaining her toned physique.
Jennifer Aniston, the beloved actress known for her enviable physique, has become an inspiration for millions of fans who aspire to achieve a toned body like hers. Aniston, who is now 54 years old, has proven that she has mastered a variety of training techniques to sculpt her physique and maintain her fitness even in her fifties. Recently, she partnered with the company Pvolve to showcase the exercises she does to stay in shape.

In a post on Instagram, Aniston is seen stretching, exercising, and posing for pictures in a fitness outfit, revealing her toned belly in a sports bra and leggings. The video showcases one of her favorite workouts, which combines low-impact functional fitness with resistance-based equipment, according to the brand's account. This collaboration with Pvolve came about after Aniston experienced a back injury in 2021 and turned to the training startup to help her sculpt, strengthen, and restore her body.

If you're looking for fitness inspiration, here are five tips from Jennifer Aniston's Instagram account that can undoubtedly help you on your fitness journey. First and foremost, stretching is a crucial part of any exercise routine. While it may seem like a simple warm-up, when combined with deliberate and repeated movements, stretching can become a sweaty exercise in itself. Aniston demonstrates various stretching exercises, such as stretching her legs out in front and sideways. Stretching not only increases flexibility but also improves blood circulation and strengthens muscles.

Another important aspect of Aniston's fitness routine is balance training. She showcases this by performing side lunges while maintaining her balance on a raised platform. Balance exercises work the muscles needed for stability and coordination, reducing the risk of falls and other accidents during physical activity or everyday tasks. Additionally, balance training helps maintain a strong core and works wonders for building and shaping the pelvic floor, back, and abdominal muscles.

Pilates is another key component of Aniston's workout regimen. It is a full-body burn that combines various exercises, including cardio and other types of training. Pilates is known for targeting multiple muscle groups simultaneously, making it a one-stop method of training. Its flexibility and ability to be customized also make it an ideal postnatal fitness regimen for new mothers.

Contrary to popular belief, intense workouts are not the only way to achieve results. Aniston emphasizes the importance of slow movements executed with a mind-body connection. These slow movements can have a significant impact and yield effective results. It's not about how fast you move, but rather the intention and focus you bring to each movement.

Lastly, weight training is a valuable strategy for burning calories and achieving a toned physique. Aniston demonstrates this as she squats while holding a weight, showcasing the sweat-inducing burn that weight training can provide. It is important to note that weight training is not exclusive to individuals with large muscles; it can benefit anyone looking to improve their fitness level.

In conclusion, Jennifer Aniston's fitness journey serves as an inspiration for those looking to achieve a toned body and maintain their fitness at any age. Her partnership with Pvolve has shed light on the exercises she incorporates into her routine, including stretching, balance training, pilates, slow movements, and weight training. By following these tips, you can embark on your own fitness journey and work towards achieving your goals. Remember, it's never too late to prioritize your health and well-being.
Share With Others