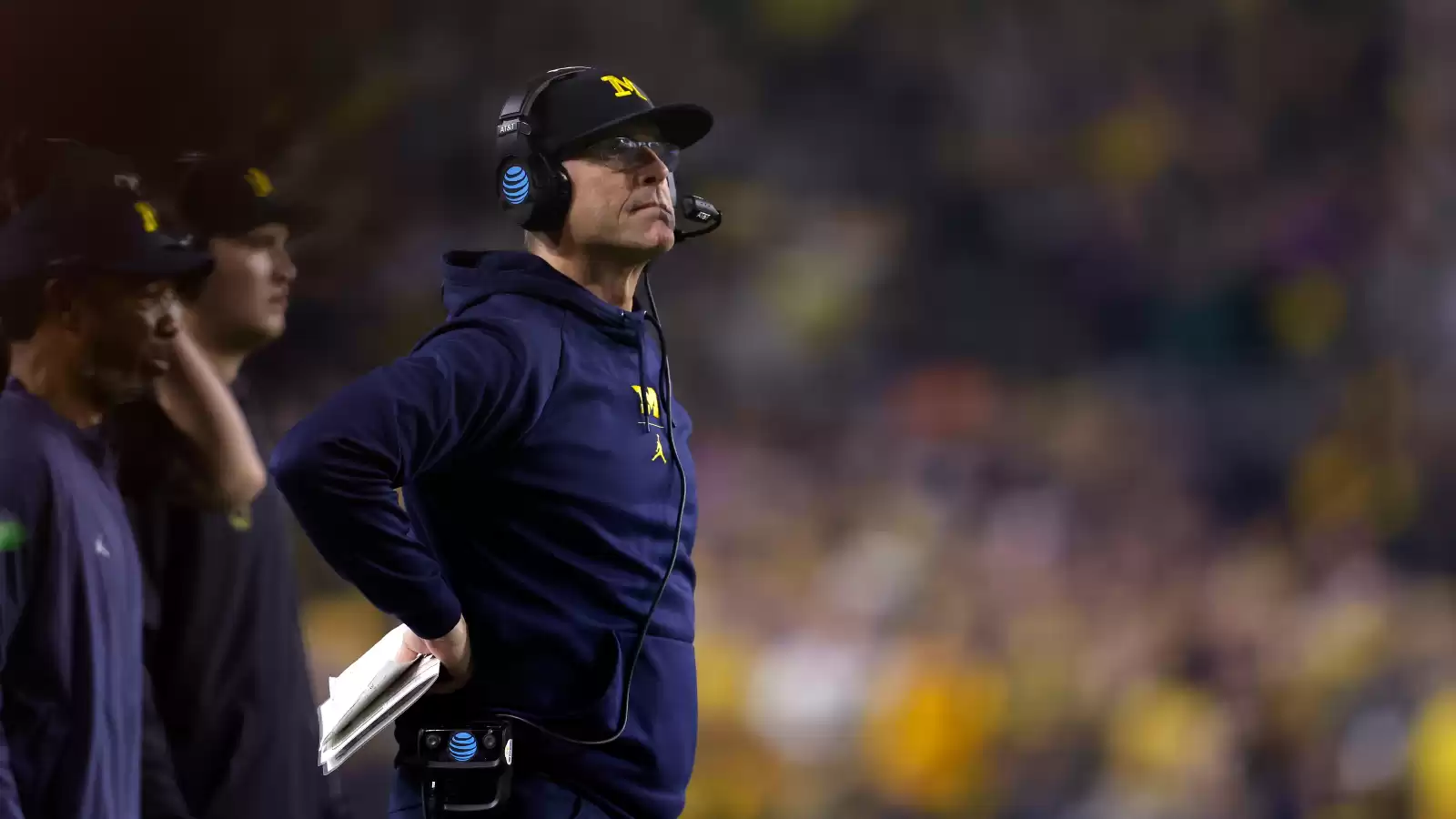 College Football World Abuzz with Reactions to Jim Harbaugh's Four-Game Suspension
Michigan Wolverines head coach Jim Harbaugh faces suspension over NCAA violation.
Life is currently going quite well for Jim Harbaugh, the head coach of the Michigan Wolverines. He recently led the team to their second consecutive College Football Playoff appearance and secured two victories against their rival, Ohio State. With the 2023 college football season approaching, Michigan is seen as a strong contender for a national title, and their junior quarterback, JJ McCarthy, is expected to shine as one of the top signal callers in the country.

However, it's not all smooth sailing for Harbaugh and the Wolverines. During the offseason, Harbaugh was hit with a Level I NCAA violation due to offering impermissible benefits to visiting recruits. The violation stemmed from Harbaugh taking two committed recruits on an impromptu visit to The Brown Jug for a Jug Burger during the COVID-19 pandemic. While Harbaugh was not completely honest about it, a receipt was found, leading to the violation.

Recently, it was revealed what consequences Harbaugh will face as a result of the violation. According to reports from Yahoo Sports, Harbaugh and the NCAA are working towards a negotiated resolution that will likely result in a four-game suspension for the coach. This penalty is due to alleged false statements made by Harbaugh during the investigation.

While a four-game suspension may seem significant, it is unlikely to greatly impact the Wolverines. Their early-season opponents, East Carolina, UNLV, Bowling Green, and Rutgers, are not expected to pose a major challenge, and the suspension has not been finalized yet.

Despite this, it seems that fans are not showing much sympathy towards Harbaugh. As long as he is present for the more crucial games on the Michigan schedule, it is unlikely that Wolverines fans will be too concerned about the suspension.

In conclusion, Jim Harbaugh's life as the head coach of the Michigan Wolverines is currently quite positive. However, he has faced a Level I NCAA violation for offering impermissible benefits to recruits. As a result, he is expected to receive a four-game suspension, although it is unlikely to greatly impact the team. Fans may not sympathize with Harbaugh, but as long as he is available for the important games, they are unlikely to be too worried.
Share With Others