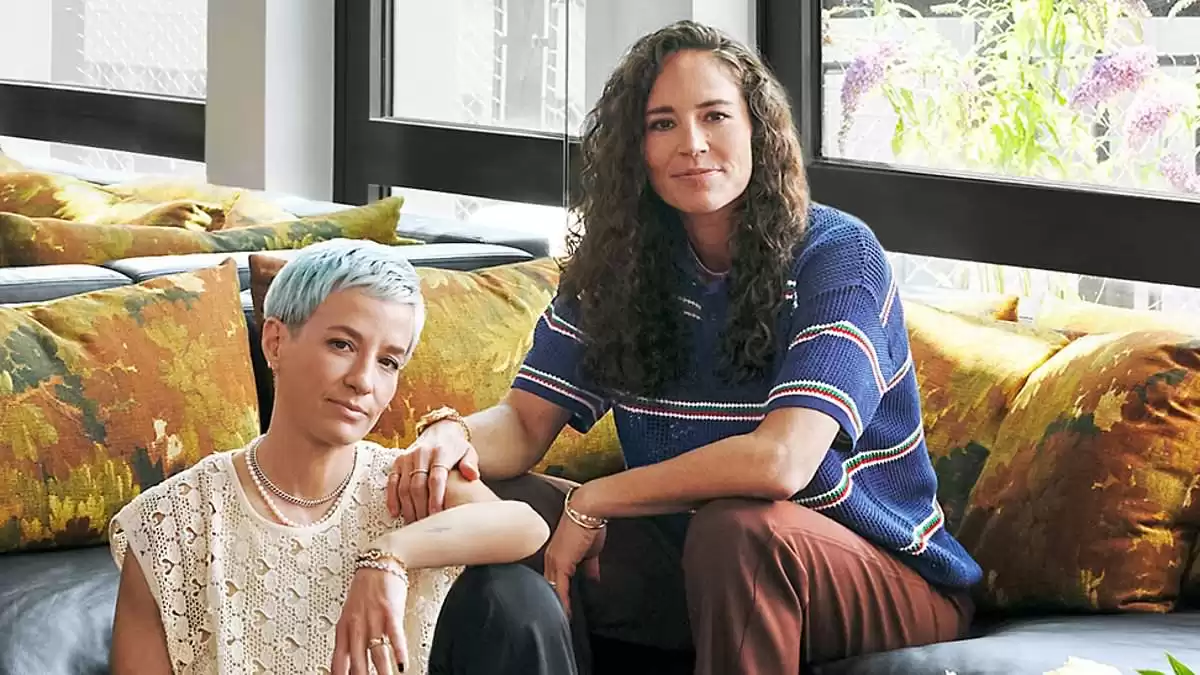 Megan Rapinoe, Sue Bird Flaunt Swanky New York Apartment
USWNT player Megan Rapinoe and retired WNBA legend Sue Bird discuss the design elements of their New York City home in the latest issue of ELLE DECOR. The couple enlisted the help of designer Mark Grattan to create their 1,650 square foot pied-à-terre, which features high ceilings, great views, and a rooftop terrace. Rapinoe and Bird chose New York because it feels like home to them and plan to build a future there. Rapinoe recently announced her retirement at the end of the NWSL season.
The latest issue of ELLE DECOR magazine showcases a unique and athletic twist on home design and style. The doors of Megan Rapinoe and Sue Bird's new home in New York City have been opened, allowing readers to explore the different design elements of their stunning 1,650 square foot, two-bedroom pied-à-terre. With high ceilings, breathtaking city views, and a rooftop terrace, this home is truly a work of art.

Rapinoe reveals that after acquiring the place in 2021, they sought the expertise of renowned designer Mark Grattan, who had previously been featured in the magazine. In an unconventional move, Rapinoe reached out to Grattan through Instagram, sending him a direct message that read, "My fiancée and I just got a place in SoHo and need HALP!" To their surprise, Grattan responded the same day, demonstrating his commitment to his craft.

The apartment boasts a specially designed open-plan kitchen adorned with Brazilian quartzite on the countertops, backsplash, and custom-built island. The emerald color scheme throughout the apartment may be a nod to the couple's shared history in the Pacific Northwest, where they both pursued their professional sports careers. For Rapinoe and Bird, this apartment represents a place of happiness and a foundation for their future.

New York holds a special place in the hearts of the couple, with Bird being a native of the city. It is where their love story unfolded and where they feel a sense of belonging. Despite their constant travels during the remodeling process, primarily residing in their Seattle home, they remained dedicated to creating a space that embodies their values and aspirations.

Bird draws parallels between athletes and artists, emphasizing the importance of following a process and not skipping steps. She believes that both disciplines require dedication, patience, and attention to detail. Rapinoe envisions a future where their loved ones gather on the couch, sharing moments of joy and celebration. Retirement is on the horizon for Rapinoe, who announced her decision to retire from professional soccer at the end of the NWSL season following the 2023 World Cup.

Rapinoe's illustrious career has taken her across the country and around the globe, earning her two World Cup titles, an Olympic gold medal, and a revered status in women's soccer. At the current World Cup, she has made two appearances during the group stage, coming off the bench in the 61st minute in both the victory against Vietnam and the draw against Portugal. While the United States has secured a spot in the knockout stages, their performances in the group matches have raised doubts about their ability to achieve an unprecedented third consecutive World Cup victory, a feat yet to be accomplished by any nation in men's or women's soccer.

After the conclusion of the World Cup, Rapinoe's focus will shift to her NWSL team, OL Reign, as they have six regular season matches remaining before the playoffs. This marks the end of a remarkable career for Rapinoe, but her impact on the sport and her legacy will endure.
Share With Others