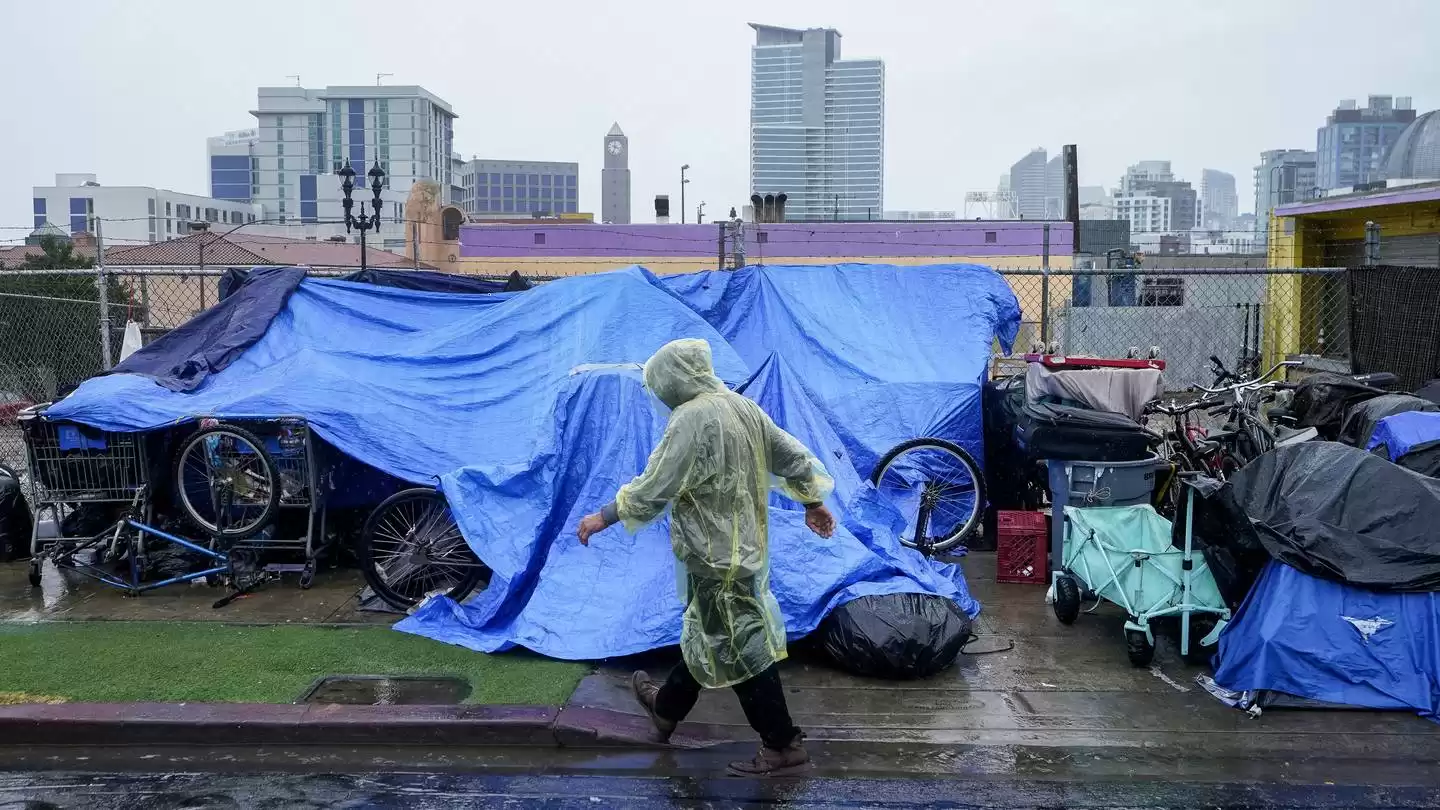 Rains from Tropical Storm Hilary swamp roads, trap cars in California and Mexico
Deadly floodwaters hit Mexico's Baja California as Tropical Storm Hilary moves into Southern California, with flash floods expected as far north as Idaho.
Deadly floodwaters have submerged streets throughout Baja California in Mexico as Tropical Storm Hilary makes its way ashore, bringing heavy rain to Southern California. Concerns are growing that flash floods could occur in areas as far north as Idaho, which rarely experience such intense rainfall. Hilary is the first tropical storm to hit Southern California in 84 years, and it is expected to bring flash floods, mudslides, high winds, power outages, and the potential for isolated tornadoes.

Hilary made landfall along the Mexican coast in a sparsely populated area about 150 miles south of Ensenada. It is projected to hit Tijuana, a region prone to mudslides, on Sunday evening, posing a threat to the makeshift homes that cling to the hillsides just south of the U.S. border. Flash-flood warnings have been issued for at least 9 million people in Southern California, where heavy rain has been falling in areas that are typically sunny. Desert areas and hillsides with wildfire burn scars are particularly vulnerable.

The impact of the storm has already been felt, with mud and boulders spilling onto highways, drainage systems overwhelmed by water, and tree branches falling in neighborhoods from San Diego to Los Angeles. Numerous cars have been trapped in floodwaters in Palm Springs and surrounding desert communities. Floodwaters were also pumped out of the emergency room at Eisenhower Medical Center in Rancho Mirage. As a result of the storm, the Los Angeles Unified School District, the second-largest school system in the nation, has announced that all campuses will be closed on Monday. San Diego schools have postponed the start of classes from Monday to Tuesday.

In addition to the storm, Southern California experienced an earthquake with a preliminary magnitude of 5.1 near Ojai, about 80 miles northwest of downtown Los Angeles. The earthquake was widely felt and followed by smaller aftershocks, but there have been no reports of major damage or injuries.

Hilary is expected to bring once-in-a-century rains to other Western states, including Nevada, Oregon, and Idaho. It could potentially become the wettest known tropical cyclone in these areas. The storm is forecasted to remain a tropical storm as it moves into central Nevada early Monday before dissipating.

While Hilary has weakened from a Category 4 hurricane, it is the rainfall, not the wind, that poses the greatest danger. Some areas could receive as much rain in a few hours as they typically get in an entire year. The National Hurricane Center Director, Michael Brennan, emphasized the risk of rainfall flooding, stating that it has been the leading cause of death in tropical storms and hurricanes in the United States over the past decade.

Hilary is the latest in a series of major climate disasters affecting the U.S., Canada, and Mexico. Maui, Hawaii, is still recovering from a devastating wildfire that claimed over 100 lives and destroyed the historic town of Lahaina, making it the deadliest wildfire in the U.S. in over a century. Canada is facing its worst fire season on record.

In Mexico, the cities of Ensenada and Tijuana have closed all beaches and opened several shelters to accommodate those affected by the storm. The Mexican army has deployed troops to assist with clearing streets and roads that were blocked by tons of boulders and earth in Mulege, one of the hardest-hit areas.

California Governor Gavin Newsom has declared a state of emergency, and the Federal Emergency Management Agency (FEMA) has officials stationed in California's emergency preparedness office and teams ready to provide assistance with food, water, and other necessities.

As the storm continues to impact the region, people are advised to take precautions and heed the guidance of state and local officials. Evacuation warnings have been issued for Santa Catalina Island, mountain and foothill communities in San Bernardino County, and areas with wildfire burn scars in Orange County. Homeless individuals in Los Angeles are being urged to seek shelter, and state beaches in San Diego and Orange counties have been closed.

The storm has caused a surge in demand for supplies, with sandbags running out and grocery store shelves being emptied as people stock up. Joshua Tree National Park and Mojave National Preserve in California have been closed to the public.

In neighboring Nevada, Governor Joe Lombardo has declared a state of emergency and activated 100 National Guard troops to assist with potential flooding in several counties. Arizona has also experienced strong winds, with gusts nearing 60 mph in Yuma County. Thousands of sandbags have been distributed in the area.

President Joe Biden has urged everyone in the storm's path to take precautions and follow the guidance of state and local officials.

In addition to Hilary, Tropical Storm Emily has formed in the Atlantic Ocean, while Tropical Storm Franklin has developed in the eastern Caribbean. The National Hurricane Center is monitoring their progress.

This article was originally published by The Associated Press and has been rewritten to provide a comprehensive and engaging account of the current situation caused by Tropical Storm Hilary.
Share With Others