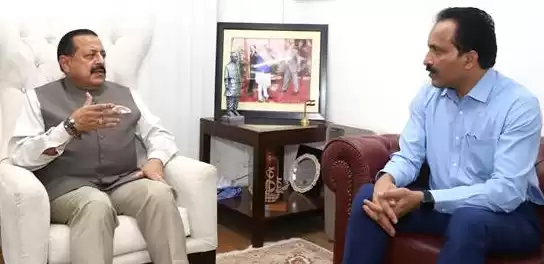 ISRO Chief Briefs Minister Jitendra Singh on Chandrayaan-3 Status
ISRO Chairman briefs Science Minister on Chandrayaan-3's readiness for moon landing on August 23, 2023. India aims to make history.
In a meeting held in New Delhi today, Dr. S. Somnath, the Chairman of ISRO (Indian Space Research Organisation) and Secretary of the Department of Space, informed Dr. Jitendra Singh, the Union Science and Technology Minister, about the progress and preparedness of Chandrayaan-3 for its scheduled moon landing on August 23, 2023.

During the meeting, the Chairman of ISRO assured the Minister that Chandrayaan-3 is in excellent health and there are no expected contingencies on the day of the landing. The health of the spacecraft will be continuously monitored in the next two days, and the final landing sequence will be loaded and tested beforehand.

Dr. Jitendra Singh expressed his confidence in the successful landing of Chandrayaan-3 this time and expressed hope that it will create a new history of planetary exploration under the guidance of Prime Minister Narendra Modi.

According to ISRO, Chandrayaan-3 is set to land on the moon at approximately 18:04 hours IST on August 23, 2023. While the previous Chandrayaan-2 mission had a partial success due to the lander losing contact after a hard landing, ISRO managed to establish two-way communication between the Chandrayaan-3 Lander Module and the orbiting Chandrayaan-2 Orbiter. Today, ISRO also shared new images of the Lunar far side area captured by Chandrayaan-3.

If successful, India will become the fourth country in the world to achieve a moon landing, following the United States, Russia, and China. However, India will be the only country to land on the lunar South Pole.

The primary objectives of the Chandrayaan-3 mission are threefold. Firstly, it aims to demonstrate a safe and soft landing on the lunar surface. Secondly, it seeks to demonstrate the ability of a rover to move on the moon. Lastly, it aims to conduct in-situ scientific experiments.

Dr. Jitendra Singh highlighted the significance of the first mission in the Chandrayaan series, Chandrayaan-1, which discovered the presence of water on the moon's surface. This groundbreaking revelation fascinated premier space agencies like NASA and influenced their further experiments.

In conclusion, the meeting between Dr. S. Somnath and Dr. Jitendra Singh provided an update on the status of Chandrayaan-3 and showcased the confidence and enthusiasm of ISRO in achieving a successful moon landing. The mission holds great significance for India's space exploration endeavors and has the potential to make significant contributions to scientific knowledge about the moon.
Share With Others