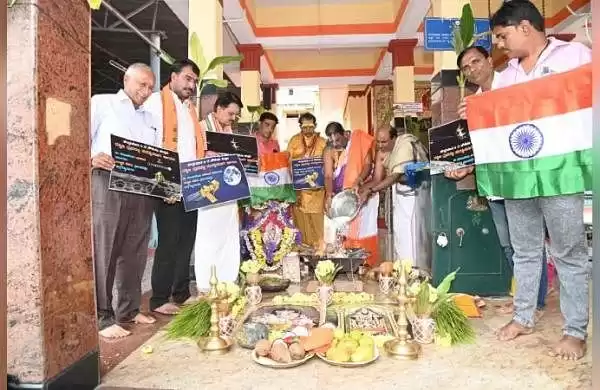 PM Modi SA BRICS Chandrayaan 3 descent
Prime Minister Narendra Modi is expected to virtually join the landing of Chandrayaan 3 from South Africa, creating excitement and anticipation.
BENGALURU: Informed sources have revealed that Prime Minister Narendra Modi is expected to virtually participate in the landing programme of Chandrayaan 3 from South Africa during the final descent of the Lander to the Moon. This is likely to occur in the last 15-20 minutes of the descent. The Prime Minister is currently on a three-day official visit to South Africa to attend the 15th BRICS summit. The Indian Space Research Organisation (ISRO) has announced that the Lander Module (LM) and rover are scheduled to softly land on the designated area on the Moon's south pole at 18:04 hours, coinciding with the sunrise in the region. At 5:47 pm, the LM will receive its final command from the Earth station to initiate the automatic landing system (ALS) when it is 30km away from the Moon's surface.

Following the ALS, the LM will enter a rough breaking phase for the next 700 seconds, approximately 11.5 minutes. During this phase, the four engines will ignite, and instead of descending freely, the Lander will be in controlled descent, reaching a distance of 7.4 km from the Moon. Within the next 10 seconds, it will descend to a height of 6.8 km and become vertical. Subsequently, it will descend to either 1,300 meters or 800 meters, at which point the Lander will select the landing site. If the surface below contains a crater or a boulder, the Lander has been programmed to choose an alternate site for a safe and gentle landing.

In a separate development, Prakash Raj, a multi-lingual actor, has faced accusations after posting a caricature on his social media account that seemingly mocked India's prestigious Chandrayaan 3 project. The caricature depicted Chandrayaan sending a photo of a man on the Moon pouring tea. Right-wing activists were displeased with Raj's post, claiming that it insulted the scientists involved in such projects. Shivanand Gaikwad, a member of Sriram Sene, filed a complaint against Raj at Banahatti police station in Bagalkot district. Gaikwad, in a video message, alleged that Raj had lost his mental balance and demanded his arrest. However, no FIR has been filed against the actor, according to the police.
Share With Others