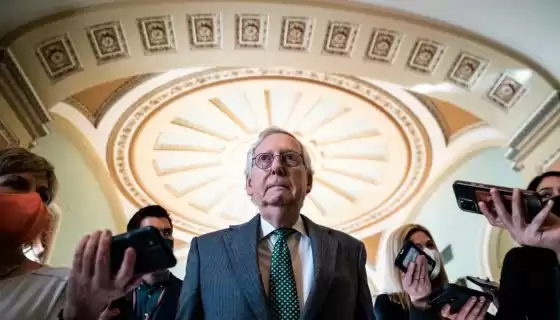 'Mitch McConnell Emerges Victorious in Mute War, Sparking Fans' Reactions'
Mitch McConnell, 81, froze during a press event when asked about reelection, sparking concerns about his health and calls for an age limit in politics.
Senate Minority Leader Mitch McConnell experienced another concerning incident during a press event on Wednesday (Aug. 30). When questioned about his potential reelection in 2026, McConnell appeared to be unable to respond, leaving the audience in confusion. This incident has sparked a significant reaction on social media, with people expressing their concern about yet another health scare involving a prominent figure in national news. Let's take a closer look at McConnell's recent episode and see what people are saying about it.

During the press event, McConnell seemed to lose his train of thought when attempting to answer reporters' questions. This is not the first time he has encountered such difficulties, as he had previously halted his speech and sought assistance from those around him. The 81-year-old politician initially struggled to hear the question posed to him in Covington, Kentucky, regarding his views on running for reelection in 2026.

After struggling to hear the question, McConnell froze for approximately 30 seconds without uttering a word. It was only when a member of his staff repeated the question that he seemed to respond, albeit with a lower tone. The aid acknowledged the situation, stating, "All right, I'm sorry, you all. We're going to need a minute." McConnell made an effort to signal that he was ready to proceed, and when asked about Kentucky Attorney General Daniel Cameron's gubernatorial campaign, he replied, "I think the governor's race is going to be very close."

However, McConnell avoided addressing the final question regarding former President Donald Trump's indictment in Georgia before being escorted away from the press conference. This incident mirrors a similar occurrence on July 26 in Washington, D.C., where McConnell froze and temporarily lost his ability to speak during a press conference. Fellow senators rushed to his aid, and after a few minutes, he returned to the lectern and resumed speaking to reporters.

According to NBC News, a spokesperson for McConnell stated that the Senate leader "felt momentarily lightheaded and paused during his press conference today." Despite this explanation, social media users are expressing their concern about McConnell's repeated health scares, raising questions about whether there should be a maximum age limit for politicians, given that many prominent figures in politics are of advanced age.

Beyond the discussion of ageism, this incident highlights a significant problem within American politics. The health and well-being of our political leaders should be a priority, as their ability to effectively govern and make crucial decisions can be compromised by such incidents. It is crucial to address these concerns and ensure that our politicians are in good health to fulfill their duties effectively.
Share With Others