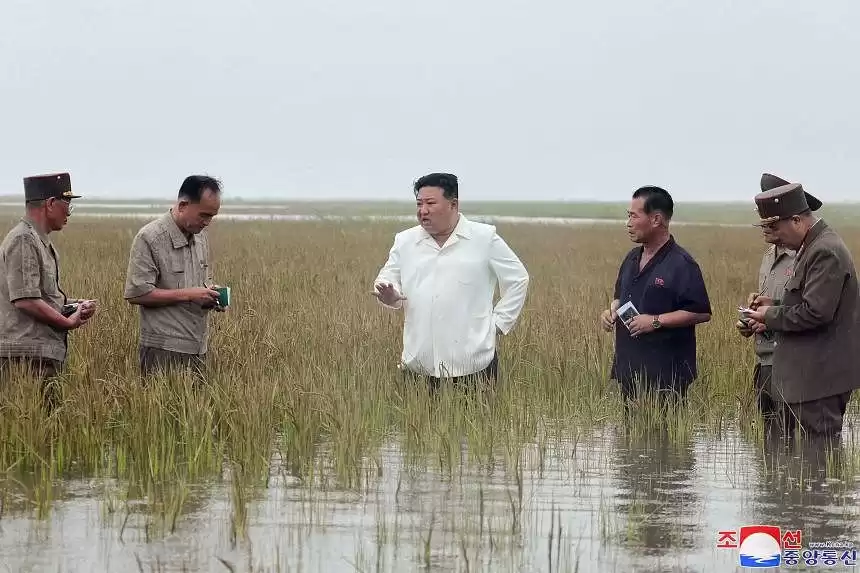 North Korean leader Kim Jong Un criticizes 'irresponsible' officials over flood damage
North Korean leader Kim Jong Un criticizes officials for their "irresponsible" response to flood damage, blaming them for spoiling the national economy.
In a recent development, North Korean leader Kim Jong Un has expressed his dissatisfaction with top officials regarding their handling of flood damage. According to state media reports, Kim criticized the officials for their "irresponsible" response, which he believed had negatively impacted the national economy.

During his visit to a tideland on the west coast, Kim observed the aftermath of the recent destruction caused by seawater. The inadequate drainage system led to flooding, affecting over 560 hectares of land, including more than 270 hectares of rice paddies. The news agency KCNA shared these details.

Kim did not hold back in his criticism of the officials, particularly targeting Kim Tok Hun, the premier of the cabinet. He accused them of neglecting their duties in a "very irresponsible" manner, emphasizing that their actions had disrupted the administrative and economic discipline of the cabinet. He attributed the lack of discipline to the feeble work attitude and wrong viewpoint of the premier.

This incident is part of a series of inspections carried out by Kim in flood-affected farmlands, reflecting growing concerns over a potential food crisis in North Korea. Lim Eul-chul, a professor of North Korean studies at Kyungnam University in South Korea, suggested that Kim's harsh criticism might indicate an upcoming cabinet reshuffle. It also indicates that the economy is not progressing as planned, according to Prof Lim.

North Korea has faced severe food shortages in recent decades, including a devastating famine in the 1990s, often exacerbated by natural disasters. The closure of borders during the Covid-19 pandemic has further worsened the situation, as highlighted by international experts.

Overall, Kim's strong reaction to the officials' handling of flood damage showcases his frustration with the state of the national economy and the need for improved performance. The repercussions of this incident remain to be seen, but it is evident that North Korea is facing significant challenges in its efforts to address food shortages and economic development.
Share With Others