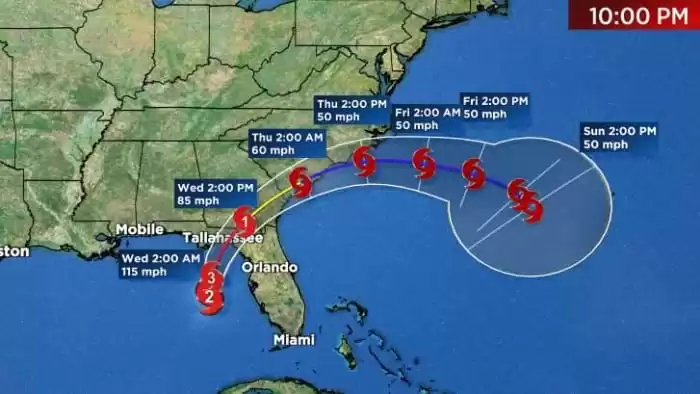 Hurricane Idalia Set to Make History in Florida with Landfall Near Big Bend Early Wednesday
Hurricane Idalia is set to hit Florida as a Category 3 or 4, with storm surge as high as 15ft. Many people cannot afford to evacuate.
As Hurricane Idalia approaches Florida, it is crucial to consider the financial implications of an evacuation. If you do not have a minimum of $1,200 in your bank account, you may find it difficult to afford the necessary measures to ensure your safety. This hurricane is predicted to be a Category 3 or even a Category 4 when it makes landfall near the Big Bend early Wednesday morning, potentially making history in Florida.

Reflecting on the last hurricane to hit near Tallahassee in 2016, Hurricane Hermine was categorized as a Category 1 storm. However, Hurricane Idalia poses a greater threat, with storm surge estimates reaching as high as 15 feet and over a foot of rainfall on top of it.

Currently, thousands of people in Florida are under mandatory evacuation orders. However, despite these orders, many individuals choose to remain in their homes. Some may have experienced multiple hurricanes without a direct hit, leading them to believe they can weather the storm. However, for hundreds of others, the financial burden of evacuating is the primary reason they choose not to leave.

The cost of evacuating for a hurricane can range from $1,200 to $5,000, depending on various factors. These factors include whether residents have the option to stay with relatives or need to stay in a hotel. Additionally, the length of time until the evacuation order is lifted can significantly impact the overall cost. It is not uncommon for the order to remain in effect for several days after the storm has passed due to issues such as flooding, fallen trees, and downed power lines.

Furthermore, the expenses associated with evacuating can quickly add up. Gas prices skyrocket during such events, and relying on eating out for every meal can become exorbitantly expensive, particularly for families.

Personally, I understand the financial strain that evacuations can bring. Today marks the 18th anniversary of Hurricane Katrina, and I vividly remember the financial hardships my family faced during that time. We nearly maxed out our credit card to cover a few days in a hotel and some food. However, after the storm hit and countless people were displaced, the cost of our $175 hotel room escalated to an astonishing $700 per night, rendering it unaffordable.

Considering your current bank account balance, would you have the necessary funds to evacuate? Unfortunately, many individuals, especially in today's economy, lack the means to do so. While there are shelters and designated safe locations available, most of them do not accommodate pets. Leaving behind a beloved pet is not an option for some, particularly for senior citizens who live alone and rely on their pets for companionship.

As Hurricane Idalia intensifies and approaches Florida, it is essential to prioritize the safety of everyone in its path. Let us keep those affected in our thoughts and prayers during this historic event. Stay updated on the latest developments as Hurricane Idalia progresses, as a storm surge of up to 15 feet is possible.
Share With Others