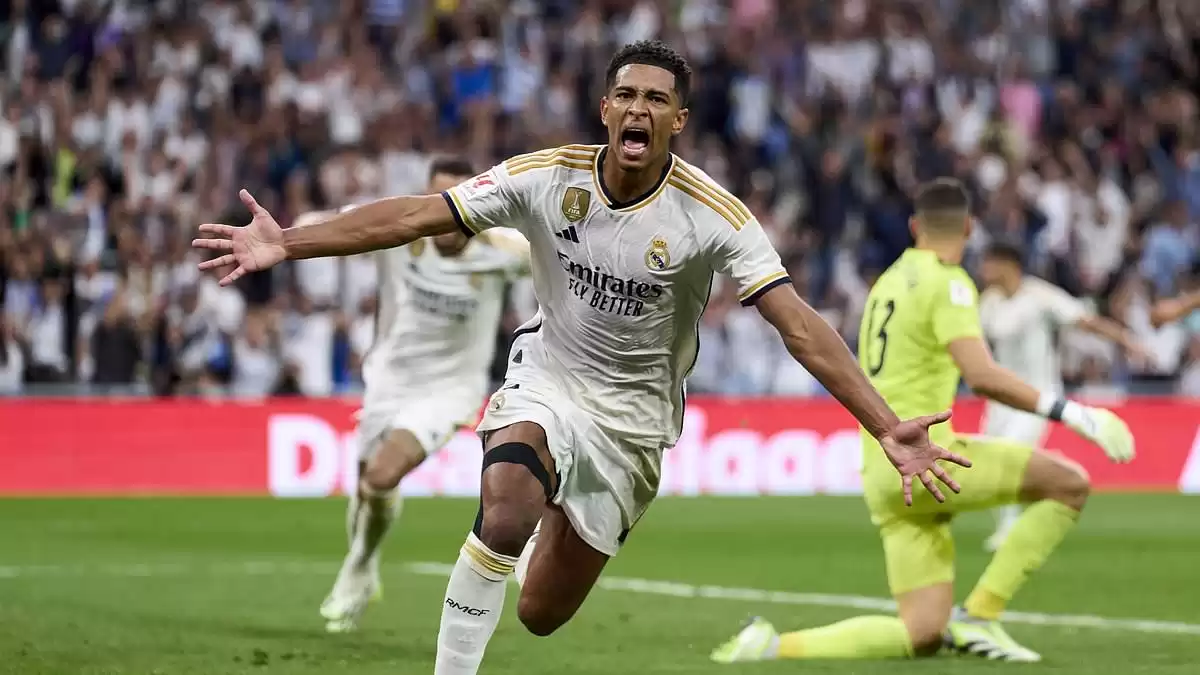 Bellingham's Impressive Start at Real Madrid Continues with Another Goal
Real Madrid's Jude Bellingham scored a late winner against Getafe, boosting England ahead of their upcoming matches against Ukraine and Scotland.
In a thrilling match at the Bernabeu, Jude Bellingham continued his incredible run at Real Madrid by scoring a last-minute winner against Getafe. The 20-year-old midfielder has been on fire since his £88million move from Borussia Dortmund, finding the back of the net in each of the four games he has played for the Spanish giants. This impressive form will undoubtedly be music to the ears of England manager Gareth Southgate, as his team prepares for the upcoming Euro 2024 showdown against Ukraine in Poland, followed by a friendly match against Scotland in Glasgow.

Another positive development for Southgate is the news that Harry Kane has finally secured his move to Bayern Munich, a year ahead of the Euros. Southgate believes that this change of scenery could lead to small improvements in Kane's game, as well as provide him with the opportunity to win his first career trophy. Winning a trophy at Bayern would not only lift a burden off Kane's shoulders but could also inspire him to help England end their 58-year wait for a major tournament victory.

Southgate, who regrets not playing abroad during his own career, sees the benefits of Kane's move beyond just the football pitch. He believes that the experience of adjusting to a new country and impressing new teammates and fans will have a positive impact on Kane's mentality. While Southgate doesn't expect Kane to become a better player at this stage of his career, he recognizes that there are other aspects, such as mentality, that can still be improved upon.

The addition of foreign-based players like Kane, Bellingham, Fikayo Tomori (AC Milan), and Jordan Henderson (Al-Ettifaq) to the England squad marks a departure from the all-Premier League based squads of the past. It harkens back to the 1990s when players like Paul Gascoigne, David Platt, and Des Walker plied their trade in Serie A. This influx of players from different leagues adds a new dynamic to the squad and reflects the changing landscape of English football.

Despite the abundance of young talent in the England squad, Southgate remains cautious and emphasizes the importance of striking the right balance as a coach. While he acknowledges the players' achievements, he also pushes them to continue improving and never become complacent. With such a talented group of young players at his disposal, Southgate understands that he must keep pushing them to reach their full potential.

In conclusion, Jude Bellingham's sensational form at Real Madrid, coupled with Harry Kane's move to Bayern Munich, has provided a significant boost to England's prospects ahead of their upcoming matches. Southgate is optimistic that the change of environment will benefit Kane both on and off the pitch, while also recognizing the broader implications for the squad. As the team prepares for the Euro 2024 showdown and beyond, Southgate remains focused on maintaining the right balance and driving his players to continue improving.
Share With Others