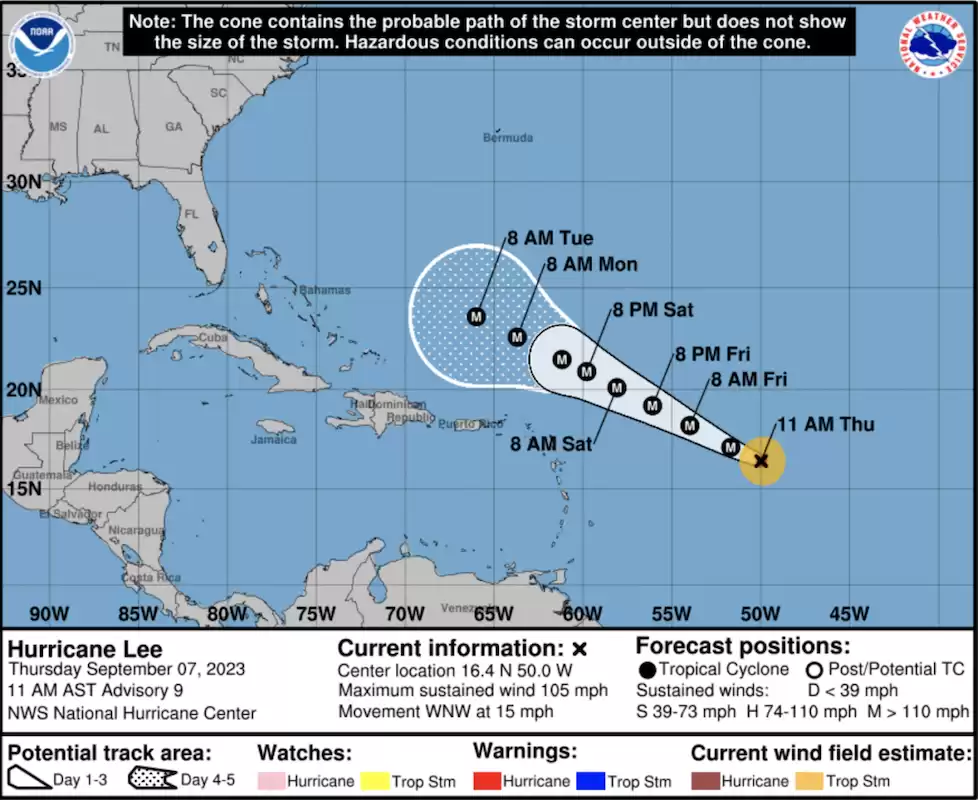 "Hurricane Lee Projected to Attain Category 5 Intensity"
Hurricane Lee is predicted to reach Category 5 status with potential for "catastrophic" damage, according to federal forecasters.
The federal government's forecasters are predicting that Hurricane Lee will intensify to Category 5 status by the weekend as it makes its way towards the United States. The storm is expected to have maximum sustained winds of 160 miles per hour, placing it at the high end of the Saffir-Simpson Hurricane Wind Scale and posing a potential threat of "catastrophic" damage.

The National Hurricane Center (NHC) has noted that many of the models are indicating an unusually rapid intensification for Hurricane Lee, surpassing the rates typically seen in model forecasts. While the storm may slightly weaken to Category 4 status in the days following, it will still remain a major hurricane.

As of midday on Thursday, Hurricane Lee was moving over the Atlantic Ocean towards the Caribbean as a Category 2 hurricane. The NHC expects the storm to pass north of Puerto Rico, the Virgin Islands, and other nearby islands over the weekend and into the following week. However, the agency advises these islands to stay updated on the storm's progress.

The NHC also warns of swells generated by Hurricane Lee that are expected to reach various areas, including the Lesser Antilles, the British and U.S. Virgin Islands, Puerto Rico, Hispaniola, the Bahamas, and Bermuda. These swells are likely to create life-threatening surf and rip current conditions.

Looking ahead to next week, the forecast for Hurricane Lee becomes uncertain, as is often the case with extended forecasts. Even if the storm does not make landfall in North America, its effects could still be far-reaching.

AccuWeather's video shows that Hurricane Lee may turn northward and, depending on the jet stream, could pose a "direct impact risk" along the coast of the Mid-Atlantic, New England, or Canada. Alternatively, the jet stream could steer the storm away from the United States.

It is important to note that the Atlantic hurricane season, which runs from June 1 to November 30, is currently at its peak. Just last week, Hurricane Idalia struck Florida's Gulf Coast, resulting in flooding, power outages, and at least two fatalities.

Although it appears unlikely that Hurricane Lee will hit Florida, local forecasters advise the rest of the East Coast to remain vigilant. WINK News chief meteorologist Matt Devitt recommends monitoring the storm from the Carolinas all the way to Eastern Canada.
Share With Others