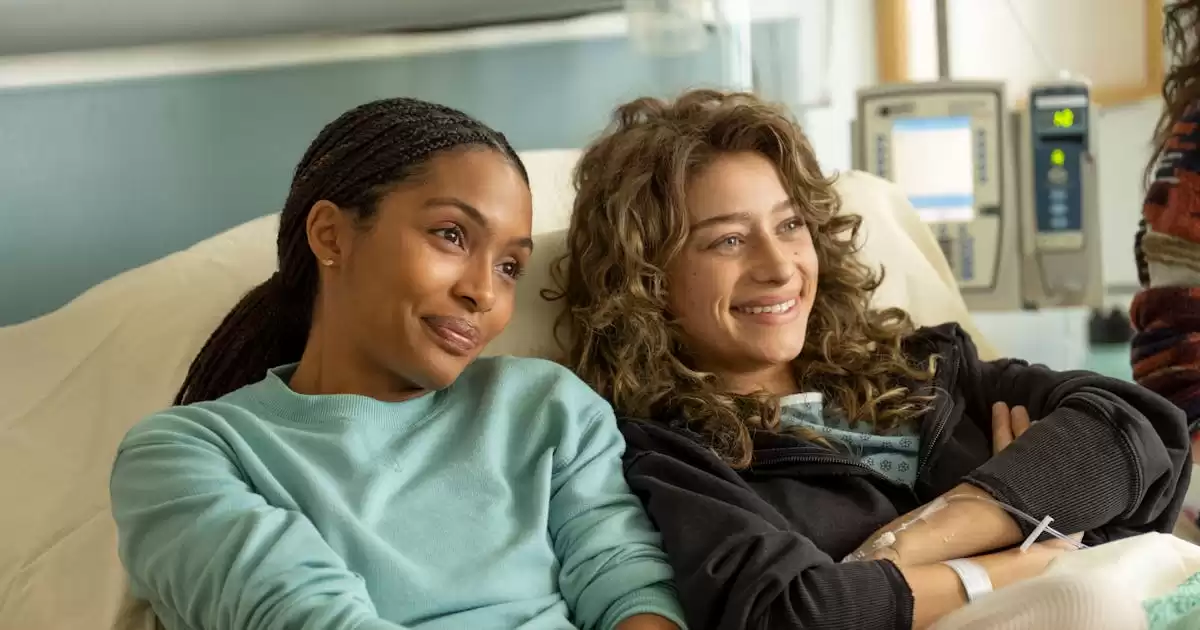 Sitting in Bars with Cake is a Sweet and Touching Story
"Sitting in Bars with Cake" is a moving story of friendship brought to life by Yara Shahidi and Odessa A'zion, with a unique twist of baking and meeting guys.
In the trailer for the new Amazon Prime Video feature "Sitting in Bars with Cake," there is more than meets the eye. Audrey Shulman's adaptation of her 2015 book, which chronicles her experience of baking her way through a year of "cakebarring" in Los Angeles to meet guys, is not only effective but also genuinely heartfelt.

Despite her best friend receiving a devastating health diagnosis, Shulman perseveres with her project at her friend's urging. "Sitting in Bars with Cake" takes this premise and creates a story that may not be entirely original but is nonetheless moving. The film stars Yara Shahidi and Odessa A'zion, who bring the friendship between their characters, Jane and Corinne, to life.

Jane, played by Shahidi, is a socially anxious woman in her early 20s, constantly trying to live up to her parents' expectations. On the other hand, Corinne, portrayed by A'zion, is a wisecracking extrovert. The two friends work at the same company, with Jane aspiring to a law career and Corinne training to be a music agent. Baking serves as Jane's preferred method of stress relief, and one night, she impresses a bar full of potential suitors with her cake.

Encouraged by Corinne, Jane embarks on a yearlong experiment of visiting various bars. Shulman, now a screenwriter, proves her skill with witty and humorous dialogue, effortlessly shifting gears throughout the film. Director Trish Sie, known for her work on "Pitch Perfect 3," strikes a balance between commercial appeal and allowing for genuine moments of connection between the characters.

Even after Corinne's cancer diagnosis, the film maintains its lightheartedness, showcasing various locations in Los Angeles. This slickness could have hindered the film's emotional depth, but "Sitting in Bars with Cake" manages to avoid that pitfall.

The talented cast, including Shahidi and A'zion, delivers standout performances. Shahidi brings a relaxed and intuitive vibe to her character, avoiding the pitfalls of portraying a typical introvert-to-butterfly transformation. A'zion also shines as Corinne, and the chemistry between the two actresses is the heart and soul of the film.

The supporting cast, including Ron Livingston and Martha Kelly as Corinne's slightly eccentric parents, adds depth and charm to the story. As Jane dedicates her time and love to Corinne while navigating the challenges of her friend's brain tumor, Shulman's screenplay allows for Corinne's complex and honest reactions.

"I should be learning some major life lesson right now," Corinne admits to her friend during a vulnerable moment. "But I'm just annoyed."

The scenes between A'zion and Shahidi are not just the icing on the cake; they are the cake itself. "Sitting in Bars with Cake" offers a heartfelt and engaging story that goes beyond its initial premise, leaving a lasting impact on its viewers.
Share With Others