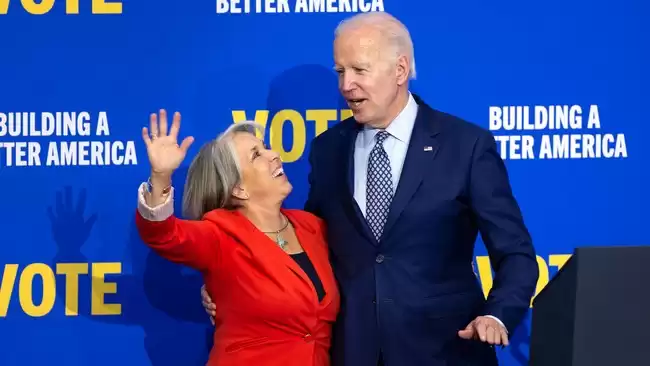 'Arizona Democrats React to New Mexico Gun Order, Highlighting Their Unique Ideas'
Republicans are calling for impeachment against New Mexico Governor Michelle Lujan Grisham for suspending open and concealed carry rights.
The recent executive order signed by New Mexico Gov. Michelle Lujan Grisham has sparked significant controversy. The order suspends open and concealed carry in Albuquerque and Bernalillo County for a period of thirty days. While some law enforcement officials expressed concerns about the constitutionality of the order, they did not explicitly condemn it or vow to oppose it.

However, it was surprising to see Rep. Ted Lieu (D-CA) and gun control advocate David Hogg speak out against Lujan Grisham's move. Both Lieu and Hogg argued that there is no "state public health emergency exception" to the Constitution. This alignment of views between two individuals who are typically on opposite sides of the gun control debate raises questions. Is there a broader message being communicated? Are they suggesting that there is a national public health exception to the Constitution? It is intriguing to see these staunch gun control advocates suddenly take a position that aligns so closely.

But just when it seemed like Democrats were finally displaying some common sense, the Arizona House Democrats shattered that perception with their response to Lujan Grisham's order. They responded to her post on X with a "hat tip" after her press conference. This response implies that they support the idea of eliminating constitutional rights through executive orders.

However, the reaction from individuals in Arizona was swift and forceful. They made it clear that the Democrats' stance in New Mexico would not be accepted in Arizona. This radical position could also jeopardize their electoral prospects in the swing state.

Maricopa County Attorney Rachel Mitchell had a strong message for the Arizona House Democrats. She emphasized the need to call for impeachment and strongly rebuke politicians like Lujan Grisham who disregard their oath to uphold the Constitution. Mitchell argued that these individuals prioritize their own will and political agenda over the rule of law and the Constitution. Republicans are now calling for impeachment against the New Mexico governor, and Mitchell's message serves as a reminder that such action is necessary not only to stop Lujan Grisham but also to send a message to other radicals that Americans will not tolerate such actions.
Share With Others